To start playing smart golf takes getting familiar with your strengths and weaknesses. Then ideally when you check out for a round of golf, the strategy you use on the course should include playing to your strengths and trying to avoid your weaknesses. Everyone game has different strengths and weaknesses so please dont just do what your friend does. You need to learn your game and stick to it. There are a million different ways to get around a golf course, you need to find the most secure way you can make that happen.
How is this done?
From this day forwards, instead of just writing your score for a particular hole, give yourself more information about that number. It surprises me how much golfer's neglect taking stats during or after a round of golf considering how easy it is to do. Stats will draw out how the day went on the golf course and what needs attention.
What was the best part of my game today?
How many feet in putts did I make?
If I improved one part of my game, what would that be?
What was my best and worst shot today?
There is an unlimited number of questions you can begin to ask yourself once you have quantifiable data in front of you.
After 10-20 rounds, you will begin to see a pattern form of averages. Asking these questions to yourself is the first major step to improving your scores. This will give you an idea of your strength and weaknesses. Once you have established an average for your results you can check them alongside with some of your favorite pros.
Now, if you are going to take stats I would recommend taking the stats that will actually have value. When most golfers think stats today, they are quick to just write down their fairways, greens in regulations, and how many putts they had per round. These are okay, but will not give you and solid information to go off.
If you want to take your stats to the next level I would suggest gathering strokes gained statistics. This is like NEW AGE stats that will basically give you a specific value for each shot you hit. In order to effectively measure strokes gained you will need to get into the habit of writing down every shot you hit.
For example:
On Hole 1, lets say you make par on a 420 yard par 4. You want to write down every shot you hit on that hole with the starting distance and the lie you found yourself on. Write down everything in yards except for on the (G) Green where you write your distance in feet.
(T) Tee box, (F) Fairway, (R) Rough, (S) San Trap, (X) Recovery shot, (G) Putting Green.
Shot 1: 420 - T
Shot 2: 130 - F
Shot 3: 30 - G
Shot 4: 3 - G
How this reads is you started hole 1 on the tee box 420 yards away from the hole. Your first shot landed in the fairway and you had 130 yards for your second shot. Your second shot was a decent shot and landed on the green 30 feet away from the hole. You made a nice first putt from 30 feet to have 3 feet left for par and you made it.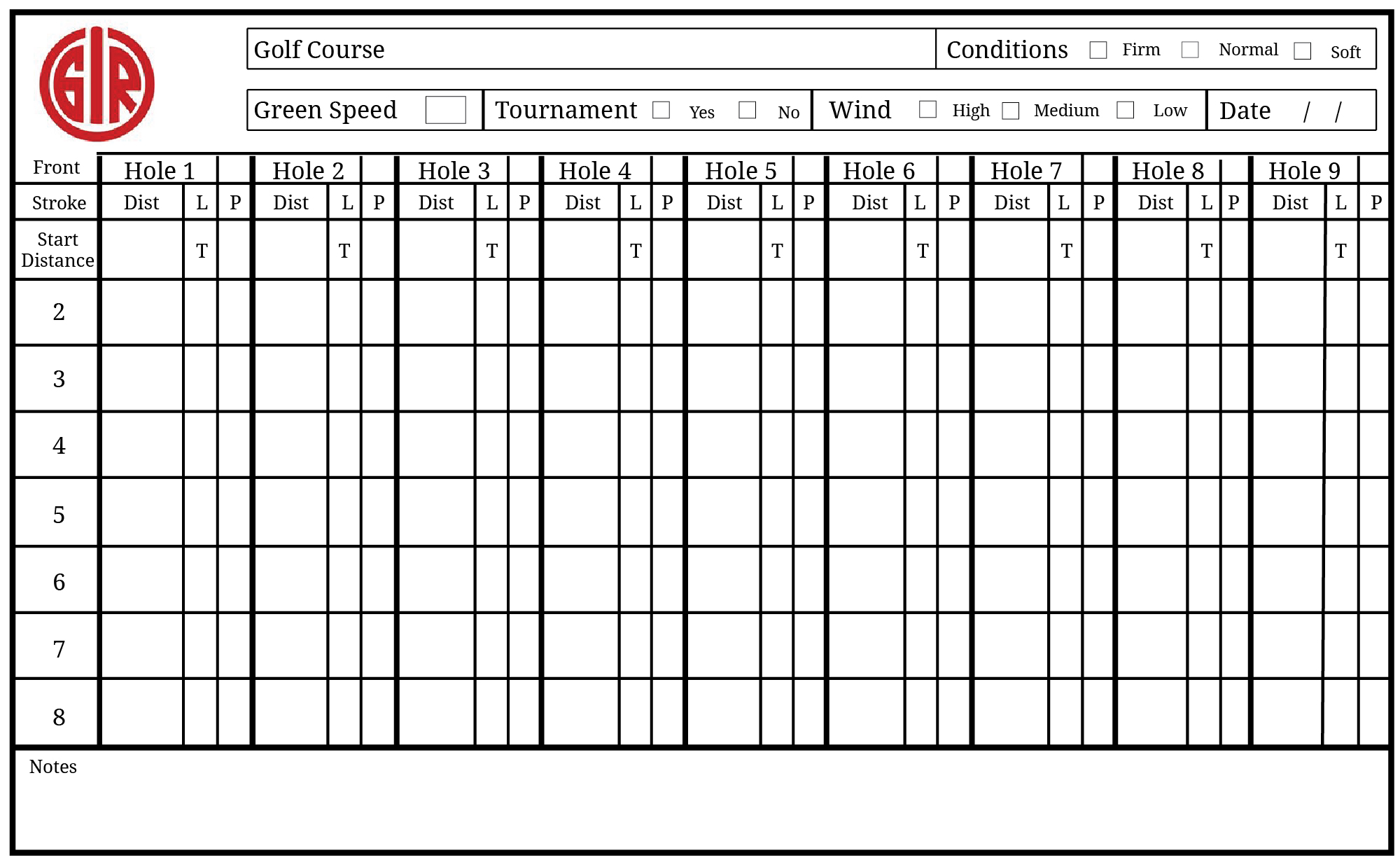 Here is an example of a scorecard you can take to the course to gather strokes gained.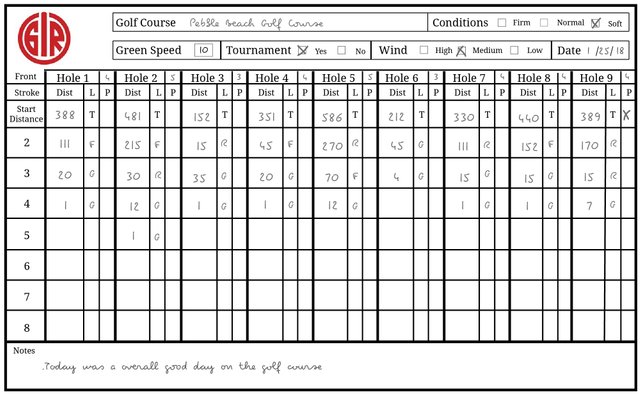 Your Front 9 holes complete!
Once you gather enough data on your game your data will average out and you will have a fingerprint to your game.
This sounds simple, but most golfers don't take the time to collect this information and so their results suffer. Once you start to get an sense of your game, you can begin to practice on your weaknesses. The stronger you can make your weaknesses the better golfer you become.
After you have all this data you want to organize and keep track of it in the GolfInRed strokes gained golfing system.
Source: