Registration has undergone significant changes. Today all members of the Telegram group helped me, it's especially worth noting @mad-max with his cool project and @muz.mayak (with selections of music 🎶 subscribe without looking 😇). In total, about 30 accounts were registered during this time.
Now we'll see the history of registrations with detailed information - who was registered, both on a private invite code and on a public registration program. For the owner of the invite code, restrictions on 1 registration from the ip-address for 24 hours were lifted. That will allow you to register accounts for your own purposes. 🤘 (don't forget that every registration in the blockchain contains the commission transferred to the new account – 3 Golos tokens ). 
Links in the project for registration through a public program will start working after the final tests ;) Now registration is available through a direct link: https://goldvoice.club/registration/ (without any confirmation, there is only one restriction - one registration during 24 hours with one ip-address).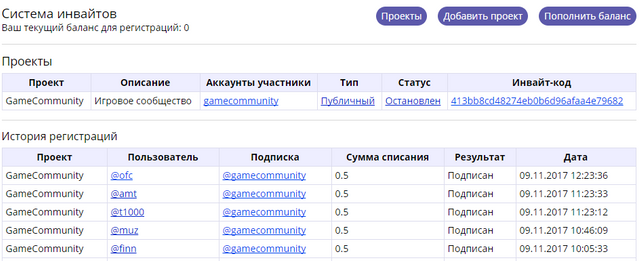 And we're beginning our preparation for winter 🎅 What are your suggestions for a fun winter on GoldVoice? Should we arrange a game on the site? Gathering sweets? 🍭
We will be glad to receive your support. 💌 Put upvotes, subscribe to @on1x and go to GoldVoice.club