Working on a complex code always looks like a race 🏃🏻
The testing of the invites system was started. 🤸🏼 While testing is underway, it's available at https://goldvoice.club/invites/

You can refill the balance for registrations, create a project with several accounts. After that, all users registered under your link will go through the subscription mechanism for the entered accounts. You can stop the project or resume it. 
The project can participate in the program of public registration (the commission for the registration of the user will be divided among all the accounts to which the newcomer will be subscribed).
Example of the program of public registration: there is a person who wants to register in our blockchain. He comes to the registration page, fills the information and sends the registration form.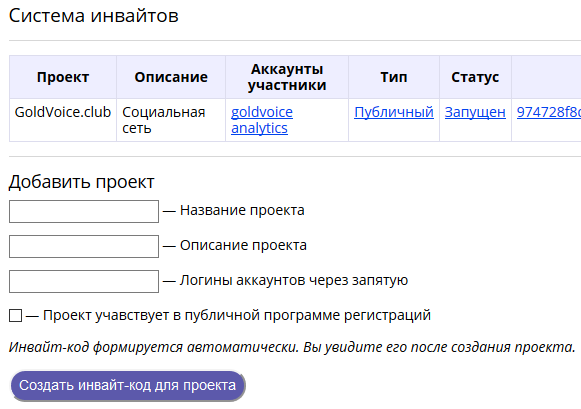 The system looks at the number of projects participating in the public registrations program, sums up all the accounts to which the new user will be subscribed and automatically starts the subscription process. Then it authorizes the user on the site. After 5 minutes the verification will start: to whom the user is still subscribed. Among these accounts will be divided commission for registration (3 Golos tokens).
When registration is through the private invite code of the project (link), the system will charge commission for the registration of the user entirely from the owner of this project. 
🌈 Next are statistics on the using of private invite codes and on the public program, the history of changing the balance of registrations.
Attention, if you notice any error - write in the comments or Telegram group. After the testing is complete, the system will be fully put into operation and the site will have public links for a separate registration.
P.S. It's planned to introduce additional confirmation by e-mail.
We will be glad to receive your support. 💌 Put upvotes, subscribe to @on1x and go to GoldVoice.club