Oh, this is blockchain. Some post_bandwidth, penalties for frequent posting, energy for voting, balances. And all that is strange, difficult to calculate, you have to go to other services...
Only not with us 😉 Now when writing posts, the Energy of the new post will be shown. If it's less than 100%, then the post will be fined and it will receive less reward. Formulae were taken from this post of @veritas. Everything is calculated automatically but requires additional verification and tests.
Also, fresh energy data for voting (the battery in the GoldVoice.club header after logging on) and the users' balances are now dynamically loaded.
Always. Up-to-date. Information.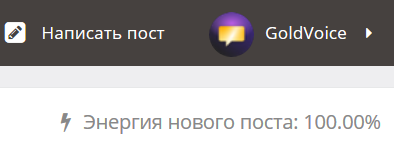 P.S. now the message parser correctly cuts all malicious tags and styles and has also learned to skip font-size. This allows you to do interesting things, for example, big whales!
🖖 Thanks everybody for attention, we will be glad to receive your ongoing support. 💌 Put upvotes, subscribe to @on1x and go to GoldVoice.club.