Introduction
We are at a time when cryptocurrencies are part of the lives of a large number of people at a global level, So every day there is more opportunity to get income through cryptocurrencies and more methods to receive them as payment, but like all good things, they also have disadvantages and one of them that perhaps is the most important is the insecurity. True that the Blockchain technology is one of the safest systems on the planet but that does not indicate that computer hackers can not take advantage of any detail to affect users such as cryptocurrency storage sites. (wallets).
This is when the Goldilock platform helps us with its cold storage offering us much more security than other types of storage such as hot, which makes users have no idea how their cryptocurrencies are stored and with obsolete or inefficient security systems. So Goldilock will revolutionize and overcome traditional technology from Blockchain technology.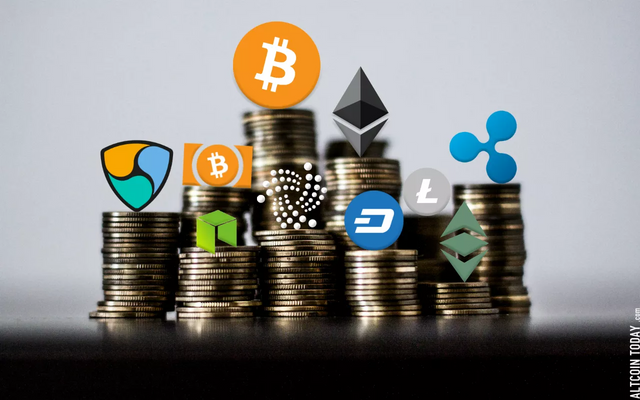 Goldilock started in 2017 with the patent file, from there it has fulfilled multiple objectives *(like being in the TOP 10 companies of Blockchain according to the magazine of Forbes)* and more are expected for 2019. It should be noted that Goldilock uses the NEO platform, which helps perform at least 10,000 transactions per second, which helps in speed and quality of service, avoiding annoying delays.


Goldilock Vision
Goldilock wants the data to be physically disconnected from the internet, but in the case of when users want to access them, they can do it from anywhere and whenever, this will avoid many cases of insecurity while connected to an internet network.
The "HSM Goldilock vaults allow cryptography keys and digital assets to be active and immediately available online through a non-IP trigger mechanism, while physically disconnected and invisible from the Internet when the owner does not use them."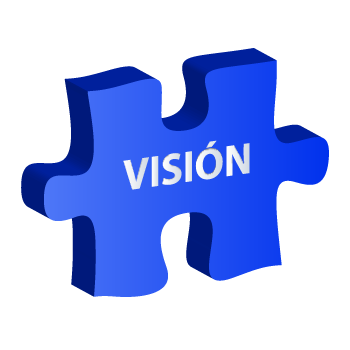 Goldilock and NEO
Since Goldilock and NEO share some core values ​​that fit perfectly into Goldilock's technology,the use of NEO is essential for the Goldilock platform.
In smart contracts, NEO is different from other platforms because it offers a series of features such as:
Aims for Regulatory Compliance: NEO uses key infrastructure key identity rule: (PKI) X.509, so the big companies and governments that use the Blockchain system that require the ability to audit digital assets and transactions can do so thanks to NEO since NEO has the ability to issue and confirm digital identities.

Processes Transactions Faster: With the excellent technology of NEO. It will be done with dBFTat least 10,000 transactions per second (without transaction costs) without the use of expensive machines to complete algorithms.

Utilizes a Superior Consensus Mechanism: NEO uses an improvement in the work test and some Stake Test Consensus Mechanisms titled "Delegated Byzantine Fault Tolerance"
Thanks to everything NEO has to offer, the token has a series of very important features that make everything flow perfectly, that's why Goldilock opted to use NEO on its platform, it was a very good choice.

Lock Token
As part of the implementation of the NEO contract in Blockchain, Goldilock will receive 1 billion tokens with the name of "LOCK".The sale of the Token will be made to finance operations within the company.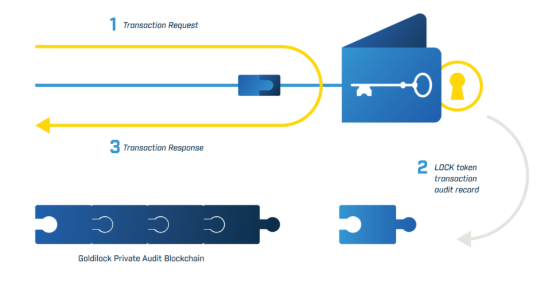 That's how it works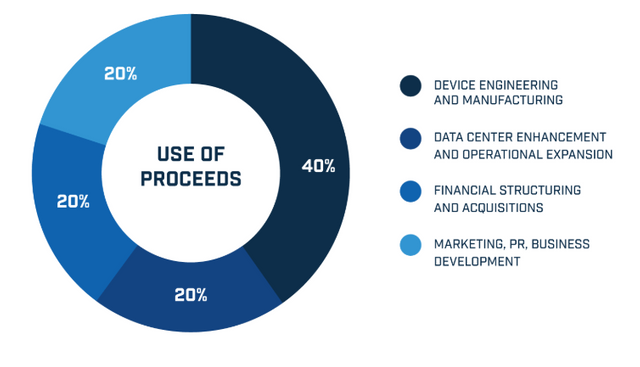 To access the wallet you will need Tokens of LOCK, the system automatically together with NEO will identify if the owner who is logging in at least has at least one LOCK token, Goldilock tokens will be digitally registered as NEP-5 in NEO BLOCKCHAIN. NEO will be the first cryptocurrency to integrate.
The LOCKs will be used to pay for the services of the Goldilock wallet. The token will be registered first in the chain of NEO blocks, and others will be placed at a later time.
TOKEN ALLOCATION
With 1B funds from LOCK, these will be divided into several sectors:
67% Public Sale
16% TEAM, INVESTORS, ADVISORS AND EARLY ADOPTERS
15% BUSINESS, DVELOPMENT, PARTNERSHIPS AND FUTURE SERVICES
2% BOUNTY PROGRAMS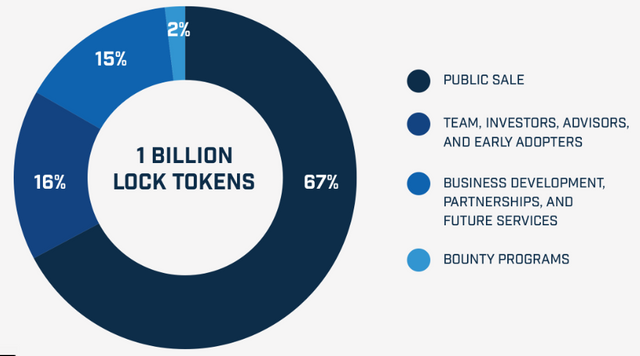 Problems and Goldilock Solutions
Centralized data storage systems, cryptocurrencies, digital assets, etc. are already time consuming and increasingly obsolete and vulnerable, although it is not only the centralized ones, also the traditional cold storage: in cold storage you need a physical device to access, that device can be lost or damaged, and most of those things are always pirated but subtracting these problems, the cold storage offers us much more security than the hot storage without any doubt. But if we continue to compare it with hot storage it is obvious that the hot one has a lot of deficiency.At the level of statistics 1.2 Billions of cryptocurrencies in the last 2 years have been stolen, is a large number that continues to increase, this figure corresponds to connected Internet storage (hot).
Goldilock agrees that access to digital assets, cryptocurrencies, etc ... be quick, also that there is more security than in common stores and that they are far from the access of hackers.
Something very important to say is that Goldilock uses the physical airgrap system and does not use a mechanism with IP, A user can "securely access their wallet through an encrypted connection using a dedicated URL and access credentials."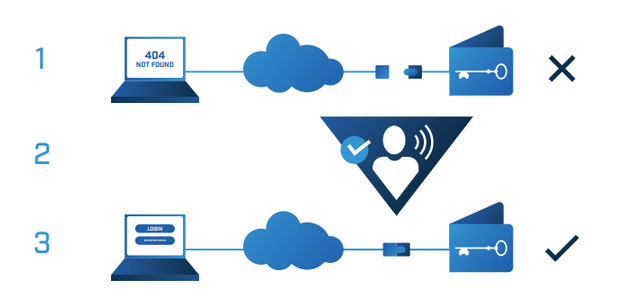 Solutions for Consumers
In daily life, we need, our own information for multiple life processes, part of this information *(documents)* It can be: passports, driver's license, visa, etc.. So you always have to have it safely and close to any event,and what a safer way to store it in a cold storage system, and you only need to be online to make transactions for example. Once the user finishes he will automatically disconnect from the internet.
Solutions for Institutions
It is basically the same solutions, with the large amount of security against hackers and the incredible fast access to data disconnected from the internet, insurance companies, banks, etc. .. will have more security than the other types of storage.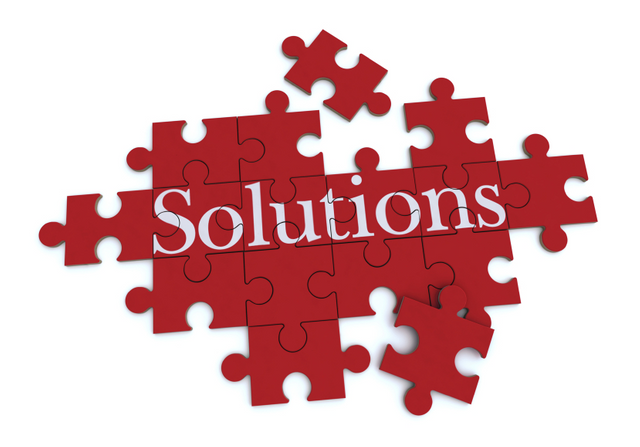 Use Case
A young boy called **Logan** will be traveling to USA almost 1 month,and he needs his personal documents like for example the visa, also it is necessary to mention that Logan lives of the cryptocurrencies, but he has already had several problems in the past with his cryptocurrencies, so he is very afraid with his cryptocurrency wallets, but just a week before his trip he started researching and learned about cold storage with Goldilock.Logan went to read and analyze all afternoon the Goldilock Whitepaper, and really liked everything he offers.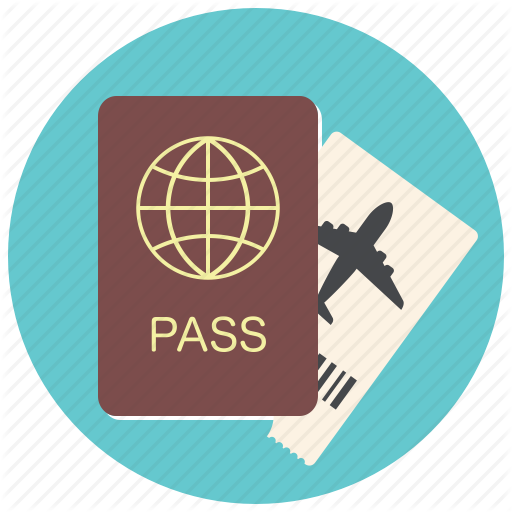 Now Logan can save very important information and his savings in cryptocurrencies from a wallet disconnected from the Internet, and can access it safely and quickly when you want, the only way for your wallet to be online is to make withdrawals or outgoing transfers .

API Services
The main mission of API services "will enable the institutions that already have wallet solutions to make use of our patent-pending solution for their solutions that require improved security".In independent dApps and non-decentralized applications, API services can be integrated. This will help in the creation of privacy-based and consent-oriented applications.

Team
Full of experts studied in areas such as marketing, emerging technology, financial services, etc ... with years of experience and always looking for innovation, they were introduced to the great Goldilock team: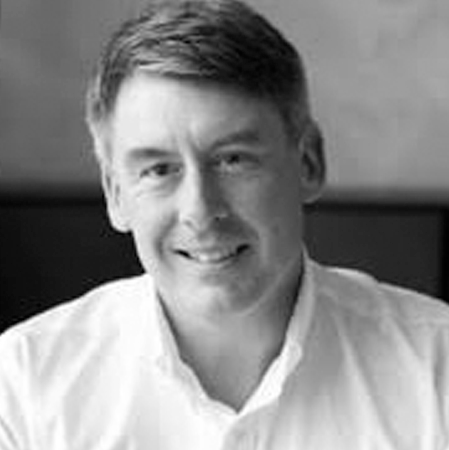 Tony Hasek
CO-FOUNDER
With an incredible record Tony Hasek is an experienced business creator, has raised a total of 15 million in capital for several leading companies, also one of his great achievements was to open the first application store in East Germany (authorized), started working with Blockchain Technology 2 years ago (2016).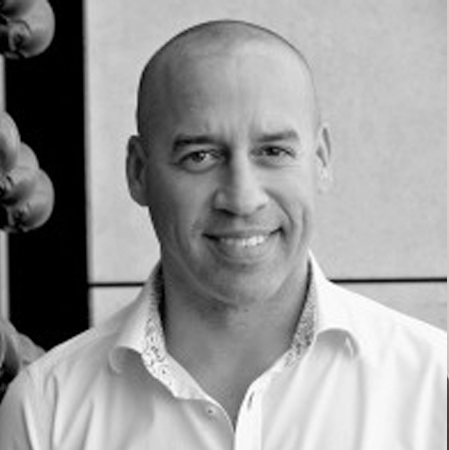 Jarrod Epps
Co-Founder and CEO
Started seriously in 2016 with the theme of blockchain and cryptocurrencies with investments, and more. It has reached an amount of $ 40 million for technology and real estate projects. It has also launched regulated gaming and eSports companies. And we can not forget his successful sale of your service company.
These 2 people are the head of Goldilock, but we must also mention the rest of the team that with its great Goldilock service exists, these people are very experienced in their area within Goldilock.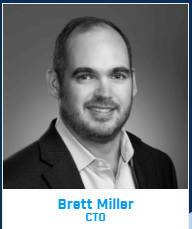 Advisors
Goldilock has partnered with some opinion and development leaders of the Blockchain community, who together have helped develop Secury Suite


Partners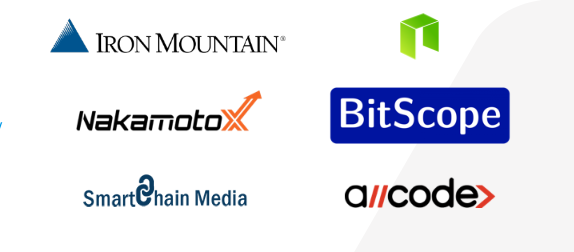 Roadmap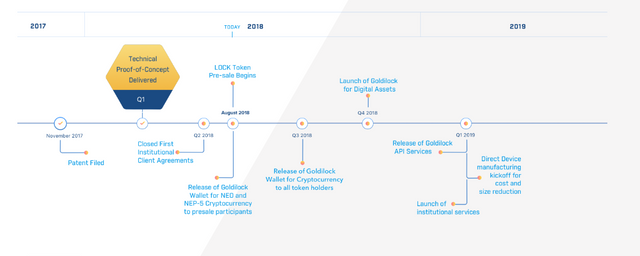 More Inforation of Goldilock
Here are some useful links and their social networks so you can find out more about Goldilock
You can also watch this video that I made so you can better understand:
My Video Presentation
This video was made by me, i hope you like and understand

In the News

IMAGES SOURCE: CryptocurrencysToken, Solutions 1, Solutions 2, Travel Icon, CO-FOUNDER, Team,

This has been my entry for the OriginalWorks and Goldiblock contest, I'll leave you the link to join HERE,I hope you liked it and if you want to learn more you can visit their website GoldiBlock Webpage,.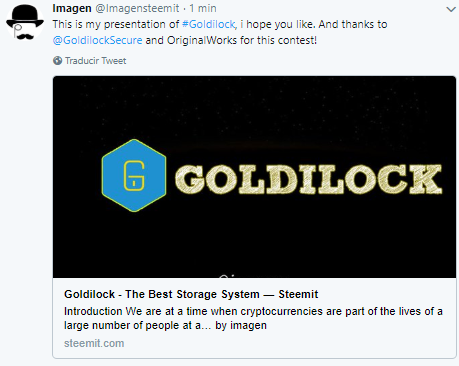 Twitter Screen

goldilocktwitter
goldilock2018