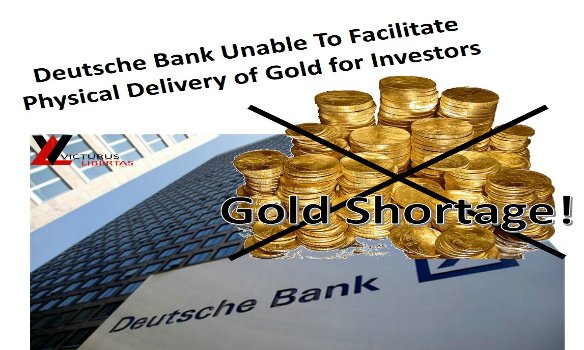 Deutsche Bank has been in the news quite a lot lately. Here is more news on Deutsche- and it's not any better than the news in the past...
Some of the clients of Germany's biggest bank, Deutsche Bank, who have invested in the exchange-traded commodity Xetra-Gold are facing some issues when they go to obtain their physical gold, according to German analytic website Godmode-Trader.de.
According to its website, the publicly traded company "provides investors with an efficient instrument to participate in the performance of the gold market. Xetra-Gold's combination of features – cost-efficient trading and the right for physical delivery of gold - makes it an attractive product."
---
Among its highlights, Xetra-Gold lists the following:
Cost-efficient trading: No mark-up fee, no transportation or insurance costs such as those incurred when purchasing physical gold. Only the standard transaction fees that are charged for on-exchange securities trading are payable at the time of acquisition. The spreads that apply to purchase and sale correspond to the standard conditions on the global market and are considerably lower than those for traditional gold-based financial products. Furthermore, management or administration fees relating to Xetra-Gold are not incurred. The investor pays the amount of custody fees which he/she has agreed upon with the depository bank.
Physically backed: The issuer uses the proceeds from the issue of Xetra-Gold to purchase gold. The physical gold is held in custody for the issuer in the Frankfurt vaults of Clearstream Banking AG, a wholly-owned subsidiary of Deutsche Börse AG. In order to facilitate the delivery of physical gold, the issuer holds a further limited amount of gold on an unallocated weight account with Umicore AG & Co. KG.
Transparent: Xetra-Gold tracks the price of gold on a virtually 1:1 basis, and is always up to date.
Tradeable in euros per gram: While in the past, gold was mainly denominated in US dollars per troy ounce, you trade Xetra-Gold in euros per gram.
Stable/Constant holdings: The investor's right to receive delivery of the certificated amount of gold is not reduced by management costs or other fees, unlike other investments in gold. 1,000 units of Xetra-Gold will still represent a kilogram of gold in 30 years' time.
---
Xetra-Gold is a bond on the Deutsche Börse commodities market, and Deutsche Bank is a designated sponsor. On the website, Xetra-Gold says its clients have the right for physical delivery of gold. However, despite those claims that every virtual gram of gold is backed by the same amount of physical gold, clients have been refused the precious metal upon demand.
The company further makes this promise (stated on their website):
Redemption for gold: Investors always have the possibility of demanding delivery of the securitised amount of gold per bearer note against the issuer. If the investor is not able to exercise this right due to legal restrictions effective for him/her, he/she can demand the cashing of Xetra-Gold from the issuer. In this case, a settlement fee of EUR 0.02 per Xetra-Gold bond will be charged.
Delivery of gold: If an investor asserts his/her right to the delivery of the certificated volume of gold from the issuer, the gold will be transported to the respective point of delivery by Umicore AG & Co. KG, which is responsible for all physical delivery processes. The issuer will also have delivery rights of gold from Umicore AG & Co. KG, as the gold leaf debtor. Investors can find information on delivery and the alternative payment claims that are relevant for investment and insurance companies in the PDF document entitled 'Information on the process for exercising Xetra-Gold'.
---
According to Godmode Trader, one client sought physical delivery of his holdings of Xetra-Gold. He was instructed by the German Börse document, to go to his principal bank, Deutsche Bank and request the physical gold. However, he was told that "the service" was no longer available for "reasons of business policy". The article went on to say it's not yet clear whether other banks are still delivering gold through Xetra.
According to another source, LeapRate, the gold held in custody by Deutsche Borse Commodities for the purpose of physically backing the Xetra-Gold bond has risen to a new record high of 90.67 tons- an increase of more than 50% since the beginning of the year.
This leads us to conclude that anyone who wants to easily convert their Xetra-Gold holdings into physical gold - at least for clients of Deutsche Bank - can do so only by selling their shares, and then buying gold coins or bars directly elsewhere.
Common sense tells me any troubles with delivering even small gold amounts of the supposed "gold backed" bonds to retail clients by Deutsche Bank may indicate that a global physical gold shortage is only growing.
According to the World Gold Council, Germany has the world's second largest gold reserves at 3,381 metric tons. However, there has been a public backlash against the government for keeping most of the country's gold reserves abroad.
The majority of Germany's gold held within the country is being stored in Frankfurt. In December 2015, there were reserves of 1,402.5 metric tons. The Deutsche Bundesbank reports it still holds more than 1,347 metric tons of gold in New York, 434.7 metric tons in London and more than 196 metric tons in Paris.
Germany has repatriated more than 177 metric tons from Paris, and about 189 metric tons from New York.
---
Sources:
https://www.xetra-gold.com/en/
http://www.zerohedge.com/news/2016-08-31/deutsche-bank-refuses-delivery-physical-gold-upon-demand