Guessing the value. Contest results.
Last week I asked "How much is this little brick worth?"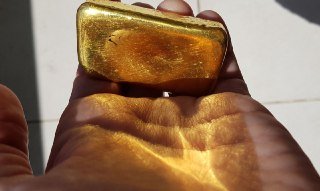 I mean, how much in U.S. dollars, the ones that are commonly used to pay for things like gas and lunch, not real dollars.
One would have to guess the weight of the gold, then figure out what the published going rate is for that gold. You all had a size comparison last post but gold is deceivingly heavy.
I offered 10 SBD and only got two results.
First, this bar weighs 500 grams or half a kilo. I tried to erase the "500" that was written on it in permanent marker.
Second, the published rate for a kilo on the day of my last post was $39,850 per kilo, so the answer to the #contest would be that the bar is valued at $19,925 - nearly double that of the stack of Federal Reserve Notes shown in the last post.
Congrats to @youdontsay who was not even close - but was the closest.
---
Next post, "Real Dollars"
In real dollars, this same gold is worth only $1,351
What's a real dollar? Clue, nothing to do with debt. Money doesn't really change in value that much, but FIAT currencies do. This bar would buy a new car 25, 50, or 100 years ago and it still buys a new car today.
Stay with anything metal- better than just plain paper.
Cheers