GOLD OWNERSHIP GOES DIGITAL: Precious Metals Meet the Blockchain!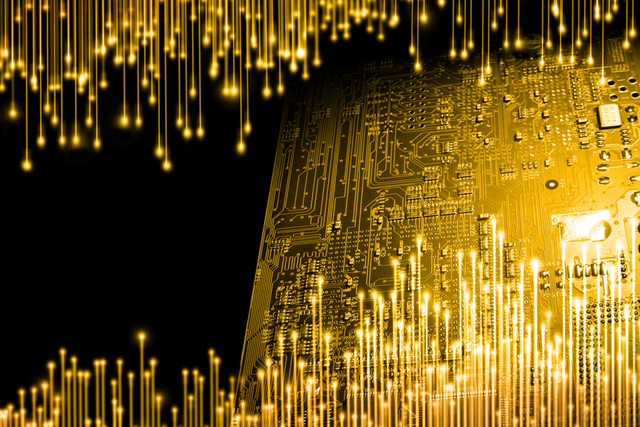 The overlap between precious metals and digital assets is greater than most people realize: they're both anti-fiat and anti-inflationary, and they both put the fiscal power in the hands of the people instead of the government and central banks. The idea of combining the two has been bandied about for a while, but an effective implementation of gold ownership on the blockchain has been elusive.
That's all changing now with a transformative platform built to digitize and trade precious metals and unlock their full potential. It's called Tradewind, and it's going to change the way people buy, sell, store, and keep records of precious metals and the transactions thereof.
The Tradewind concept was born from a collaboration between the highly-esteemed global alternative asset manager Sprott U.S. Holdings Inc. and the electronic exchange operator IEX, which is well-known for facilitating electronic transactions for Vanguard, Fidelity, BlackRock, and Blackstone.
In essence, Sprott is working with the world's biggest and most technologically advanced exchange operator to create a blockchain-based exchange for physical gold and silver, and soon platinum and palladium as well. For investors, this means that there's now a precious metal investment method that's more efficient and secure than shipping, storing, and guarding physical gold or silver.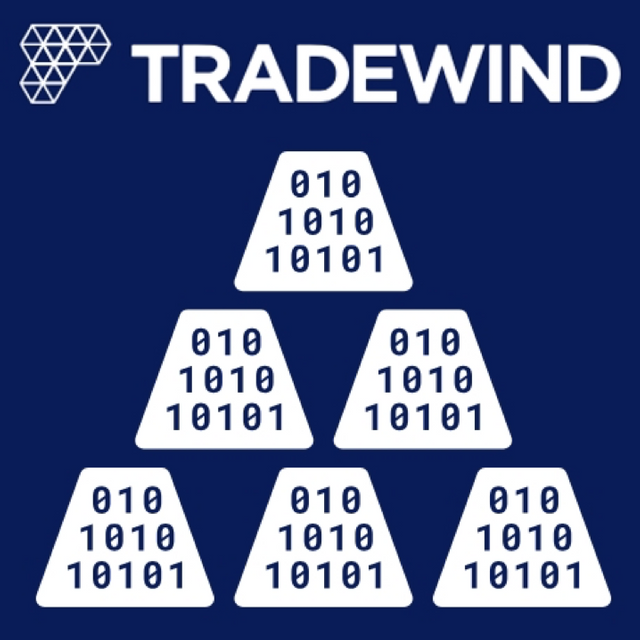 Courtesy: Tradewind
Through the Tradewind platform, investors can buy physical gold and silver with digital evidence in the form of a distributed ledger or warehouse receipt. There's no need to store any metals yourself – the gold and silver is securely stored, along with all of the other precious metals that Sprott controls at the Royal Canadian Mint.
In addition to Sprott and IEX, Tradewind is backed by Goldcorp Inc., one of the world's largest gold producers, and it's managed by a team of professionals with extensive experience in electronic trading, gold investment management, market operations, and blockchain technology.
The result is an unprecedented combination of world-class exchange technology and a tailored blockchain application. It's revolutionizing the trading, settlement, and ownership of vaulted precious metals by linking the diverse and previously disconnected elements of the precious metal ecosystem through the blockchain: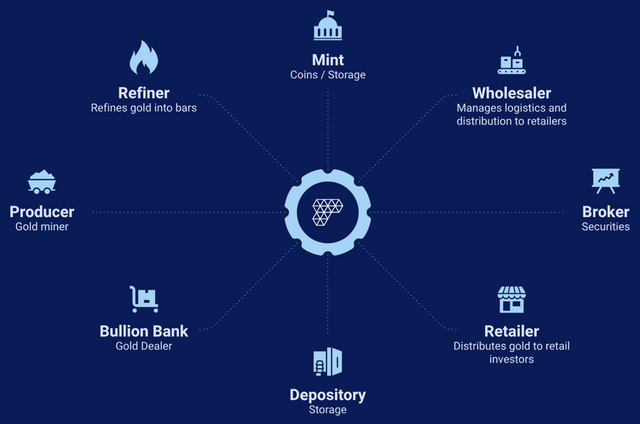 Courtesy: Tradewind
Each participant in this ecosystem benefits from Tradewind's innovative platform. Vaults and refiners can easily interact with customers and other market participants; physical dealers can engage existing customers and attract new customers with a new digital product; gold producers can more directly access physical demand and pricing; and banks can reduce the cost and friction associated with the trade and custody of physical gold.
93% Of Investors Generate Annual Returns, Which Barely Beat Inflation.
Wealth Education and Investment Principles Are Hidden From Public Database On Purpose!
Build The Knowledge Base To Set Yourself Up For A Wealthy Retirement and Leverage The Relationships We Are Forming With Proven Small-Cap Management Teams To Hit Grand-Slams!
Most importantly, investors now have a simple, secure, and low-cost solution for investing in physical precious metals. World-class exchange technology, immutable records of ownership, and direct balance verification on the blockchain will all serve to provide a greatly improved experience over old-school precious metal investing.
Sprott U.S. Holdings President and CEO Rick Rule sees this partnership as the perfect marriage of the precious metal and blockchain domains, with the potential to change the commodity space forever. As the volume associated with the Tradewind project expands, Mr. Rule foresees a future in which precious metal transactions will become so cheap that mining companies will actually be able to pay dividends to their shareholders in gold and silver.
Peter Grosskopf, the Chief Executive Officer of Sprott Inc., concurs with this sentiment, calling Tradewind "the most important thing to happen to the gold market in the last several decades." Distributed ledger technology is clearly the ideal solution to the inefficiencies of the gold trade, and Tradewind is the manifestation of that solution.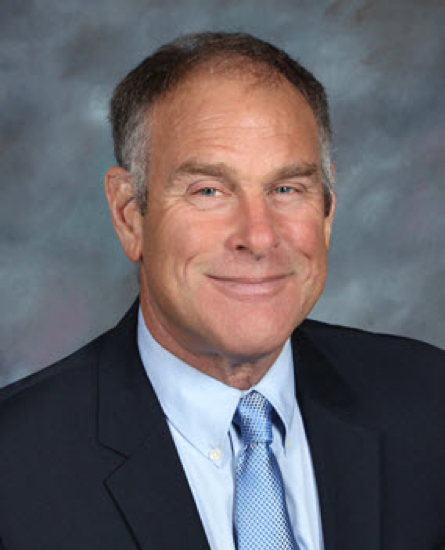 Rick Rule, President and CEO of Sprott U.S. Holdings
What we're witnessing here, then, is more affordable access to precious metal investing: the Tradewind platform, as explained by Rick Rule, is currently providing the cheapest form of gold and silver ownership available anywhere. It's also a very cost-efficient way to conduct transactions in precious metals because it helps avoid many of the fees associated with buying, selling, and storing them.
After all, gold ownership is meant to be profitable – not costly. By eliminating the costs associated with storing and insuring the gold, along with the cost of shipping and receiving, as well as the vast majority of the transaction fees, Tradewind is effectively democratizing precious metal ownership by making it universally available.
If any commodity asset manager is the perfect partner in this project, it would absolutely be Sprott: they already manage well over $4 billion in exchange-traded gold products and have 20 years of experience with people who want to trade their certificates for physical precious metals and have them delivered.
The vast experience and resources of Sprott, combined with the tech prowess of IEX, have created a platform that's retaining all of the benefits of gold and silver ownership while eliminating the disadvantages of dealing with physical precious metals. Tradewind is truly making history and making gold ownership and trading better than ever.
Best Regards,



Daniel Ameduri
President, FutureMoneyTrends.com
93% Of Investors Generate Annual Returns, Which Barely Beat Inflation.
Wealth Education and Investment Principles Are Hidden From Public Database On Purpose!
Build The Knowledge Base To Set Yourself Up For A Wealthy Retirement and Leverage The Relationships We Are Forming With Proven Small-Cap Management Teams To Hit Grand-Slams!
Legal Notice:
This work is based on public filings, current events, interviews, corporate press releases and what we've learned as financial journalists. It may contain errors and you shouldn't make any investment decision based solely on what you read here. It's your money and your responsibility. The information herein is not intended to be personal legal or investment advice and may not be appropriate or applicable for all readers. If personal advice is needed, the services of a qualified legal, investment or tax professional should be sought.
Never base any decision off of our advertorials. Future Money Trends stock profiles are intended to be stock ideas, NOT recommendations. The ideas we present are high risk and you can lose your entire investment, we are not stock pickers, market timers, investment advisers, and you should not base any investment decision off our website, emails, videos, or anything we publish.  Please do your own research before investing. It is crucial that you at least look at current SEC filings and read the latest press releases. Information contained in this profile was extracted from current documents filed with the SEC, the company web site and other publicly available sources deemed reliable. Never base any investment decision from information contained in our website or emails or any or our publications. Our report is not intended to be, nor should it be construed as an offer to buy or sell, or a solicitation of an offer to buy or sell securities, or as a recommendation to purchase anything. We have no current business relationship with First Majestic Silver, however, we are shareholders, and have been previously compensated with stock options and forty thousand dollars cash by the company. Those prior marketing agreements have expired. This publication may provide the addresses or contain hyperlinks to websites; we disclaim any responsibility for the content of any such other websites.  Please use our site as a place to get ideas. Enjoy our videos and news analysis, but never make an investment decision off of anything we say. Please review our entire disclaimer at FutureMoneyTrends.com
Original Article Available HERE