GOLD is Going to RUN HIGHER in 2019/2020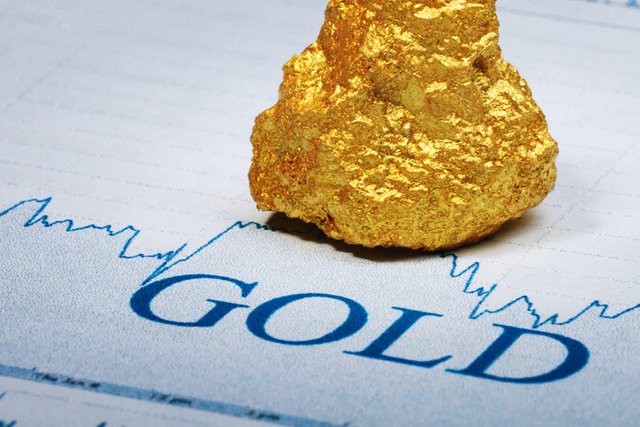 GOLD'S TURNING POINT
Dear Reader,
Don't be surprised if the $1,400 and $1,500 levels come swiftly now that $1,323 has been breached.
Asian economies like China, India, Russia, and Iran have been dumping dollars (which are, after all, U.S. debt notes) and accumulating gold – a trend that has not slowed down as we enter the new year.
Central European nations, and particularly Hungary and Poland, have been accumulating their gold reserves as well. Less global demand for dollars and greater demand for gold is doubly bullish for gold since we tend to measure it against the dollar.
Price inflation will, as expected, continue unabated throughout 2019. CPI figures grossly misrepresent dollar price inflation, which has actually been averaging around 8% annually since gold's peak in September of 2011.
We are also watching for the Federal Reserve to accelerate the pace of its long-standing money printing scam. Let's face it: no one is really expecting the Fed to control the trajectory of the FMQ (fiat money quantity), which has gone almost completely vertical since the commencement of the quantitative easing experiment: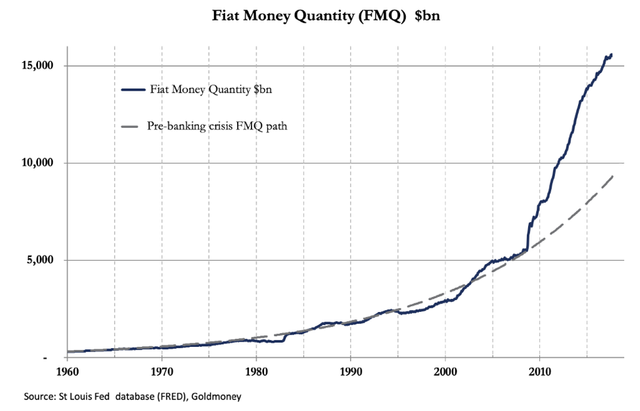 We expect the U.S. dollar to remain under considerable pressure all year long.
This will be triggered by investors' concerns about global economic growth, contention in a divided U.S. Government, and the ongoing trade war between the U.S. and China – all of which are net gold-bullish.
Plus, there's the return of the Powell put: Fed Chair Jerome Powell has no particular desire to cause another bear market in stocks, like the one that happened in the fourth quarter of last year when he threatened to raise interest rates four times in 2019.
93% Of Investors Generate Annual Returns, Which Barely Beat Inflation.
Wealth Education and Investment Principles Are Hidden From Public Database On Purpose!
Build The Knowledge Base To Set Yourself Up For A Wealthy Retirement and Leverage The Relationships We Are Forming With Proven Small-Cap Management Teams To Hit Grand-Slams!
Under pressure from President Trump, Chairman Powell halved his projection of four rate hikes to just two, and it wouldn't surprise me at all if there are zero interest rate hikes – or even a rate cut.
Besides, with international trade contracting and the U.S. budget deficit increasing exponentially, watch for the domestic economy to slump. This will provide the perfect excuse for a whole new round of quantitative easing, Treasury yields in the gutter, and gold being free to move higher.
Actually, quite a few things will be in the gutter in 2019: bond yields, the global economy, the dollar, faith in the government… but if you've got gold, it won't all seem so bad after all. As the world's economy pivots and investors pile into precious metals, faithful gold stackers can sit back, watch the freak show, and rest easy with a comfortable stake in the world's greatest financial asset.
I personally recommend physical gold for safety and savings and the mining shares for those who have a high tolerance for extreme volatility and are looking for maximum upside.
I'll have a full update on our gold picks in March; the profit potential in front of us is the greatest I've ever seen for the precious metals.
Best Regards,


Daniel Ameduri
FutureMoneyTrends.com
Editor's Note:
If you want to own physical gold, I highly recommend Miles Franklin.
They have the best reputation in the space and have been endorsed by all the big names in the industry, including Rick Rule, of Sprott Global, who I consider to be the most respected man in the entire gold space.
Legal Notice:
This work is based on SEC filings, current events, interviews, corporate press releases and what we've learned as financial journalists. It may contain errors and you shouldn't make any investment decision based solely on what you read here. It's your money and your responsibility. The information herein is not intended to be personal legal or investment advice and may not be appropriate or applicable for all readers. If personal advice is needed, the services of a qualified legal, investment or tax professional should be sought.
Original Article Available HERE