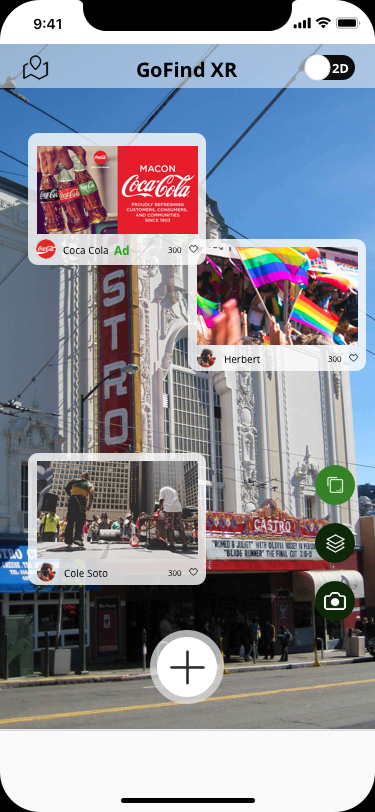 GoFind XR is a decentralized extended reality(XR) platform and persistent virtual world on top of the real world.
We have been using internet for a long time now, it has evolved to a point where it possible to interact with our environment using our smartphones and computers. Extended reality makes this very possible. The information around us which is in 3D space couldn't be handled by the 2D internet that we have been using since the 90s, the environment we live in has quite a lot of things we can interact with using our digital devices. Information about items, locations, quick searches, 360 degrees video and picture processing, maximizing the potential use of AI in our digital devices. That's what extended reality(XR) does.
GoFind XR partnership with Oracle-D is now taking this to the next stage by building the world's first Decentralized Extended Reality (XR) based social media platform powered by Steem & Gofind XR blockchain. This platform is accessible by any smartphone with the GoFind XR portal app which is easily accessible on the android play store and apple's app store. In fact when you do look around through the app's camera viewfinder, you will be able to view content all around you in XR which you will submit 2D/XR posts to earn tokens. Beyond social media, XR ecosystem will be also used in games, real estate, and other applications.
GoFind XR portal app.
The GoFind XR portal is the tool that will give your internet life, it's still in the early development and for the participants who want to try it out will have to use the beta version mostly for android users. It will be available on both Android and iOS platforms though for now there is only a beta version for Android users and iOS users will be getting theirs very soon. iOS Devices who want to use this app right now will need to install Test Flight and send GoFind XR their Apple ID, Google Devices only need to register with their Google Email id.
GoFind XR portal functionality.
All information about the things you see is right up on your screen. You no longer have to ask people for directions, which type of car and how much it costs, good cafe around your location. Users will post and view media ñ (can be 2D / AR / VR), view 360 degrees videos and pictures, you no longer need an additional lens for that.
Your app's viewfinder will be the window to the extended reality, users will be able to view information of various objects that their devices are capturing, location assessing according to the user's proximity to the nearby known locations according to google maps. Users can locate nearby places by just opening the app and viewing the environment in the preferred direction. Users will enjoy hundreds of Location & World aware XR experiences powered with XR Tokens on smartphones. Viewing content all around you in XR which you will submit 2D/XR posts to earn tokens.
Currently, the app is showing the Twitter public feeds & Points of Interest feeds by location which will be replaced with Steem posts shortly. GoFind XR is creating a new internal backend service for Steem to make advanced location-based Steem API queries. Steem blockchain integration with this app is in its final stages. Soon Steemit users will be able to post on steemit using this app. Rewards will depend both on the Steemit reward system and the XR tokens distribution system.
GoFind XR portal experience.
I used this app and it's a very basic app, no distracting menus and unnecessary pop-ups. Given the fact that it's still an early version maybe that's why it's so basic. The included functions work very well as expected. According to GoFind XR more functions are going to be added very soon and that's why we should all be excited.
When I turned around the information was changing on my viewfinder according to what my phone camera was pointing at. There will be more additions in the future when more functionalities are added on to the GoFind XR ecosystem but I must say this is really promising.
There is more to expect from the GoFind XR portal app and surely more functionalities and integrations will be added very soon. This app is one of the core projects on the GoFind XR ecosystem, If you are bought into this project already you can participate in the beta testing of this app, and join GoFind XR ICO from here.
Disclaimer:
This is not a financial advice. Please do you own research before investing in cryptocurrencies or any digital asset. This blog post is done for entertainment and knowledge purpose only.
Important links
GoFind XR https://www.gofindxr.com/
Oracle-D https://oracle-d.com/
Join ICO https://ico.gofindxr.com/
Install GoFind XR portal https://play.google.com/store/apps/details?id=com.gofind.xrportal