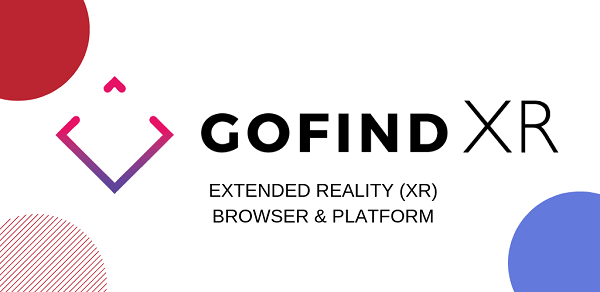 source
---
Most people will agree that if there's any time we see more dynamics and innovation in the social media space that time is right now. We've seen a lot of platforms where users get to do almost the same thing on all these platforms. However with Gofind XR; the first social media platform that permits the posting of 2D/XR video content using the unique camera specifically designed for that purpose in their mobile application.
---
Gofind XR is decentralized social media platform that is designed with the ability for the creation of a virtual world that is an extension of the real world which is powered by an ERC-20 token and an IPFS (InterPlanetary File System) used by similar platforms like Dtube and some others. Compared to other digital posting platforms where contents are based on Virtual Reality (VR), Gofind XR contents are overlaid on top of the real world with the aid of smart glasses and smartphones.
---
This makes it possible for users to keep in touch with the real world and the people around them while maintaining their social media estate. Gofind XR is powered or backed by a native currency that is used for all transaction in their ecosystem. The XR token is an ERC-20 token powered by the Ethereum blockchain.
---
The XR Token
Let me talk about the XR token for a moment. Basically, the XR token will be used to register land and make transactions on the XR Web. Various applications including social media, shopping and games can be built on the Land. I would like you to see the land as bandwidth or a kind of memory space used to create on Gofind. Gofind is the new 3D Internet and that is what permits extended reality. Making use of the XR tokens, investors and users can use them on specific geographical locations while earning a revenue share from advertisements and many other rewarding mechanisms on the platform.
---
The Gofind blockchain gives users total control and security over the virtual currency in their possession. This includes land ownership and asset ownership which is posted to various frontends associated with Gofind XR through an InterPlanetary File System network. Before now, the platform runs on Android and Apple mobile devices (iOS) that support AR (Augmented Reality) frameworks together with location-tracking features. The goal of the whole thing is to create or build a rich parallel space in the reality we experience and the one we are able to share with our friends and loved ones.
---
Before I sign out, let me quickly show you some of the amazing features of Gofind XR and how an individual user will enjoy the whole experience on the basis of the Gofind XR digital assets;
---
XR Browser
This is a camera-based mobile browser with the capacity of taking 3D images and video clips. The browser will also enable users to view the XR web directly. In addition to that, this component will allow users to experience the internet in XR mode in real time on both Android and iOS mobile devices. The Demo version of is already available for both devices. Above all, the browser will work with Smart Glasses as they start becoming more popular and cheaper.
---
XR Web
This browser will include geolocations and associated assets and applications. Some part of XR Land can be leased by users by staking some of their XR tokens. All these transactions will be stored in a secure manner on the blockchain. The XR Tokens is the native currency for all trade and commerce within the Gofind XR ecosystem. It will be the core medium of exchange on all their applications and assets.
---
I am looking forward to seeing how all of these will unfold before our eyes. I believe the internet is becoming too regular and there is a great need for an innovation that takes the whole social media thing a step further. This is why I am really excited about Gofind XR.
---
References
1, 2