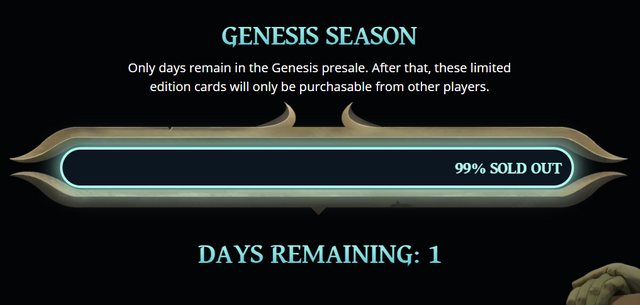 The long awaited day is coming, tomorrow trading of genesis cards will go live. A good post to read about values and how the game and meta might effect the prices of cards I'd recommend reading on of @snuff's posts called Pre-Market Analysis for GU. It's going to be exciting!
Other than buying packs/cards that you either play with or hodl as they will be scarce and never printed anymore, you can also purchase chests that can't be checked what cards are inside. They are about 10% more expensive but may appreciate in value over time especially since there is one diamond legendary card still unopened called Avatar of War. Looking at its predecessor Magic the Gathering these packs/chests could go for a lot in the future if the game becomes as popular or more (same thing can be said about Splinterlands Alpha packs that sell for a lot more today after only a short while since they were sold and the community here on Steem isn't even that big yet):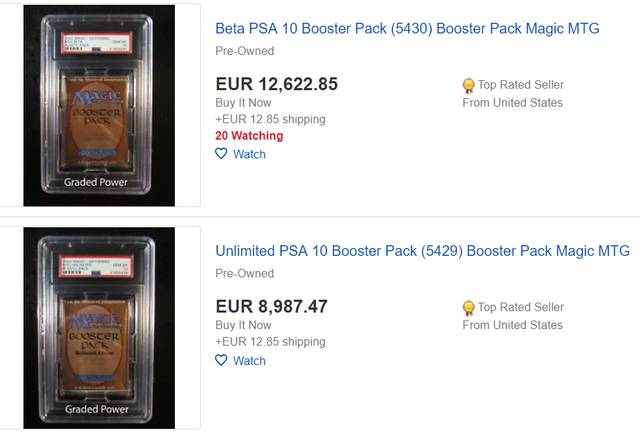 There are only ~600 Legendary Chests still available but they won't even all be bought out as there's only 300 ETH left for hard cap with only around 10 hours left to go, you might have to install metamask and move some ETH onto it fast if you still want to get some cards or chests. Since there's not that much ETH left any whale could at any time eat up the rest.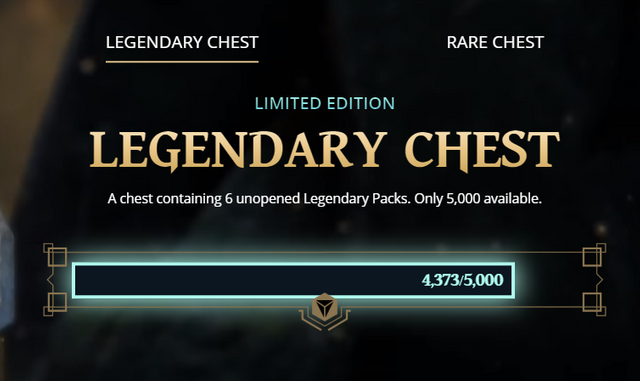 It's been a long pre-sale of over 1 year and so much has happened in the Gods Unchained world, the team has been amazing, the community likewise and investors seem to have noticed it and the pre-sale is about to be sold out and Immutable the company has received some really large investments for development and marketing.
Some of you may have gotten annoyed at my GU posts by now and my fascination and addiction with them - I know my gf is one of them (sorry baby), but I've always seen gaming and blockchain be a match made in heaven and have awaited something as timeless as a mix of Hearthstone and Magic the Gathering to be backed by blockchain's immutability to give collectors and players power behind their assets and let them do what they want with them. The censoring giants who are only out there to take out as much money from their players as possible and have been reigning in this sector for too long better watch out. There's a new player in the server. :)
Anyway, if you're gonna FOMO in like many others probably have, me included on this last day and buy some packs, I'd appreciate it if you used my referral key if I got you to hear about Gods Unchained. Good luck with getting a diamond epic or legendary as those might go for a good amount of ETH in the near future! :)
What are your thoughts on the game, the company? Are you as excited as I am?
Here's a video recording of the stream yesterday showcasing the marketplace that will be opened very soon for genesis cards and in the near future for your core cards that you can win by playing and selling onto the marketplace as well after the core cards reset for the current beta.
---