Yesterday I went on a hike to the top of Mt. Daniel in Pender Harbor, BC. Here's the view from the top.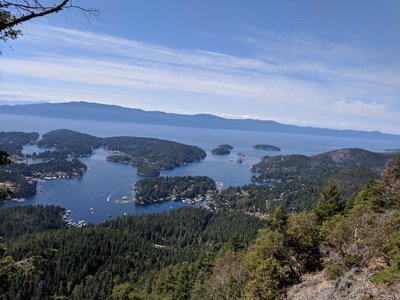 As you can see, the view is stunning.
It really hit me, just how small each of is in this world.
How is it then that some people have such an influence over so many others? They didn't start out that way.
My book, The 7 Minute Millionaire has sold thousands of copies and from the comments I get from people, they are seeing hugely positive changes in their life by implementing my simple system for massive achievement.
But even those thousands of people that have read my book is a small number when I look at the bigger picture from the top of the mountain.
But here's the real conclusion one should look at.
You don't need to have a massive audience to make a lot of money online. If you have an audience of even just a few thousand that is responsive to your message, you can do very well financially.
So how do you go about gathering an audience?
There are a number of ways to start. - Blogging, Facebook, Twitter, Solo Ads, Guest Posts are just some of the ways you can begin to get your message out.
All you are doing is looking for those people that have an interest in your "message." From there, communicate with them on a regular basis and offer them the opportunity to buy something of value from you – and bang – you have a business.
It really is that easy.
However, it does take some time – but more importantly, it takes a commitment to the process of your plan.
Some of the ways to build your audience are faster than others and some still even faster.
In my free report, Pave Your Path to Online Profits, I detail one of the "faster" ways to build an audience.
If what I'm talking about makes any sense to you, or you're thinking about audience building, this report is a must. Get your FREE copy by going HERE NOW. http://bit.ly/2v4Qql8