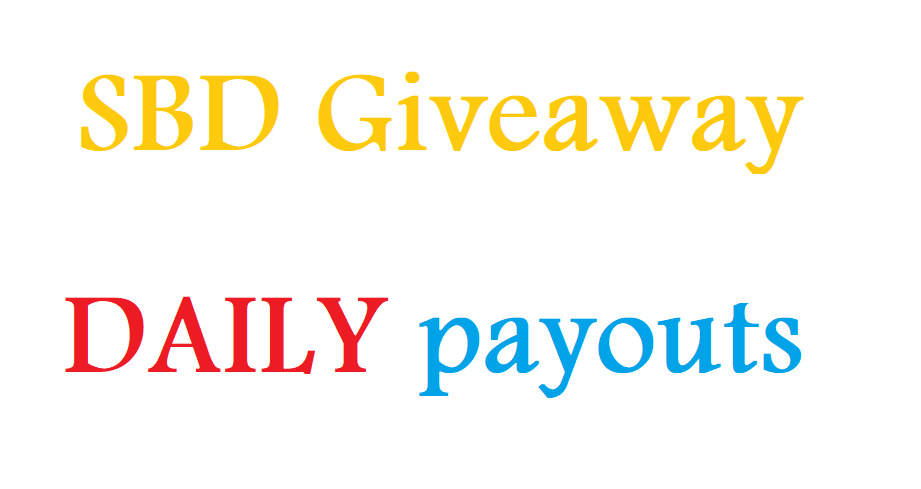 Rules of this giveaway
Upvote this post within 24 hours. After that, the giveaway will be CLOSED.
Reward
100% of SBD earned from this post will be equally distributed among all the voters (who have contributed towards the payout) by the end of 7-day payout period.
Automate your passive earning
Register in https://steemauto.com and then click on 'fanbase' and type sbd.giveaway in the empty field and click on 'follow'. In this way, you will not miss any giveaway post.
IMPORTANT
Please note that SBD will be sent to only those who have contributed to the payout or who have TRIED to contribute.

What does that mean ?
By TRYING to contribute, it means that you upvoted with 100 voting weight, even though your vote value is zero. See below the results of the giveaway of 7th April. Some users' vote value is 0 but they upvoted with 100% weight; such users will be sent SBD. Those, whose vote value is zero, and they upvoted with less than 100% weight, will not be sent SBD.
https://steemblockexplorer.com/@sbd.giveaway/sbd-giveaway-7th-april

How to be eligible to earn SBD?
First thing, you should power up whatever Steem/ SBD you have. It is recommended to have 50 Steem power at least, and then you will see some influence of your vote.
Second, your voting power should be above 95% at the time of upvoting.
You can check your voting power on https://steemd.com/@username . If it is lower than 95%, don't upvote on any post and let it recharged. Upvote maximum 8 posts in one day, with a gap of 2 hours. In this way, your voting power will always be above 95%.
ANNOUNCEMENT
The lottery members will get their rewards in STEEM POWER!! Amazing, isn't it ?
Remember, @sbd.giveaway is all about helping minnows grow