Tomorrow, August 1, is the first anniversary of Bitcoin Cash, or Bitcoin Independence Day as some of its supporters like to call it. BTC.com, the mining and wallet company owned by Bitmain, is celebrating this special day by giving away Bitcoin Cash.
They're trying to get crypto nerds out of the house by putting up posters outside in cities across the world. The first 1000 people who find a poster and scan the QR code on the poster with the BTC.com app for Android or iOS will receive free Bitcoin Cash - they're not saying which amount. Posters will appear in public places in the following cities:
London, Geneva, Paris, Amsterdam, Valencia, Madrid, Berlin, Tel Aviv, Canberra, Perth, New York, Miami, San Francisco, Montreal, Osaka, Hong Kong, Singapore, Las Vegas, Moscow and more!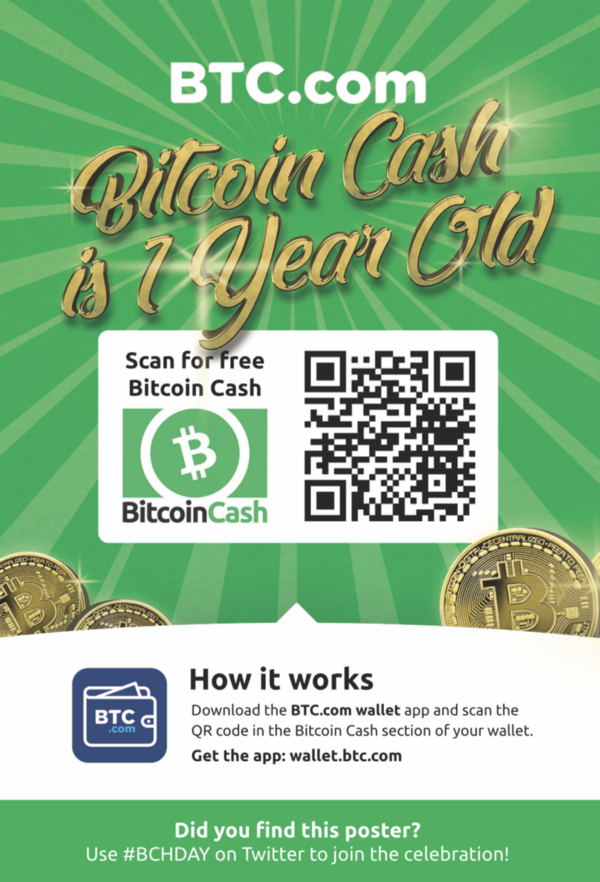 But wait, what do I see on the second poster in their blog post? That's an uncensored QR code! So I downloaded the app and scanned the code. After a few hiccups, it worked. First, I needed to switch from Bitcoin to Bitcoin Cash, and then I needed to enter my phone number under Settings. I received 0.006 BCH, which doesn't look like a lot, but it's still worth around €4 or USD 4.65. I guess you could use it to buy a cup of coffee in some of these cities, and probably more than one in the rest of the world.
I don't know if the poster on the blog really is the same one they're using for the offline airdrop. That would not be very clever. And disappointing for the QR hunters who'd miss out. But I think it's fair that people who don't live in world-famous cities also get a chance.
If you're too late for this airdrop, you can still get a few cents worth of Bitcoin Cash from @rogerkver's faucet, which is open every day. Install the Bitcoin.com wallet for Windows, Android or iOS, and follow the instructions at https://free.bitcoin.com/
I haven't tested these apps thoroughly, but the Bitcoin.com wallet looks better. I also use BRD, formerly Breadwallet, which doesn't have to give away money to recruit users.
P.S. Bitcoin is Bitcoin and Bitcoin Cash is Bitcoin Cash.