I went to an explosives handling course in Socorro, New Mexico a few years ago and went out to lunch with one of the few people there who grew up in New Mexico. The waitress asked each of us "Red or Green" when we ordered and my New Mexican acquaintance answered "Christmas." Every entree comes with chili pepper sauce, which is red or green depending on whether it is made from ripe chilies or green ones. If you choose "Christmas" then you get one scoop of each. This recipe is inspired by the red and green chili combination.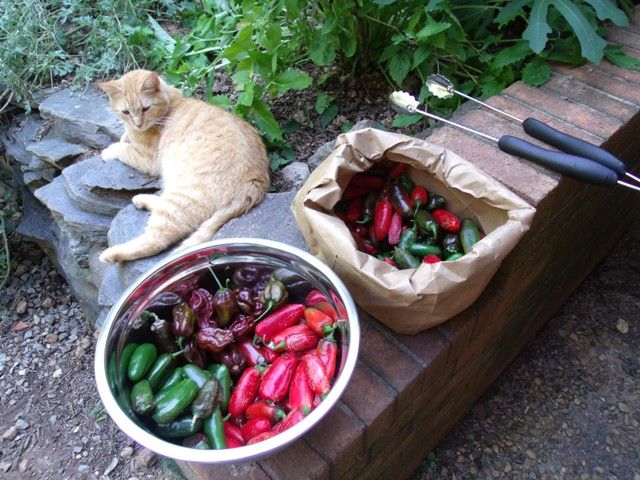 One of the benefits of being on Steemit for more than a year is looking back on old posts. Last summer I did one on making Christmas Salsa. This year's version is a bit different. We used some Black Congo peppers last year that were just amazingly hot. This year the new pepper is Mexibell, which is a sweet bell pepper that has just a little heat. The result is a much milder salsa that anyone can enjoy even if you don't have an iron tongue.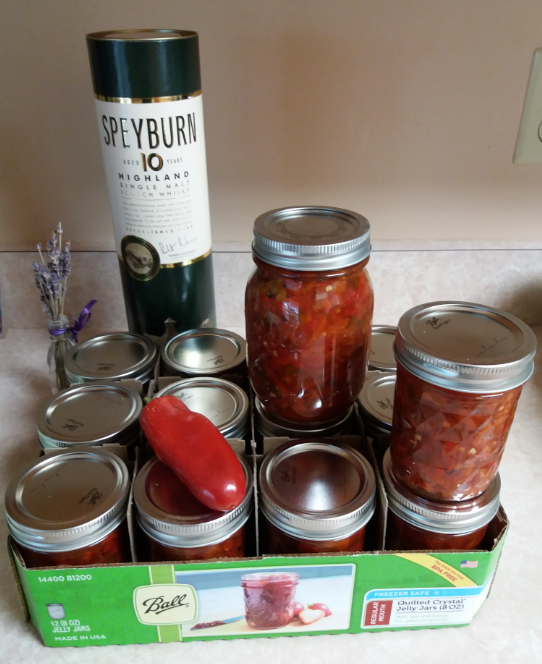 I roasted the peppers on a charcoal fire to scorch the skins and scraped off the blackened parts. Then I scraped most of the seeds out and chopped up the sweet fleshy part of the pepper. The only other addition is 1 cup of vinegar and 1 tablespoon of sea salt for each 10 cups of salsa. The first batch of the season produced 7 1/2 pints. That bottle of scotch in the background is just for celebration later.
A link to the original Christmas Salsa post
There is a little bit of a mystery going on in the garden right now. We found a volunteer pepper plant next to the compost bin that looks suspiciously like the notorious Black Congo pepper plants from last year. It is just starting to produce some peppers that are roughly shaped like a Jalapeno, but they have a bit of the squashed appearance of a Habanero. We suspect that they are a Black Congo-Jalapeno cross, but we will have to wait a few weeks to find out.
Cheers,
Professor Bromide