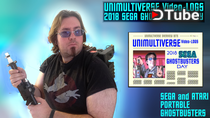 ---
UNIMULTIVERSE Video-LOGS 2018 SEGA GHOSTBUSTERS DAY
A video for February 4th, or Sega Ghostbusters day, in 2018.
This time I take a look at the Sega Genesis Ghostbusters game being played on AtGames and Gopher portable Sega Genesis players, but not before playing some Ghostbusters on the Atari Flashback portable.
More video like this can be found on YouTube, check them out!