This is in reference to episode 1 of season 8 where the special guest is arguably the most famous chef in the world: Gordon Ramsay.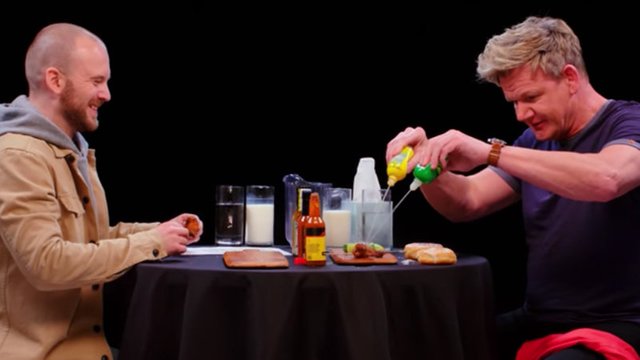 source
If you don't know what "Hot Ones" is, i would not be surprised even though they average millions of views. It is a show where celebrities come on the show and conduct an interview with Sean Evans about various things, mostly it is obviously to promote something that the guest is involved in.
The twist is that the interview is conducted over a plate of chicken wings that gradually increase in spiciness, the final one being a sauce that is so unbelievable spicy that it really was never meant to be enjoyed. The final sauce, which is actually made by the creators of the show, has a Scoville rating (a spiciness measuring system) of over 2 million. To give you an idea of how absurdly spicy this is, Tabasco's flagship red sauce has a Scoville rating of around 5,000.
All the guests start out just fine as the sauces are extremely mild, but you can see how it becomes more and more difficult for them to actually carry on and they lose their concentration, start hiccuping, spitting up water, or are simply unable to continue.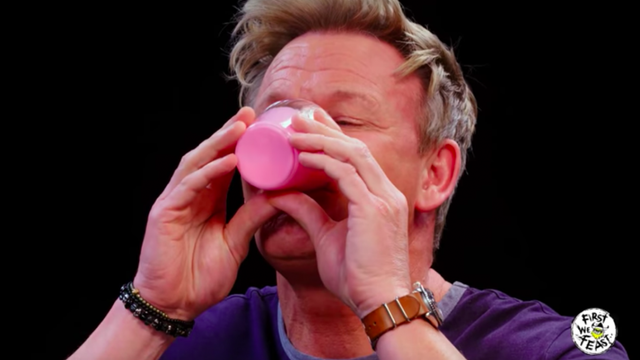 source
Gordon came prepared with a bunch of things to assist him and at one point he was chugging about half a bottle of Pepto Bismol. Some of the other items include citrus (would that help? Seems to me it would make it worse - I suppose Gordon would know) and sweet donuts to attempt to counter the burn.
At the very end Gordon, whose entire body is still on fire from the 2 million plus burn, has to walk Sean Evans through making the perfect scrambled eggs. Normally a composed and arrogant person, Gordon has a very difficult time getting through this.
I don't even know how I originally encountered this show. I must have been searching for chicken wing recipes because I really love me some hot wings. However, I don't think that food should be punishing and well, i would imagine that that top sauce is not terribly enjoyable for really anyone. Sean Evans seems to handle it pretty well, that guy must have a tongue made of lead.