Again I will state that if you are not interested in playing the game this wont be very meaningful to you. However, Guild Wars 2 is free to play and is a pretty great alternative to WoW, if you are into that sort of thing.
In my opinion, the second easiest class to play "right out of the box" is the Ranger. This has a lot to do with the fact that well, you are most likely going to be primarily using a ranged weapon.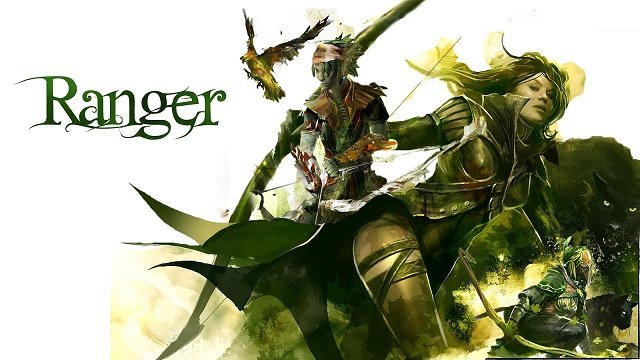 The longbow, as it might suggest in the name, has one of the longest ranges in the game. Meaning you can put a great deal of distance between you and your enemy. The shortbow and even the axe have good enough range that you can stay out of melee distance pretty easily. The ranger is able to use some melee weapons such as the sword also, but since i prefer to keep my distance I never really tried that.
One other reason to use the ranger is the fact that it is the only profession in the game other than Necromancer that has helpers. Throughout various parts of the game you have the chance to "charm" animals and make them your pets. There are lots of these and there are a wide variety of them including bears, jaguars, spider, sharks, and even small dragons.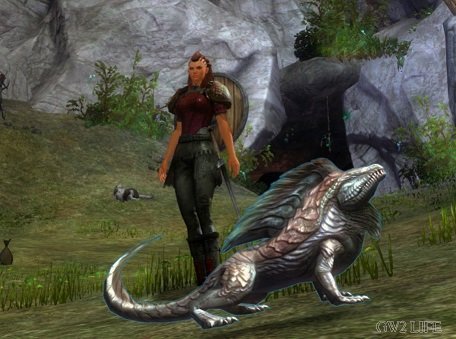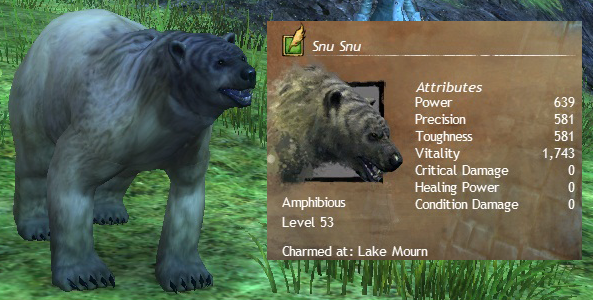 each pet has different attributes and special abilities
Just like the necromancer the pet can take damage for you and if you plan it right the enemy will be primarily attacking it and it can take more damage than you can for some reason. This increases the ranger survival rate dramatically.
The pets need to be charmed and are located all over the world of Tyria. So gathering them all is kind of like a whole side quest. You don't need them all and can only have 2 equipped at any time but some people like to complete everything (and trust me when i say it is going to take a while.)