A Closer Look At The Gauntlet Client
The new paid-to-play Gauntlet Client will look and feel like a normal gaming client that you download straight to your PC, however, it will have some unique differences. In this article, we will examine closely what sort of treat we are in for when the V1 Demo launches later this quarter. Many avid gamers are saying we are optimistic and to be honest, we actually are but, we believe we are creating the future of paid-to-play gaming.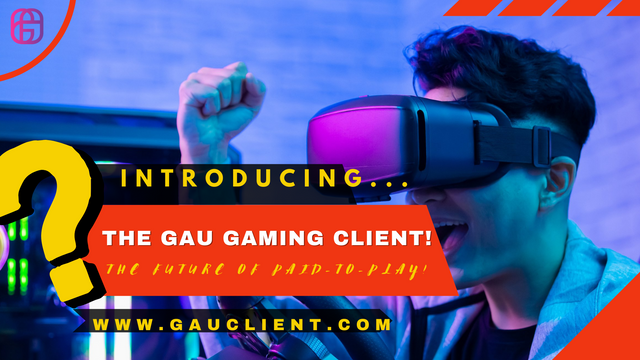 Dashboard
The GAU Client is a multi-feature gaming client that will be capable of seamless tab switching between ESports, Streaming, Game Play, and shopping modes. The Dashboard is what every user will see when they first open or load their client. It's essentially a snapshot of the player's financials with rich data filter options, progress charts, holdings, top players, games, and more. We are looking into much more integrative features for later client versions however our demo version will pretty much look like this.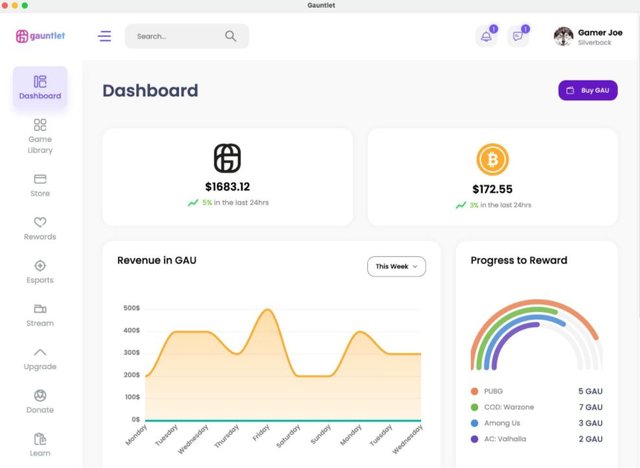 The Games Library
The library will contain all user-purchased games and will be listed in order of favourites and preferential play. Existing games that were integrated from users' desktops will also be here. These games will be added to the rewards algorithm so you can earn rewards on them too. We will be adding more features to this page after the demo completion. From this tab, you'll be able to start playing at the click of a button from your most popular games and earn GAU tokens as you play!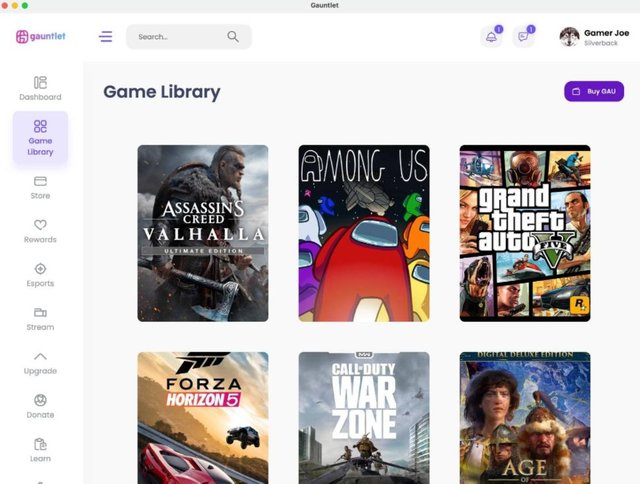 Store
From bestsellers to new releases, pre-orders, high and low-cost games in different genres to gaming gift cards, subscriptions, software, and much more, Gauntlet will offer access to thousands of products for users to choose from. All purchases will be made with either BTC or GAU however we will offer purchase discounts when buying with GAU. This will be announced closer to our client launch.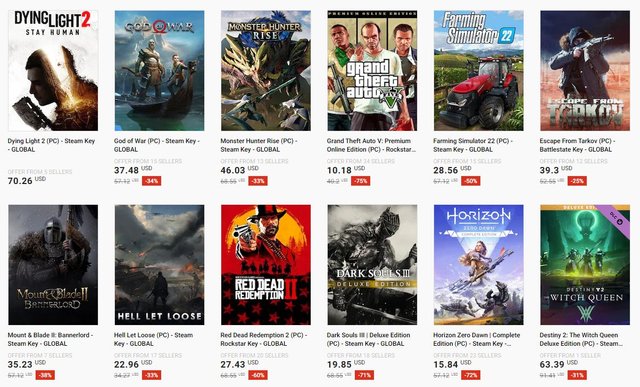 Rewards
Gauntlets' unique crypto rewards center has all the information you will need to gauge your progress from game type, earnings to date, playtime, and time left until your next reward. You'll always know where you are with each game at any given time. GAU rewards will be based upon game-time, currency value, and other parameters. We will integrate our GAU wallet into the rewards tab of the client and will be showcased in our up-and-coming prototype. Other types of rewards will include; free games, subscriptions, gift cards, and more.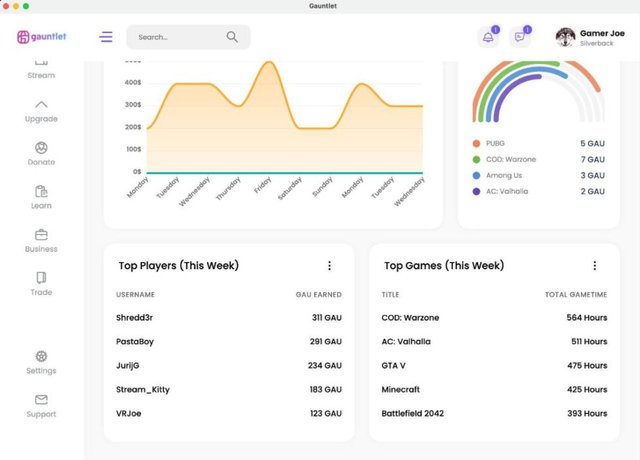 Messages
Why go to other gaming chat platforms when you can chat to your friends inside the GAU Client. Select your custom avatar, accept donations, add unlimited friends, create group chats, send files, images, and voice messages.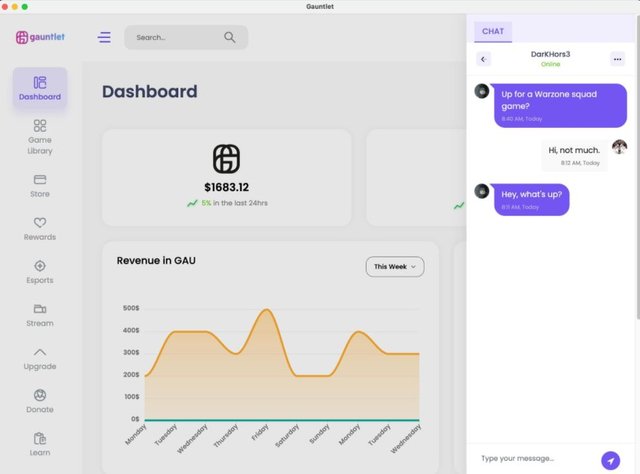 ESports
Players can view existing events that are happening or future-based scheduled events and can even participate! Create your own event for fun with your own friends and offer GAU as rewards! If you are 100% serious about Esports, we will have a host of design options, parameters, and elements users can use to drill down and create customised professional events, which can be shared on social media using our social sharing features will be coming soon.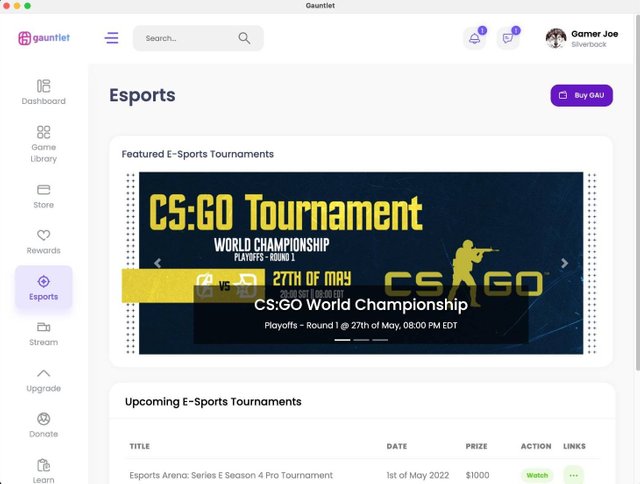 Live Streaming
Want to build a following? Start streaming and showcase your skills to an unlimited global audience, accept GAU donations and engage with your viewers via chat box with our streaming features. Those wishing to stream will also get rewarded for their stream time and can allow their audience to interact with them via text and invitation-only voice chats. Revenue sharing will also be available to streamers at some point in 2022 onwards. Don't want to stream? No problem, choose from a host of streamers across the GAU network and select the one for you to watch and support. Our working beta release will showcase these additional features.
Upgrade
Every new user to the Gauntlet gaming client will begin at the free level where they will be able to enjoy all the benefits and earn crypto rewards for game-time and stream-time. Alternatively, players can, if they wish, upgrade to the Silverback package and get additional value via exclusive offers, releases, and priority support along with a host of other perks than the basic package offers. The cost of the upgrade has not yet been established however users will be able to upgrade using their GAU rewards.
Donate
Users can both accept and donate GAU p2p. Simply just select the amount and put in the username of the recipient and proceed to click the donate button. It couldn't get easier than that. Our working beta version will have more additional donate integration features into other client tabs in our prototype to prevent tab hopping. We may in the future also look at other token types to include in later client versions.
Learn
Our learning portal is a very exciting addition to our client offering. Users will be able to select from a range of courses delivered through a micro-gaming format to increase engagement and completion success rates. These courses will begin as stand-alone courses but we plan to make them progressive so that users can start at a very basic level and work their way up to more advanced content.
The courses will be based solely on technology and innovation and will include cryptocurrency, artificial intelligence, augmented reality, gaming advancements, future technologies, and business intelligence. Our plan is to launch our own Gauntlet educational academy in partnership with other global course providers later in 2022/2023.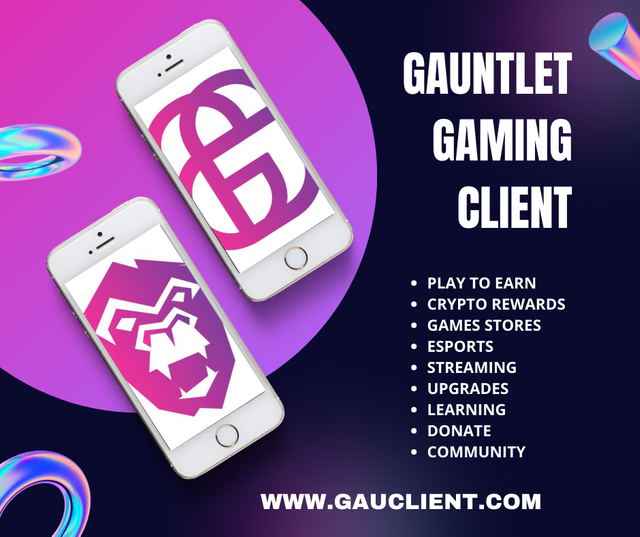 Gauntlet anticipates the GAU Client demo version to be released in March 2022. We will be inviting about 20 testers to our soft release before we release it to the public. We would like to ask our community to stay updated in our community as we will be releasing more client images before we go live with the prototype version.
Until our next article,
Gauntlet Team.