My Trip Log - Visit to Nagalapuram Water Falls
A sudden plan for a trip was made on 5th of July. 9 of my college mates were interested to join and two added up later during discussion and we were 11 totally when the trip started. The only regret was not informing few people about the plan. But chill guys! We will make better plans soon. Stay tuned for more updates.
Aravindh (aka. Saidapet) called me the previous day to the trip and updated me about the departure time (4.45 AM) from Santha Home.
I slept at 11.30 PM on 22nd July, Saturday. Since, 2 of my friends want their personal problems to get fixed through calls. However, I know I can still wake up on time. Kept alarm for 3 AM and as usual I slept after switching it off. As promised, Aravind called up at 3.45 AM to wake me up whereas, Prabha helped him to get up.
I left home at 4.17 AM with my Vegan to Santha's home, so that I could reach on time. The count reduced to 10 from 11 due to Petchi's absence at the last minute. 5 people including me started from Santha's home by 5.07 AM (Car KM noted: 64,259 KM)
Whenever we (College Mates) plan for a trip, we give priority to Entertainment rather than money.
At 5.18 AM, we reached petrol bunk to fill petrol for the car (Joseph friend's car @ 64,263 KM)
We took a tea break around 5.25 am in Poonamalle. We left the place, rather reluctantly, after 15 minutes and we reached Nagalapuram within 1 hour 40 minutes. I saw that its 64343 KM (i.e, 80KM from porur)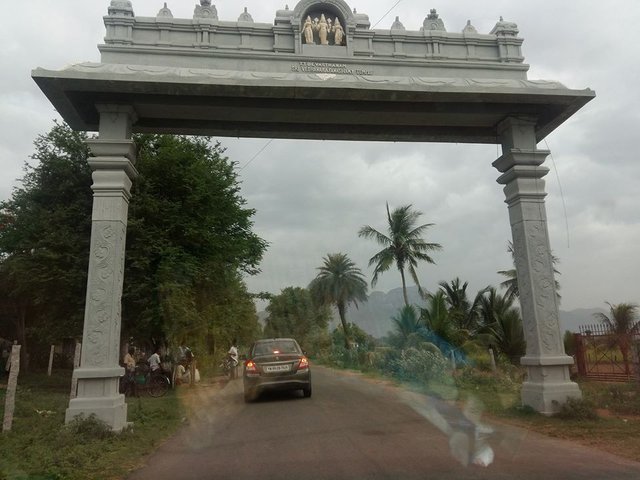 At 7.30 AM we ate delicious idly & vadai for breakfast in a village. The Total amount was Rs. 200 for 10 people. I ate 6 vada myself out of 25 vadai's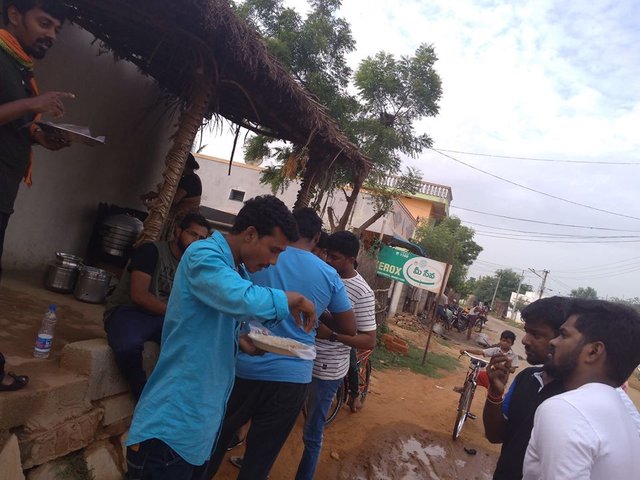 We ate and started our travel again. We stopped our car within 10 minutes, believing that we reached the spot. But we are supposed to walk for another 3-4 KM to reach the falls.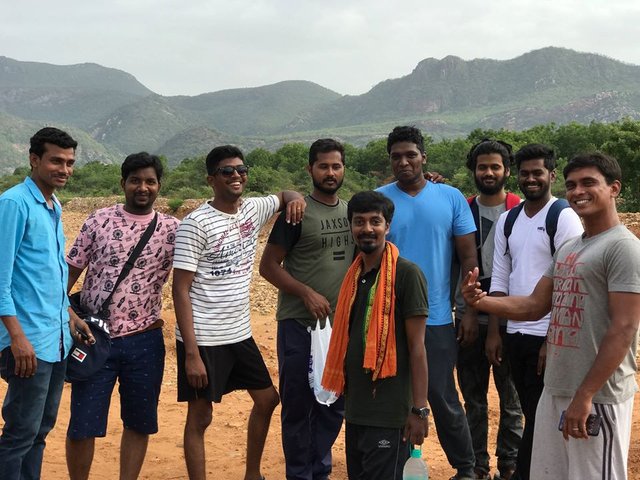 Anyway, we started walking. Instead of feeling tired, we all felt joy and happiness. It's usual to mock each other whenever we meet. However, Shriram gave us company when we started topic 'Hygienic Health' and 'Corruption in today's society. Praba also joined the discussion and added some more points.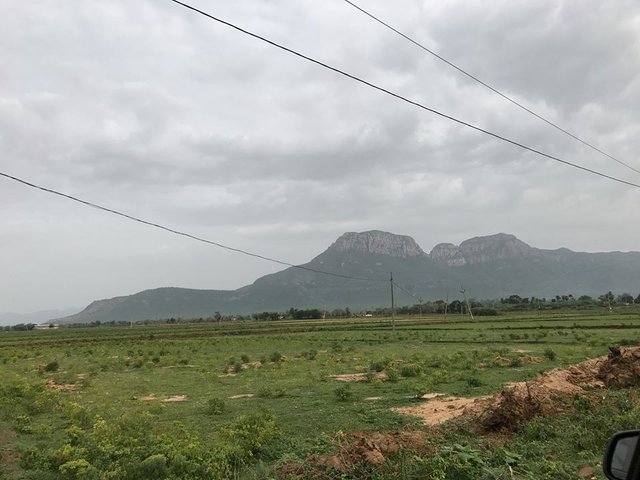 Then we reached the place. Out of all excitements and shouts, it's me who entered into water immediately as soon as the water fall came into view. Had some epic fun time in water by passing comments on Shriram (Raghul Thatha) with all dialogues from movie, Naanum rowdy than.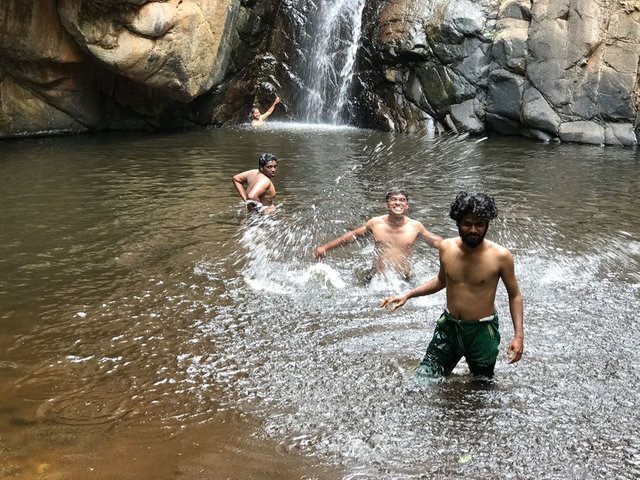 Slowly, everyone joined but Karti (aka.buttroad) went somewhere to finish the works he had.
Santha wanted to capture these moments in water and Aravind (aka. Saidapet, Arvy) replaced him for few minutes.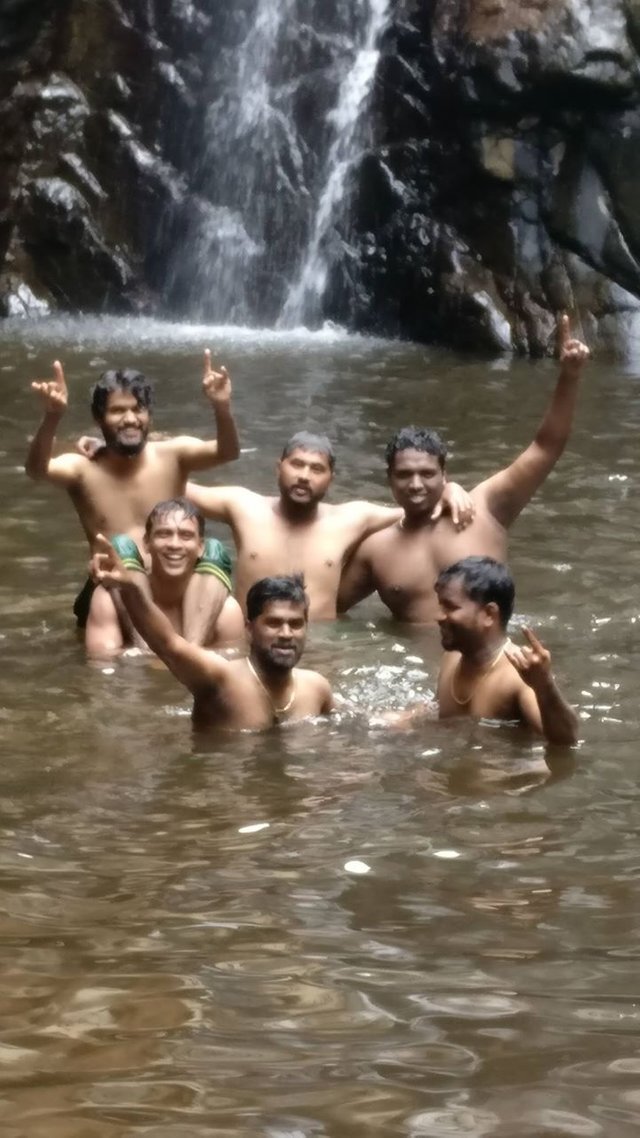 I was so interested to go near the place where water falls exactly from mountain. But, due to lack of swimming practice I stayed back with Shri, Clement, Santha in the shallow waters.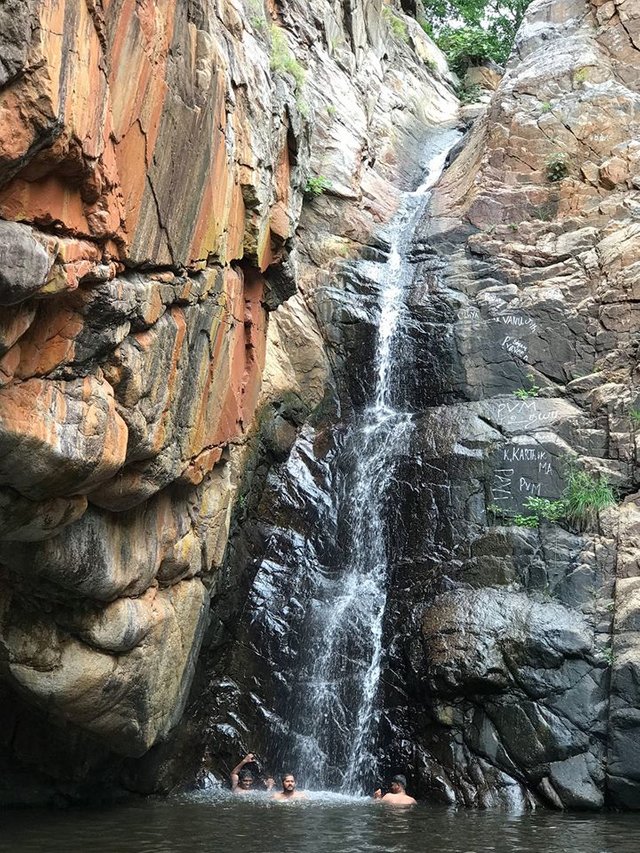 Riyaz, Praba and Anbu went near to the falls and they enjoyed it a bit different whereas, Joseph (aka.Jacky), Clement, Shriram enjoyed by mocking me.
Then, we started winding up ourselves, giving space for the new visitors who were turning up.
It's 11.23 AM. We reached back to the place where we parked our car. We planned to go for movie after so many discussions.
We started the car journey and stopped at 12 pm to get juice, buttermilk and few snacks to keep our mouth occupied during travel before our lunch time. We reached Poonamale at 1.45 pm. 6 of us went to hotel and the remaining 4 went to book Vikramvedha Movie tickets in Sundar Theatre.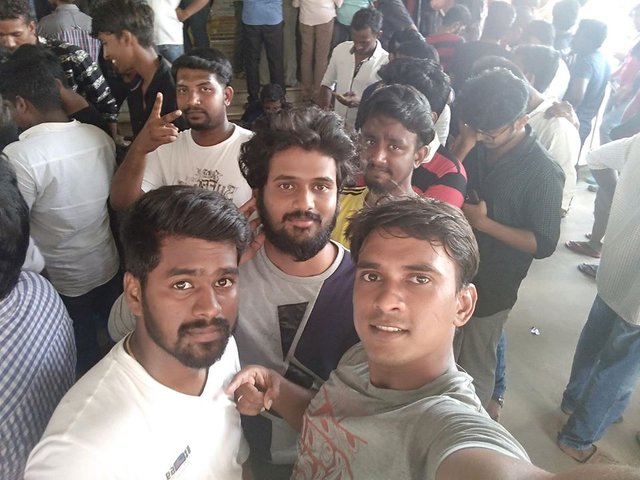 Our show starts at 2.30 PM so we rushed inside the theater searching for our seats frantically. Prabha wanted corner seat and Joseph forgot his specks in car itself. Imagine how a movie would feel without specs? During interval, he went to get his specs from car and he bought 10 icecreams for all with the help of Anbumani, our fore-father :P
Surprisingly, Riyas was sleeping (Payabulla padam aaramicha konja nerathulaey thoongitaapla)
Finally, after movie, we didn't have any clue on what to do next. Had some discussion and decided to visit Santha home. In between we stopped for tea & Snacks in Iyaappanthangal in which Anbumani wanted both to be in same shop.
Then, we started at 6.36 PM to reach reach Santha home at 6.50 pm. Met mom after long time. She invited us with snacks and juices (Yes. Juiceeeeeee, It's only me who utilized the opportunity) and everyone were so happy seeing her. And, she was happy too. Amma sat with us and had a small talk about all our marriages. Then, we all wrapped up to get back home with a good bye.
I took my Vegan back and returned home at 8 pm and slept soon.
Love you all Guys. You guys really made my day. And, we all together had a great time. Let's stay in touch forever to have more fun living life.
It was another remarkable trip with my friends. Looking forward to have more fun and another adventurous trip together.
Regards,
Satchu