Gas Price Analysis 2-20-2019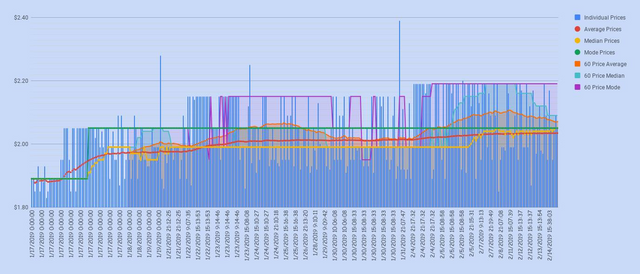 It's been a little bit since I've posted about prices. Mostly because it's been a lot of boring nothing. Plenty of sideways movement between the $2.05 and $2.15 range (as I expected) with the exclusion of one station listing $2.20 briefly one morning before changing back later in the afternoon.
Also, (as I expected) a handful of stations breaking down below $2.00 marking a developing trend for cheaper prices.
I made some changes to my tracking to include information on the last 60 changes in price (the amount of stations within a 15 mile radius) and the info is quite telling.
Unfortunately, in making the changes, I accidentally fired off my bot a few hundred unnecessary times until it ate up my bot's subscription. So I will have a gap in data ranging from 2 days ago into the 21st when my subscription renews another batch of bot commands for the month.
Overall, I'm expecting price surges to continue to dwindle and a possible return to sub $2 prices.
During this last month, using this data and dollar cost averaging my gas, I have saved and average $0.23c per refill and a total of $8.42