If you ever find yourself in a survival situation, you will most definitely either give thanks that you have prepared yourself for an emergency or wish you had prepared yourself for an emergency!
You never know when you might find yourself in a situation in which your life is on the line. There are several things you can do both pre-emptively and in the moment to increase your chances of survival. 
In this multi-part series, master of sustainability @quinneaker highlights the importance of proper MENTAL POSTURE should disaster strike. By maintaining your composure, you save your body a lot of energy from stress reactions in a situation in which every calorie may be significant. 
With that in mind, we have already shared the importance of getting healthy, educating yourself and practicing, gearing up, and avoiding panic. 
Today's tip to maintain a strong MENTAL POSTURE in a survival situation is to 
GET CLEAR
Figure out where you are and what situation you are in. Is your life literally on the line in the next moment? That will determine your timeline of action. If you're bleeding, you don't have a week or a month to be able to survive out in the woods; you know something has to happen sooner rather than later.
Assess the level of danger. Assess your resources. Assess your surroundings. 
A city is a terrible place to be in a survival situation; it's a major danger zone. It will be full of fear-stricken people who will do stupid stuff in panic. In a long-term survival situation, you will have an outbreak of violence in a city by people who are scared, angry, hungry, thirsty, or horny. Militaries will spend their time focused on cities rather than out in the boonies, if it is some sort of militant situation.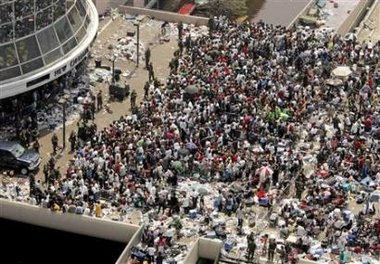 Thousands of people awaited evacuation following Hurricane Katrina's decimation of New Orleans.

Figure out the fastest, most likely way to get out of the city; you could have blocked roadways or highways. Hopefully, you've done some planning beforehand and have an A, B, and C option.

You could have a couple different locations at various distances and directions from the city. You can stash waterproof containers or crates with food, fire starters, tools, batteries, flashlights, solar panels, and supplies inside and hide them at these locations, buried or hidden under rocks or big trees. If there wasn't time to get your stuff before bailing, you can go to that location and collect supplies. Hard-core preppers have several drop locations they have mapped in their brains. 

Ideally, you could prepare a secret bug out location, where maybe you've dug an underground bunker or built a camouflaged shelter or even built a sustainable food production system.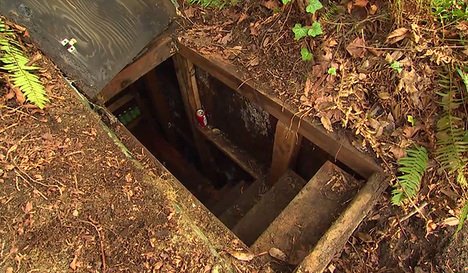 It doesn't even need to be your own land! If you know certain unpopulated areas, you can take a truckload of edible, native trees, bushes, and plants and you can plant them there. They will take care of themselves; they're native! In a catastrophe, you will know you can go there and have an implemented, long-term, sustainable food production system. 

Again, it's MENTAL POSTURE. What is your perspective on this whole thing? That is going to dictate the experience that you have. Quinn says, "My preparation, my knowledge, and my skills, allow me to live a life of safety, security, health, well-being and abundance, because I have developed skills and resources that enhance those things," and we encourage you to do the same! 
We hope you are inspired to hone your survival skills, because they can potentially both save your life one day and improve it on a daily basis!

---
Because we stand in support of the greatest good & especially the revolutionary potential of this platform, we've never cashed out any $teem or even powered down - which is good for everyone! This means that when you upvote our posts, you are increasing the value of your own $teem wealth as well! 


---
THE GARDEN OF EDEN PROPERTY IN ARLINGTON, TEXAS IS NOW FOR SALE. We will be happy to negotiate offers in CRYPTO or USD!
A better world IS possible~*~