Growing Molokai Purple Sweet Potato and Eating Pie
Have you ever tried a purple sweet potato? If you have not, you are missing out. There are several different varieties of purple sweet potatoes. We will be talking about Molokai purple sweet potato.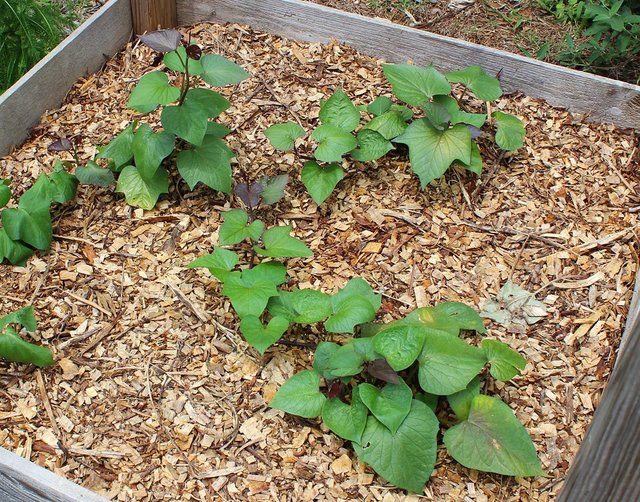 What is a Molokai Sweet Potato?
Molokai sweet potato is a purple-fleshed variety that was developed in Hawaiian. A signature type on the islands, but seldom offered elsewhere. They are much higher is antioxidants than the traditional orange fleshed variety that most people are used to. Molokai purple sweet potatoes are less sweet and have less water content than the traditional orange sweet potatoes.
How to grow Molokai purple sweet potatoes?
Typically, sweet potatoes require a long, frost-free growing condition to do well. Sweet potatoes are grown from slips. Slips are rooted shoots that are grown from a mature sweet potato. It requires approximately 100 -120 days from when the slip is transplanted until full size tubers can be harvested. This plant is heat loving. Do not plant your sweet potatoes slips until all the danger of frost has passed in the Spring. Sweet potatoes can not take any amount of frost. Plant the slips about 12 inches apart, then cover with a thick layer of mulch. Wood chips, shredded leaves and straw all work great as mulch.
Where can you purchase the slips?
I purchased the slips from Baker Creek Heirloom Seeds. They sell three slips for $10. The slips I received were about 5"-7" in height. Healthy and ready to plant in the garden. You can also start your own slips from a store bought purple sweet potato. Here is a post I wrote about Two Ways to Start Sweet Potato Slips.
During the growing season: Caring for the Molokai purple sweet potato plants
Water the slips well to get them to establish in the garden. The sweet potato vines will grow very quickly once the temperatures start to increase through late Spring and into the Summer months. They require about 1 inch of water per week. Do not over water them as they will split and rot. Do not give them excessive fertilizer that contains large amounts of nitrogen, as it will only encourage vine growth and reduce tuber production. Keep sweet potato vines protected from animals. Deer, rabbits, and just about all the animals we have around our property love sweet potato vines. If one single vine grows through the fencing that surrounds our garden, it will be found and devoured. I spray my Molokai purple sweet potatoes with liquid seaweed once every two weeks. They love that stuff!
Health benefits of Molokai purple sweet potato
Rich in essential vitamins including vitamin c & vitamin A.
Jam-packed with antioxidant & disease fighting phytonutrients
Provides insoluble fiber that can help eliminate constipation, irregularity & discomfort.
Helps control hypertension. An abundant amounts of anthocyanins are unique to naturally purple-fleshed vegetables.
Helps lower and regulate blood pressure.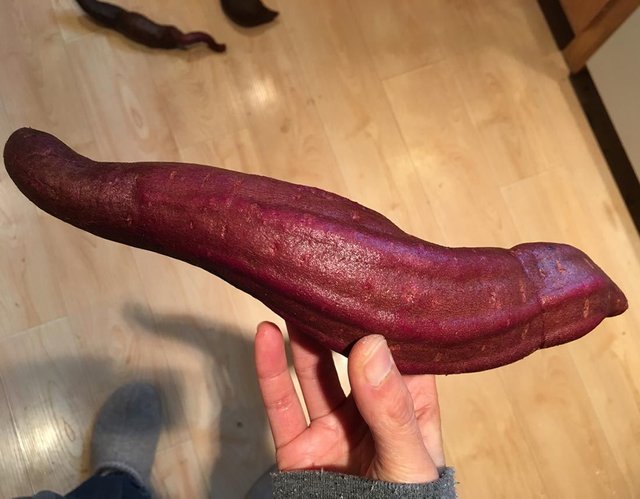 Harvesting Molokai purple sweet potato
Young leaves and young shoots can be harvested lightly for cooking greens at any time during the growing season. Just don't take too much at one time as it can have a negative affect on the plants. The purple sweet potato tubers are ready to harvest when they reach the desirable size. You can up just one to check the size. If tubers are still too small, wait a week or so to try again . I always try to harvest on sunny days, so the soil is not too wet and I am not disturbing the soils ecosystem too much while harvesting. Make sure all the purple sweet potatoes are out of the ground before frost hits. I always start harvesting from the center of the plants, but know that tubers can form a good distance from the plant. Dig carefully so you don't bruise or cut the tubers accidentally. Sweet potatoes growth slows as the weather cools. For best storage quality, harvest sweet potatoes before the soil temperature drops below 50 degrees F.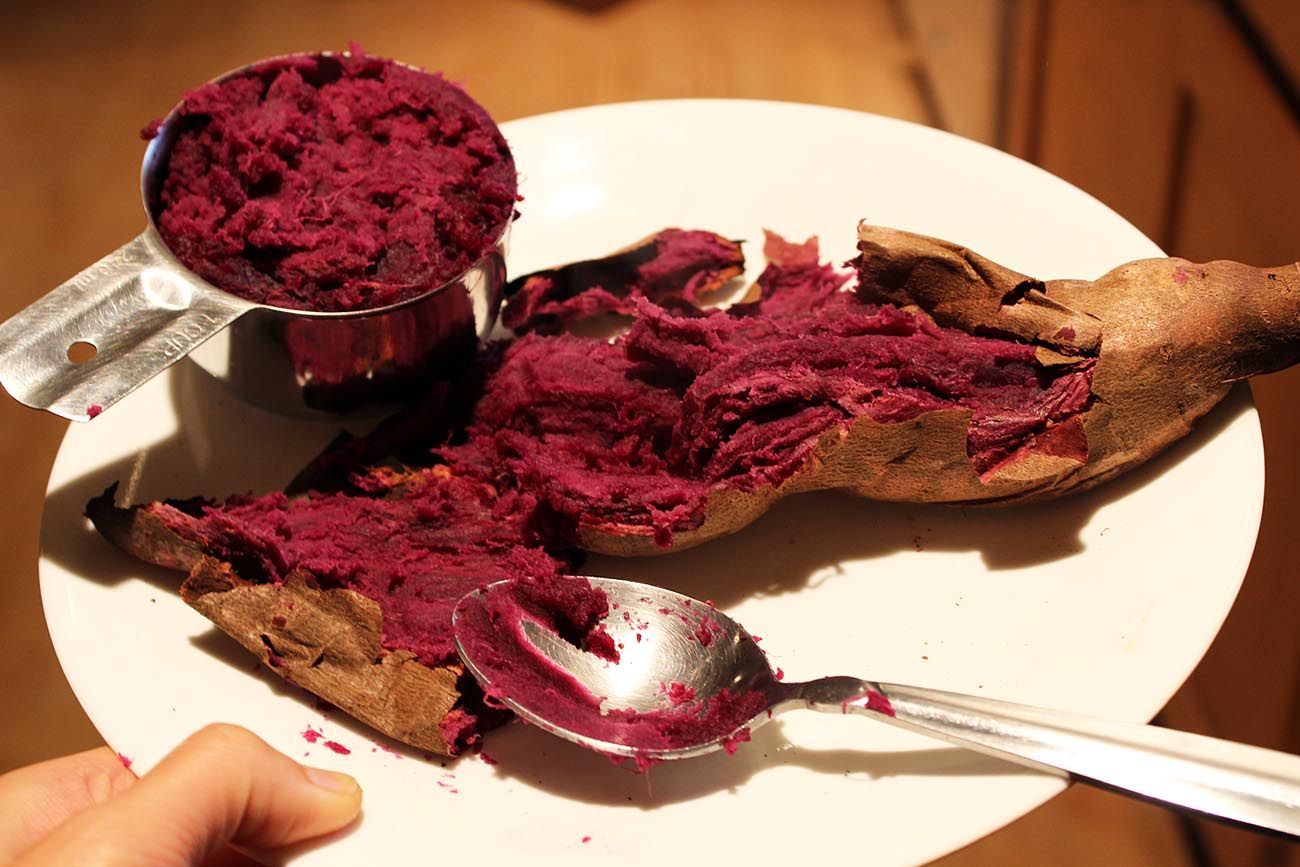 Curing and storing Molokai purple sweet potato
All sweet potatoes need to be cured before long term storage. A freshly harvested sweet potato is not sweet without curing. Curing is crucial to help converting the starches to sugars. Curing heals any scratches or damages to the sweet potatoes while harvesting, encourages sugar formation, and improves storage quality. Brush off the dirt after harvesting. Never wash the harvested tubers before storing! Cure the sweet potatoes by keeping them in a warm (80 to 90 degrees F), humid room out of direct sunlight for about 10 days. We use a space heater and humidifier to help provide the right condition for curing. Store the cured tubers in a cool, dry, well-ventilated area away from direct sunlight. Do not refrigerate sweet potatoes. Cold temperatures will give sweet potatoes a hard core and affect the flavor.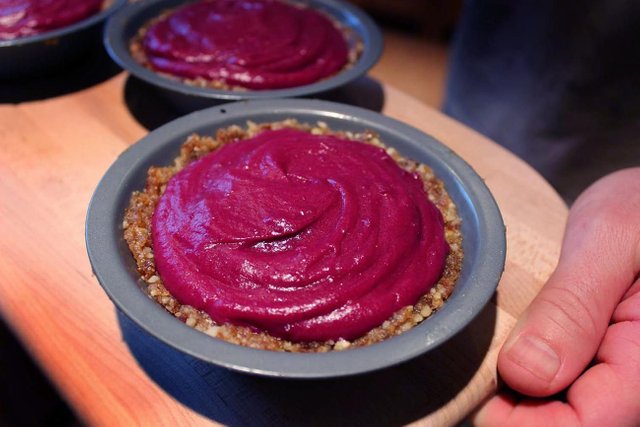 Molokai purple sweet potato recipe
Molokai purple sweet potato's purple color stays even after cooking, so it makes the most beautiful purple colored sweet potato pie naturally. Here is an amazing (mostly) raw sweet potato pie recipe I adapted from Pretty Pie. This mostly raw purple sweet potato pie is beautiful, tasty, and healthy! No grains, no gluten, no dairy and no refined sugar. It is made with just a few simple ingredients.
Ingredients
Crust:
1 & 1/2 cups of raw walnuts
1 cup medjool dates pitted
1 Tbsp minced fresh ginger
a tiny pinch of salt
Purple sweet potato Filling:
3 & 1/3 cups mashed purple sweet potato
1/2 cups of real maple syrup
2/3 cups of coconut oil melted
4 Tbsp of almond milk
4 tsp of fresh lemon juice
2 tsp vanilla extract
1 tsp cinnamon
1/4 tsp ground ginger
1/8 tsp nutmeg
a tiny pinch of salt
Instructions
To make the crust:
Pulse all the ingredients for the crust together in a food processor. Add a splash of water if needed to help it blend. Process until mixture is crumbly yet still holds together well when pinched between your fingers.
Press into a 9" (standard) pie plate or tart pan. Set aside.
To make the filling:
Place four medium or two large purple sweet potatoes in a 425 degree oven and bake for approximately 60 to 90 minutes until tender and easily pierced with a fork. Let cool, then peel off skin and mash in a bowl.
Blend all ingredients together in a food processor until smooth (4-5 minutes). Taste and adjust for sweetness and spices.
Spread over crust and refrigerate for about 3 hours to set.
Slice and serve with a dollop of coconut whipped cream if you like.
Note: Keep this mostly raw (only sweet potato has been cooked) sweet potato pie in the refrigerator. It should last about a week in the fridge. Freeze for long term storage
Thank you everyone for spending your time to read my post. If you like it, please don't hesitate to upvote and resteem.