WELCOME TO OUR GARDEN - GREEN NINJAS
Hello, dear Steemians and friends! Today, I am going to introduce you to my social service at the school I attend, United World College Robert Bosch in Freiburg, Germany. Our life is filled with lots of studying but also filled with plenty of social work, various activities, creative workshops, and of course, entertainment. The focus will be on the gardening, but in the future posts, I will be writing about all other activities we do. Moreover, I will keep you weekly, and sometimes daily updated.


Source: Pixabay
Our supervisor is also my tutor, Richard - the main Green Ninja.
Short description:
Arrived in Freiburg with considerable gardening experience due to hours spent weeding and tree chopping in his parents' garden in Edinburgh. He knows quite a lot about gardening but has plenty to learn. He likes trees, penguins and Swedes, and would maybe like to grow more. He specializes in Thistle disposal, dealing with one of the gardens spikiest plants – the advantage of thick leathery skin – but also provides a lot of t.l.c. to the strawberries & raspberries. And he is an amazing supervisor. We learned a lot through his sessions and work he shows us.
Here you can see his great work with raspberries on the left: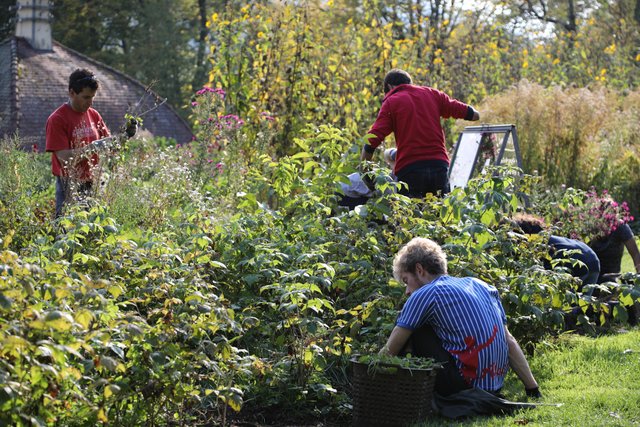 Our team is very diverse. We have students from Turkey, Trinidad and Tobago, Vietnam, Germany, Norway, Srya, Iraq, France, and Bosnia and Herzegovina :). Each of us contributes in a different way, with something we previously learned back home. Also, each of us has a given weed which has to go out of the soil. I, for example, need to remove burdock before each session.
The student from Trinidad and Tobago is our feisty Dandelion hunter. Dandelions are beautiful yellow flowers much loved by pollinating insects but they are very good at seeding themselves and they have ferociously deep tap roots. The plants white sap has been used to produce rubber and latex in the past! So to sort them out, this student is doing the best.

Another student form Norway has signed up for special training in fighting Franzosenkraut. This sneaky yellow little flower is an invader from South America, that has become an expert at getting into gardens due to the speed with which it sets seed. Because of this, in Deutsch it is called Franzosenkraut but in English it is called gallant soldier and it can be eaten in salads. However, in the wrong place it is a virulent weed.

Enough about our weed killers, this is our great team of Green Ninjas (not with all the members):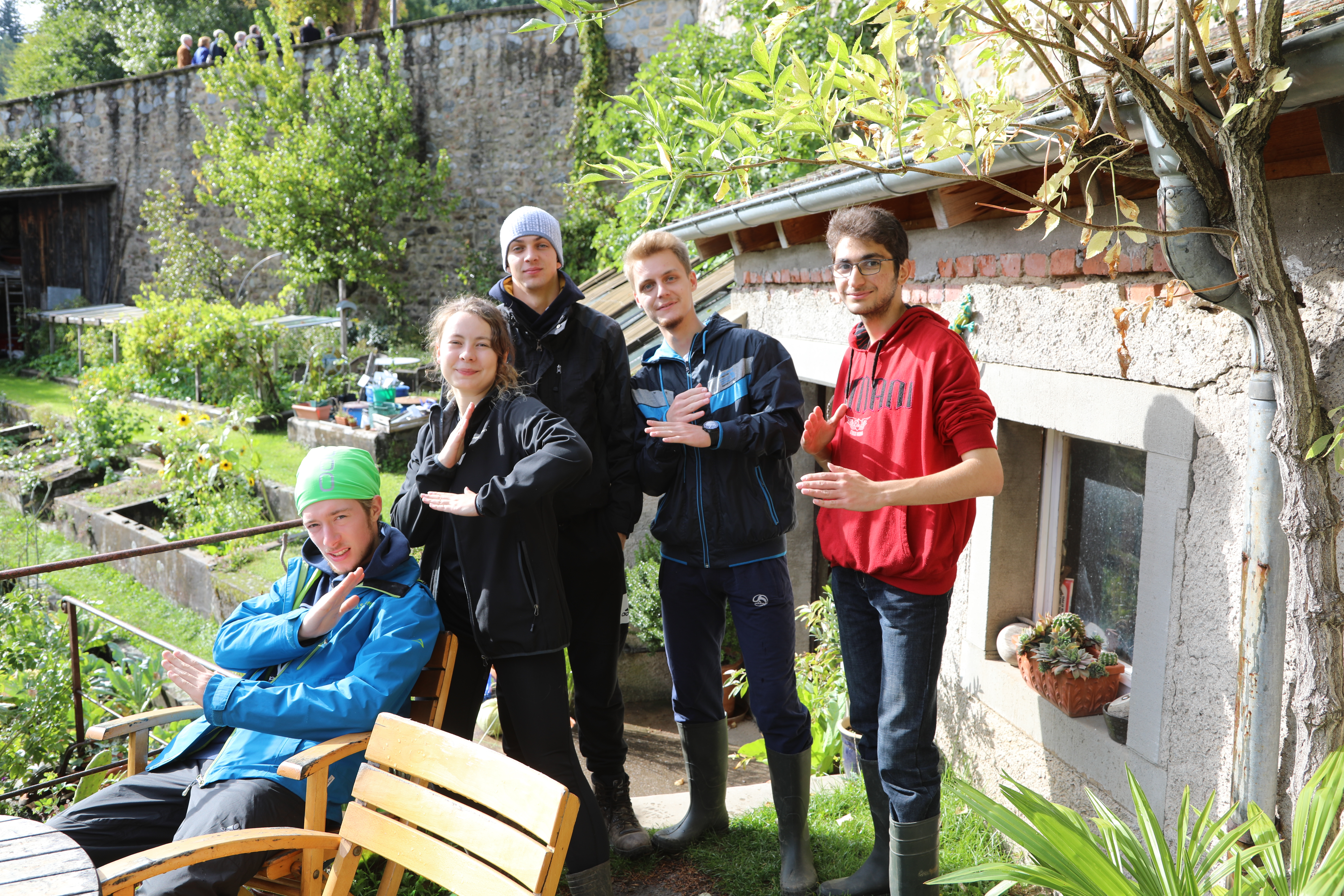 And this is me (working very hard as usuall :P) :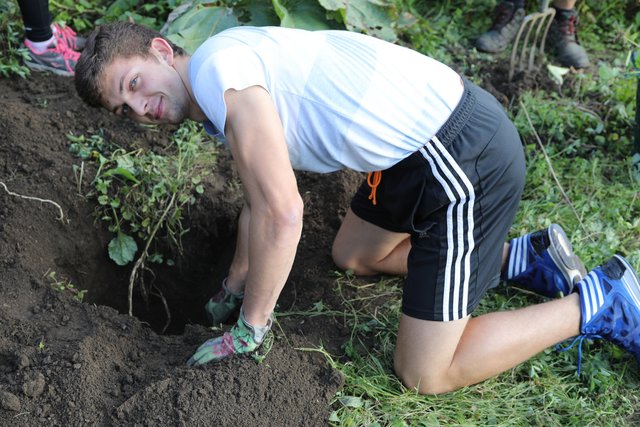 After nailing down the 7 Awesome Learning Outcomes, and waiting for the autumnal downpour to stop we had a tour of the garden workshop and then explored the greenhouse, the garden, discovering basil, corriander and raspberries. The tour continued past the compost heaps and the new hobbit house style pizza oven, through the Strömschlussel, around the island and back up via the polytunnel and the finishing in the rather quiet bee loud glade. Plans were discussed for future options to make a difference: building a sheltered seat on plum tree hill, sorting out the raspberries, students taking stewardship of specific areas to look after, increasing the study spaces and sorting out the seating, adding more artwork, etc. The garden is certainly a specially place in the afternoons bathed both clear and hazy by the golden sun.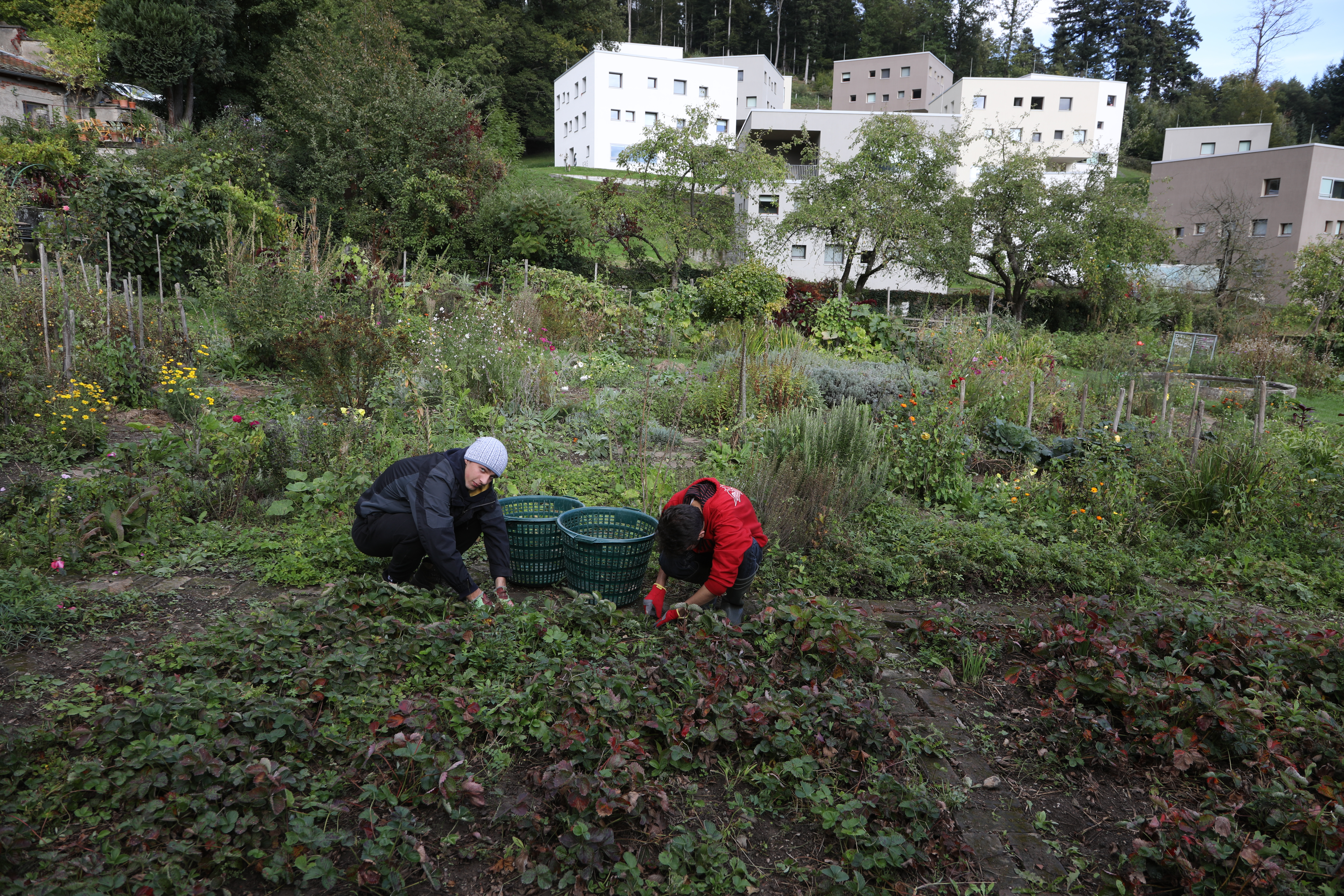 Then the Green Ninja's went into battle tidying up Toby's planters around the student village, moving more of the wood chipping mulch onto the raspberries and doing some more work in the strawberries. We obtained their first special tasks: battling the sturdy Burdock, a fearsome weed with its might root and cunning hooked seed balls; trackling and tackling the poisonous Angel's Trumpet Flower, and beating Franzosenkraut (both devilishly difficult weeds that have infiltrated the garden's defenses). Not bad, although the raspberries will need a lot more mulch. We have hopefully learnt a bit about the weather and the need to dress appropriately – green ninjas go into battle in any weather. Richard was a little disappointed to discover that he was putting away other people's wellies at the end of the session.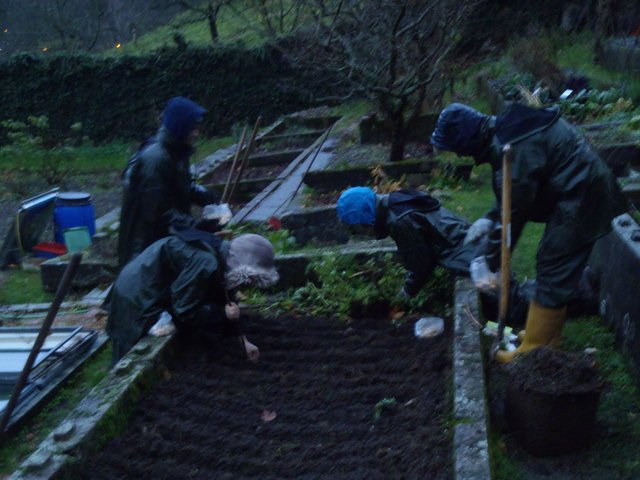 Looking forward to doing more of the sessions! I hope you enjoyed in the article. Feel welcomed to leave a feedback or drop a resteem.
All the best, @keyss.