Asparagus – Delicious Perennial
The great thing about asparagus is that once its established maintenance is a cinch (relatively speaking of course). It does require some upfront work when planting however. I used two raised beds to make one long row of asparagus. Since asparagus should be planted 10-12" deep, you eliminate some of the excavating by using raised beds. Here is a picture of my beds this spring with a few spears popping up.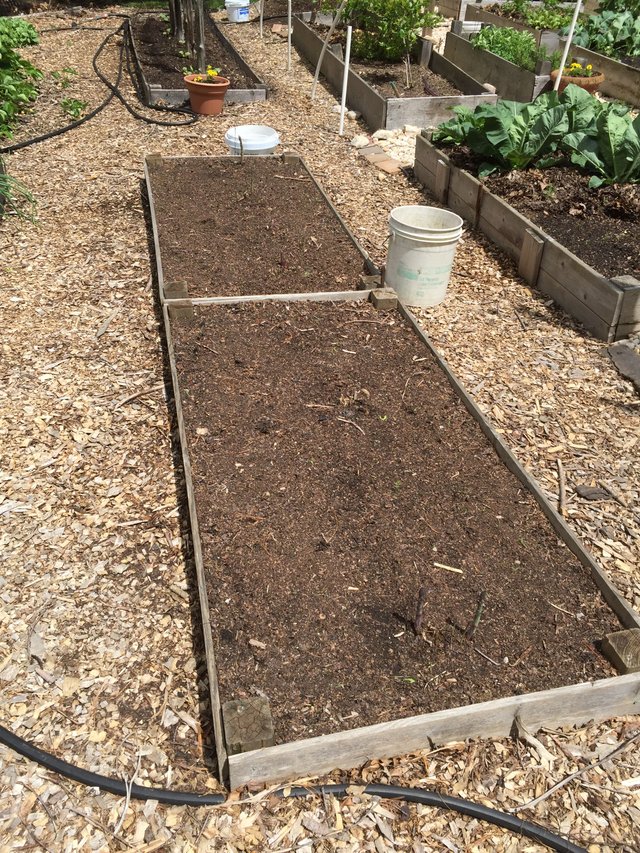 You should purchase two year old roots if you decide to grow asparagus. That way you should be able to start with a small harvest the second year. After that your beds will produce many years with just a little maintenance.
I started with the empty boxes and dug a trench several inches deep down the center of them. My boxes are 6" deep so I was around 10" down from the top of my boxes after digging the trench. I added organic matter into the trench along with some organic fertilizer. Add a little lime also if your soil is acidic. Spread the roots out so the crowns are facing up when planting and space them around 1.5-2 feet apart.
I back filled with compost and mushroom soil mixed with the top soil I had from the trench. You should only cover the roots with a few inches of soil at first. As the skinny pencil like spears emerge, continue to backfill until your bed is flush with the ground or as in my case the top of the box.
Do not pick the first year. Allow the spears to grow into fern like plants and just enjoy their beauty. The second year you can harvest for about four weeks as they begin emerging in the spring. After the second year you can probably harvest 6 weeks before letting them turn into ferns.
When you stop harvesting your plants should look like this.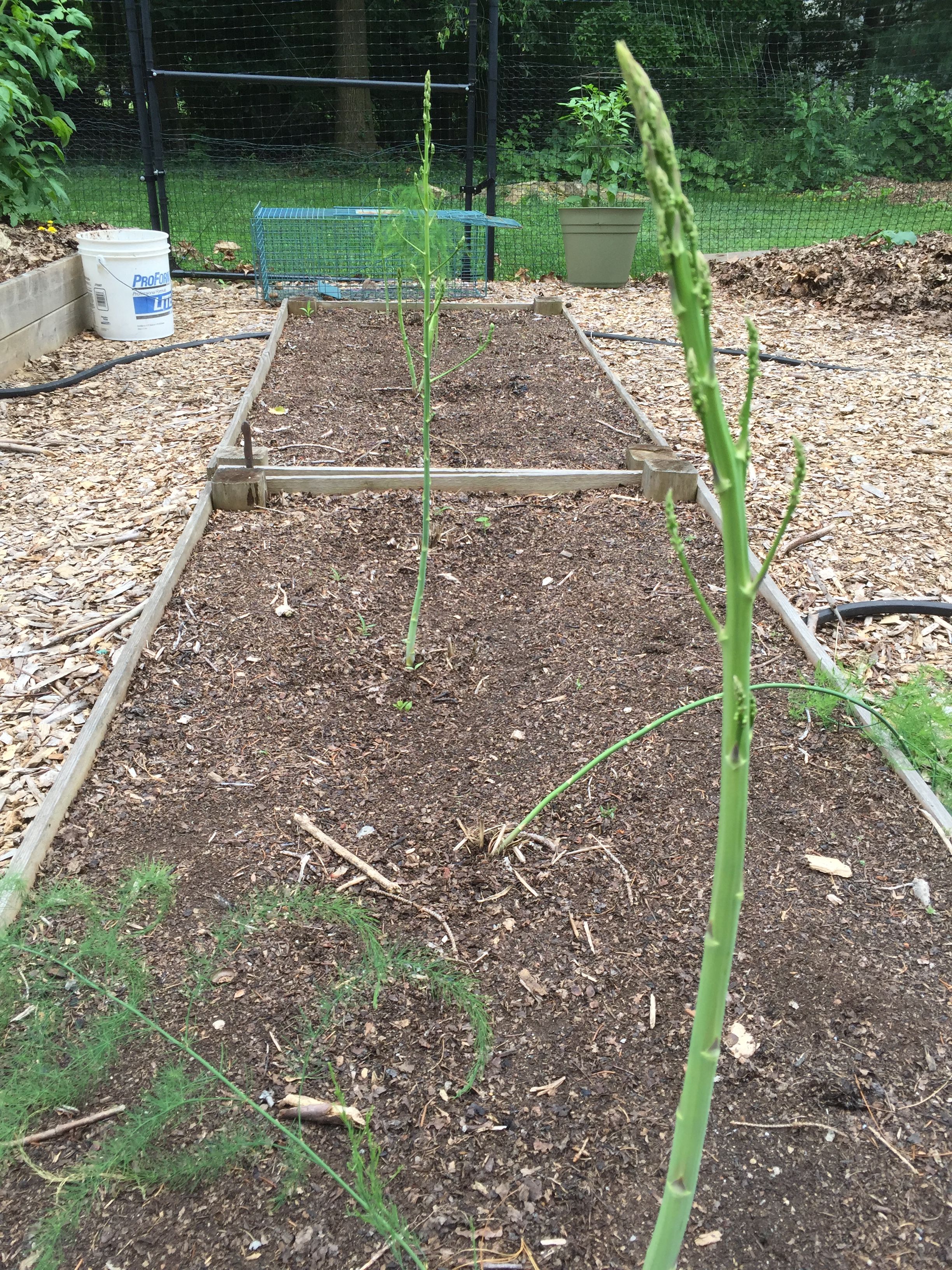 And then this.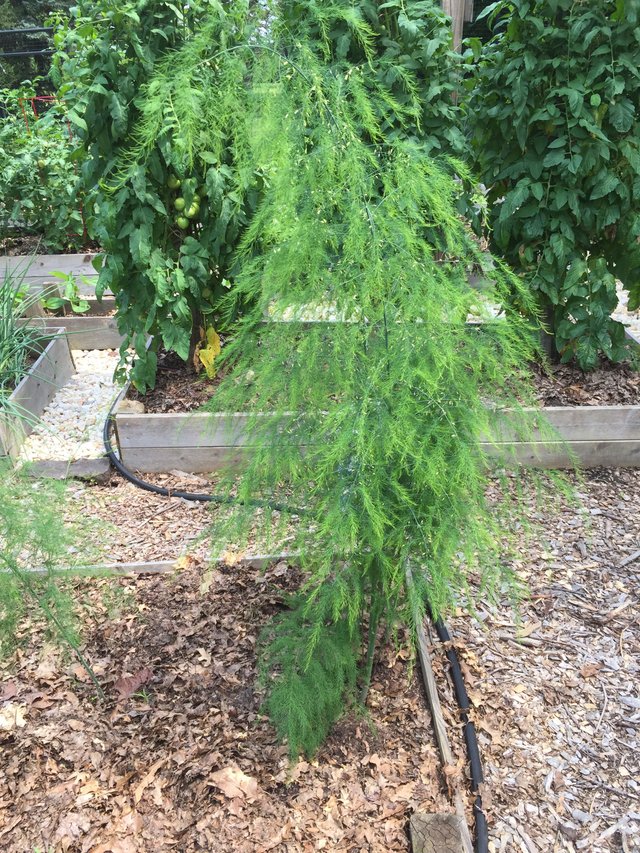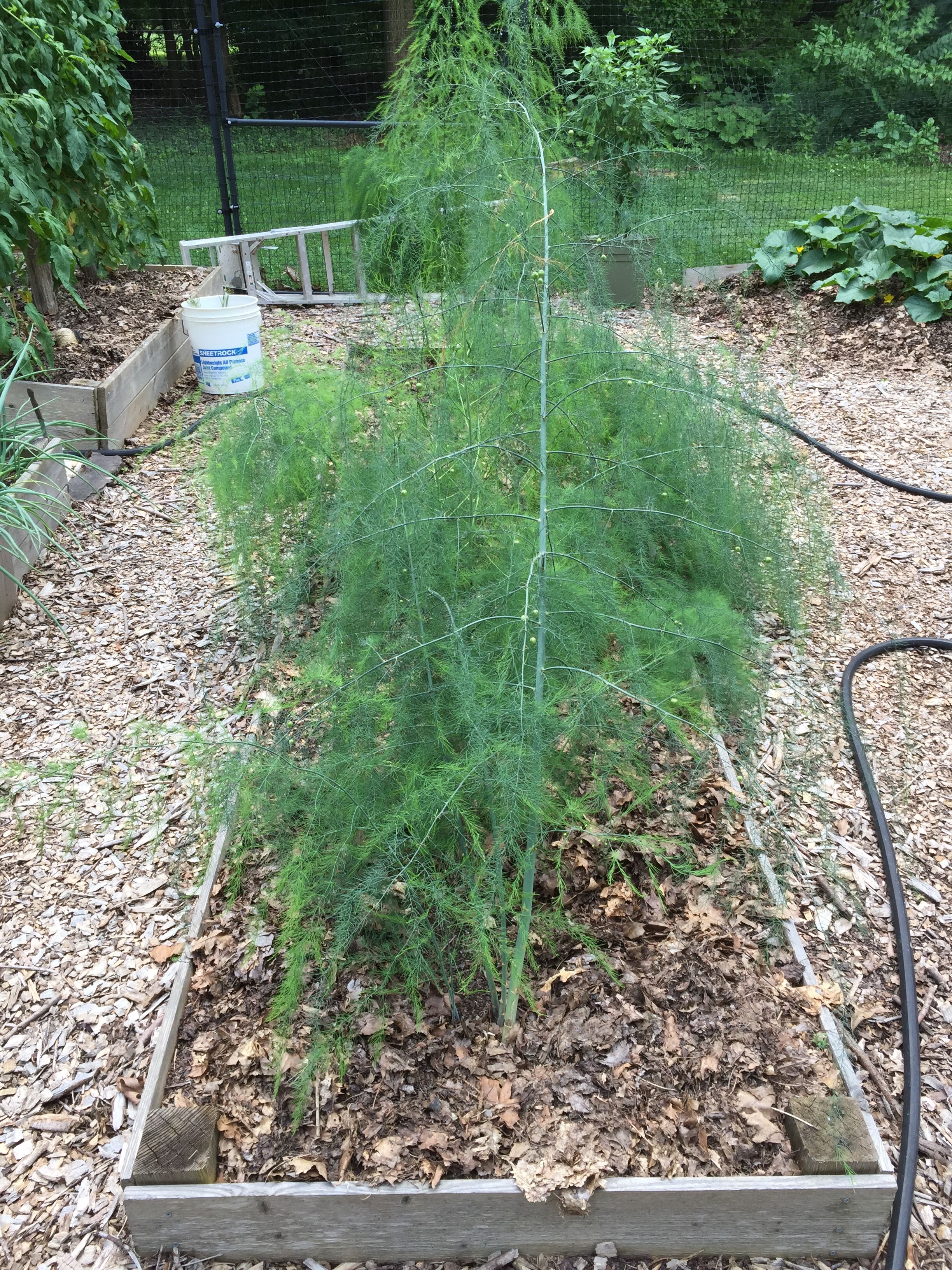 The roots will continue to shoot up new spears throughout the summer especially after heavy rains. Let them all grow into ferns to provide fuel to the roots for next year's harvest. They don't require a lot of water but if you are under a drought situation you will probably need to supplement. Mulching is a good idea to protect the roots and keep down the weeds.
In late fall when the ferns start to die off, I cut them back at ground level and apply fertilizer and lime along with a top dressing of compost to help with next year's crop. You may elect to keep the ferns through the winter and cut in early spring. This provides safe refuge for beneficial insects and provides some esthetics during the winter. That's totally up to you – either way works.
Thanks for reading and good luck with your asparagus.