This year we are testing a new way to sprout tomatoes. As we have no greenhouse and we don't have a place to start a lot of seeds, this new method saves at least 10 days of wait time and gives much better success.
First we order the seeds in rows on a wet kitchen roll paper. Then we cover with another piece of paper and wet with warm water. Then the whole tray goes inside a plastic bag and on the highest shelf in our living room, where it's warmer.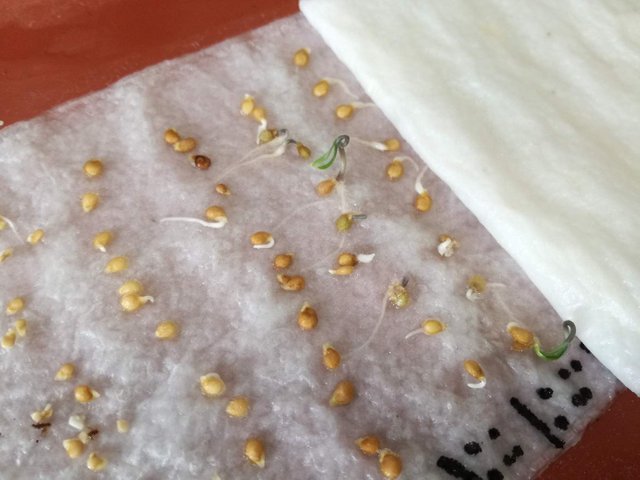 This is after 3-5 days depending on variety! So quickly! Then we select only the sprouting seeds and keep the rest in the tray for further germination.
The sprouting seeds we plant in a seedling tray with small sizes. This way you don't put potentially dead seeds in soil, waiting to germinate and then nothing happens. That's the worst, lost time. The small size tray also allows us to plant lots of seeds in a small space. This tray also goes to the top shelf for warmth.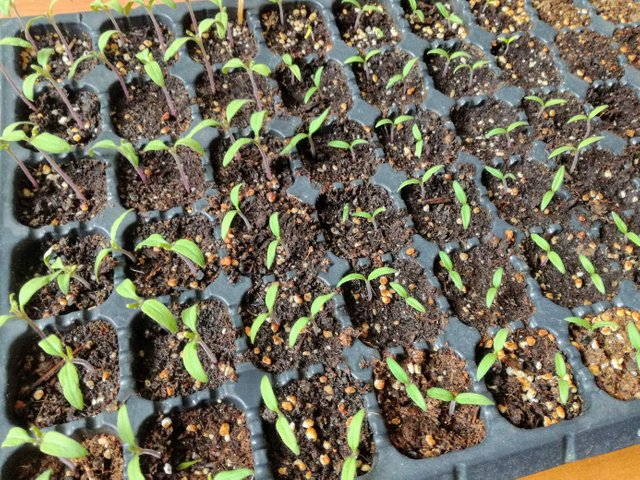 After just a few days, 2-4, most of the baby plants are showing. You can see from the photo that all cells are full with plants. That saves us time, soil, space, work. In 3 weeks those will be planted in a larger tray. This tray will stay outside without cover. Tomatoes go into the garden after St George Day around here.
So that's it, any questions, please let me know!
Posted using Partiko Android