The ultimate step by step hedge tutorial with many pictures. - 🌱 DIY - das ulitmative Hecken step by step tutorial mit vielen Bildern. ​
When the box tree moth 🐛 (Cydalima perspectalis) raged on your lovely boxtree,
you will have only 2 possibilities.
burn it with fire 🔥
to pull out, and plant a new hedge.
I chose the second choice :-)
So in this sense! Hello my dear steemians and gardening fans out there!
---
Wenn der Buchsbaumzünsler 🐛 (Cydalima perspectalis) in deinem schönen Buchsbaum gewütet hat, gibt es nur zwei Möglichkeiten.
verbrenne ihn mit Feuer 🔥
ausreißen und eine neue Hecke pflanzen
Ich entschied mich für die zweite Wahl :-)
Also in diesem Sinne! Hallo meine lieben Steemianer und Gartenfreunde da draußen!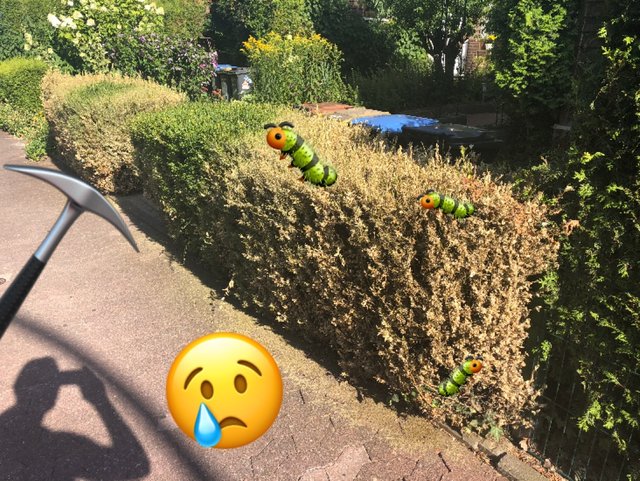 ​... let's see what we need.
A hedge trimmer is always good. This should be pretty strong.
2 spades (why? you will see later 😆)
gloves to protect from the bubbles on your hands
And a rake
---
... dann lass uns mal gucken, was wir benötigen.
Eine Heckenschere ist immer gut. Schön kräftig sollte diese sein.
2 Spaten (warum seht ihr später 😆)
Handschuhe gegen die Blasen
Und einen Rechen oder eine Harke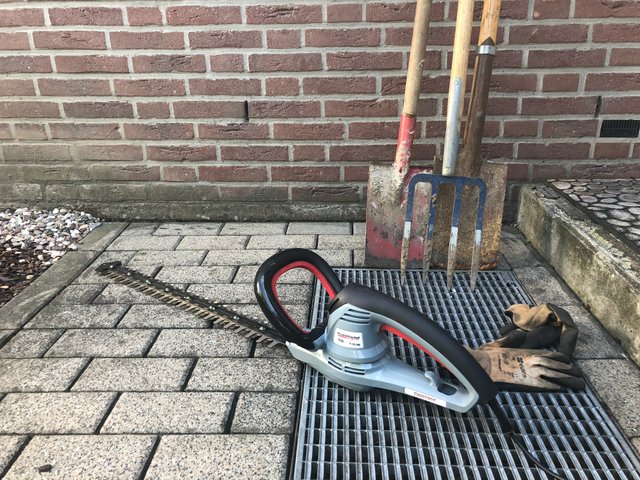 Here we go! In the first step, we will cut the old hedge short.
💡 To make it easier to rip it out. 💡
Los gehts! Im ersten Schritt wird die alte Hecke kurz geschnitten.
💡 Damit es leichter wird, diese rauszureißen. 💡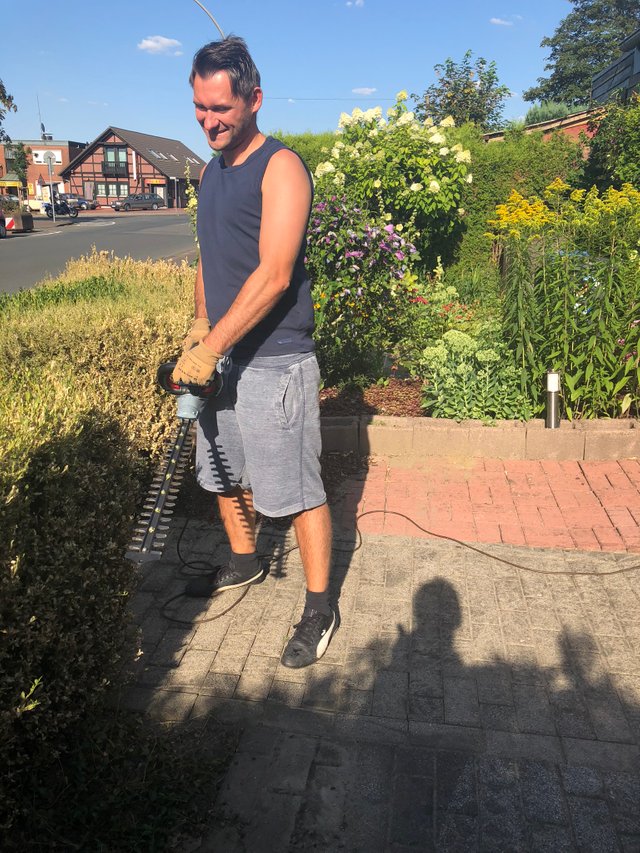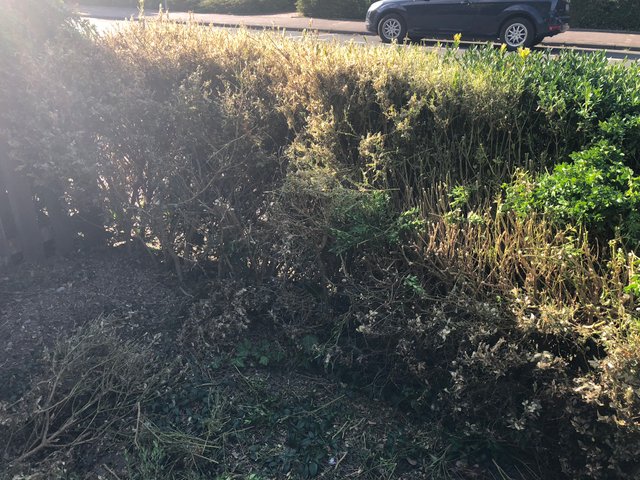 Put it in the bio bin, naturally crushed as prescribed ;-)
Schön in die Biotonne damit , natürlich wie vorgeschrieben zerkleinert. ;-)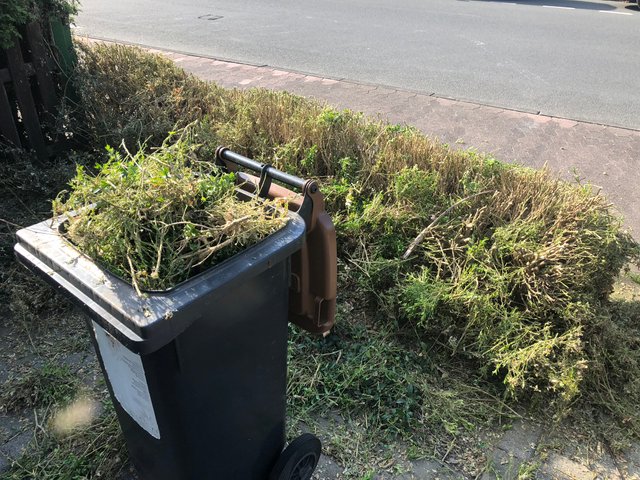 Ok, i don't know what i found here 😂 ... it was just there in the hedge.
Super area i live in :-)
Ok was ich hier gefunden habe, weiß ich auch nicht 😂... lag dort einfach mal in der Hecke.
Super Gegend, in der ich wohne :-)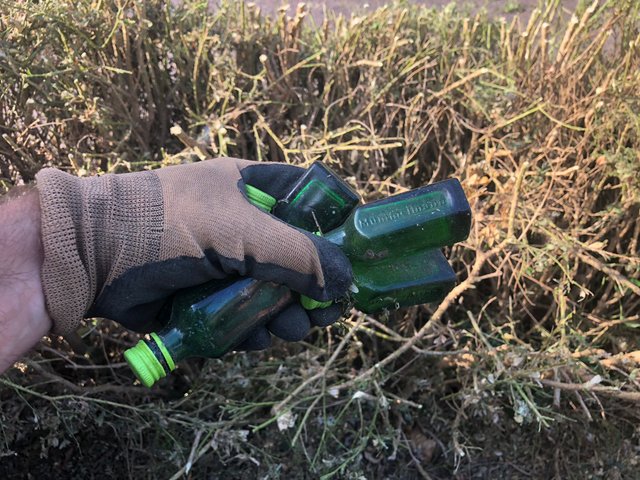 💡Water on the old hedge?
Yes, exactly, so that the roots will get out loose and easy!!!💡
---
​💡Wasser auf die alte Hecke?
Ja genau, damit die Wurzeln schön locker werden !!!💡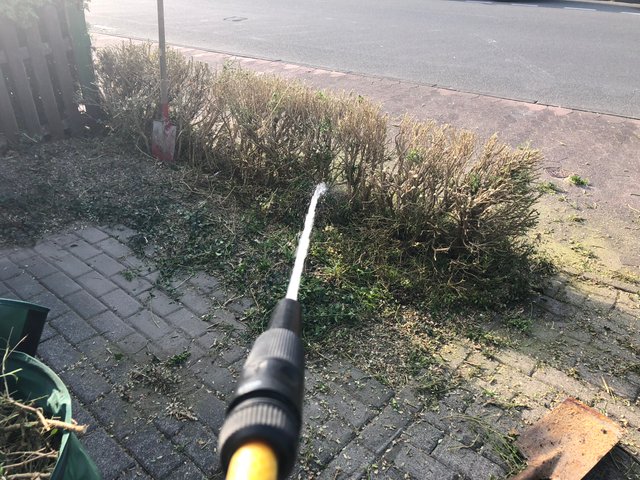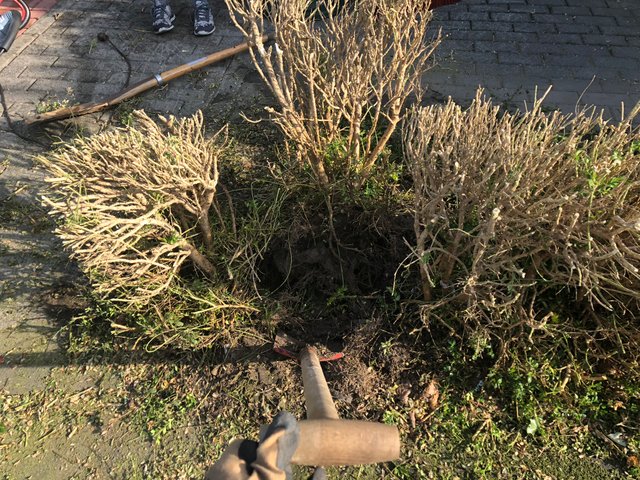 ... and now go for it :-) Give everything, every root must go out.
---
... und nun ab dafür :-) Alles geben, jede Wurzel muss raus.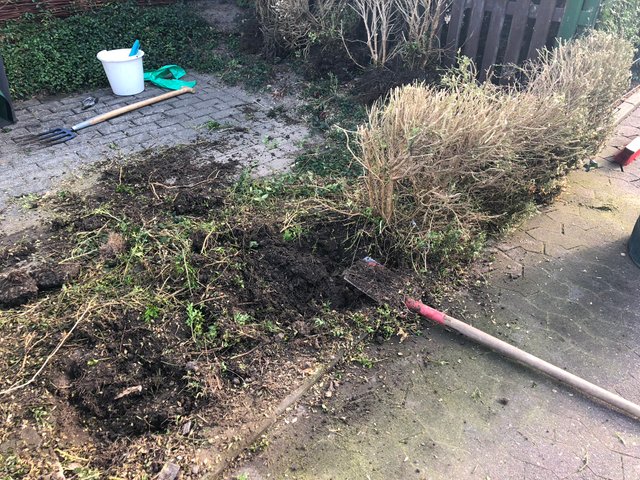 💡And that is the point, why you will need 2 spades :-) 💡 😂
💡Und, dass ist der Punkt, warum du 2 Spaten brauchen wirst :-) 💡 😂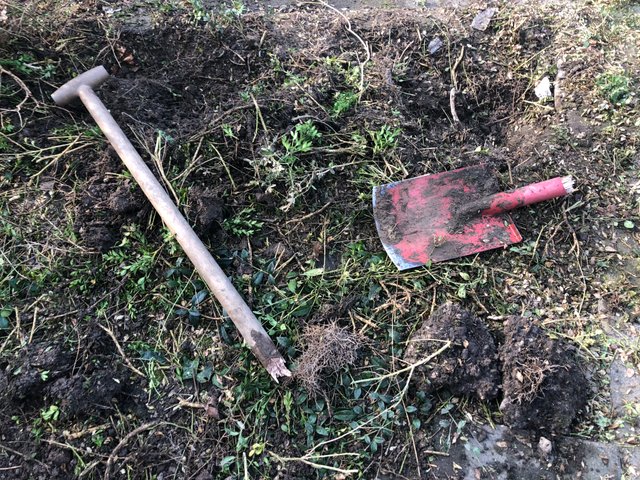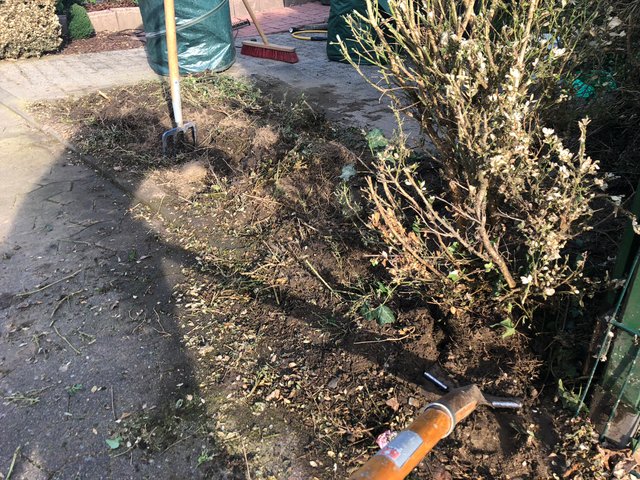 *After hours with tears and sweat in the hot sun, the first part is done.
Use now your rake to loosen the earth around now.
*Nach Stunden mit Tränen und Schweiß in der heißen Sonne, ist der erste Teil erledigt.
Benutze nun deinen Rechen um die Erde zu lockern.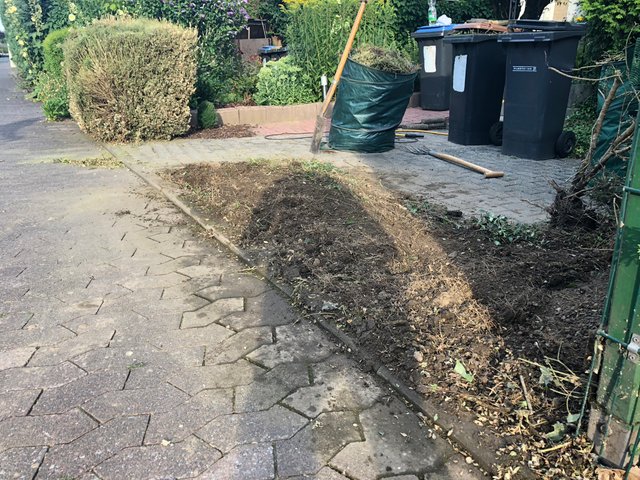 Yes and this it the little wrongdoer! He is the reason why hedge is totaly done...... he eats the box tree bush and the bush dies unfortunately in fast time....
---
Ja und das ist der kleine Übeltäter! Er ist der Grund, warum die Hecke total fertig ist..... er frisst den Buchsbaum und dieser stirbt nach einiger Zeit....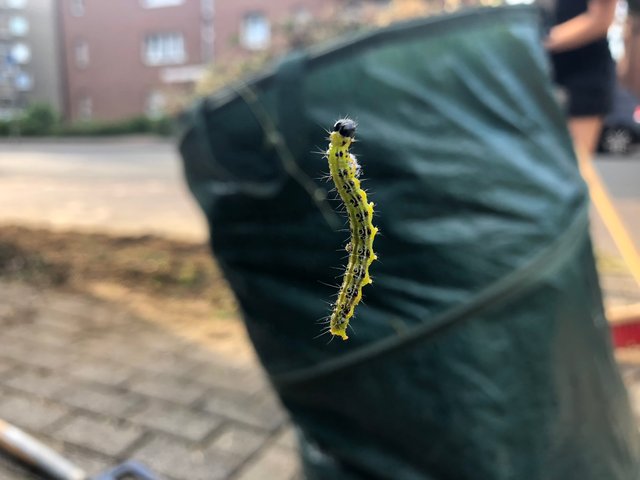 If you like to see more of the gardening, stay tuned. ✅
At the weekend we will buy some fresh new thuja brabant bushes, and will plant them :-)
---
Wenn ihr mögt und mehr von der Gartenarbeit sehen wollt, dann bleibt dran. ✅
Am Wochenende werden wir einige frische Thuja-Brabant-Büsche kaufen und diese pflanzen :-)

​