But in this case I am counting 10 strawberry plants.
For years I have wanted my own strawberry patch, you know, somewhere I can go and sauce fresh juicy strawberries so this year I have decided to try and grow strawberries from seed.
A few years ago I had ago and I only ended up with one strawberry of a plant that I grew from a root I got from a friend, and to be honest it was the most tastiest strawberry I have ever eaten.
There is a massive difference in taste compared to store bought and I knew that I had to give it another go now I have the space.
I bought some organic strawberry seeds and popped them in the fridge for nearly two weeks, this was to fool the strawberry seeds into thinking they were coming out of dormancy.
I got some lovely compost from a nursery garden centre place near to where I live, it is called clover and 100L is £6.00 or you can buy 200L for £11.
Seeds simply love this compost, and everything that I have put init up to now has taken off, which I am super happy about.
I decided to start my strawberries on the window sill to give them a better chance of survival, it is still cold in our area and with the storms we have been having the last thing I want to do is have my little guys washed away.
I chose a round but shallow plant pot and filled it with the magic compost watered it and placed the strawberry seeds on top, I then gave them another spray with a little bit of water and placed them on the window sill.
Normally I would cover the seeds with cling film, but this year I want to minimise the amount of plastic my family uses so uncovered it is for this project.
They have been sat there since last Saturday, and today 8 days later I have some action taking place, I have a total of 8 out of 100 seeds planted popping up through the soil.
I couldn't wait to share this with you guys as this has made me really happy.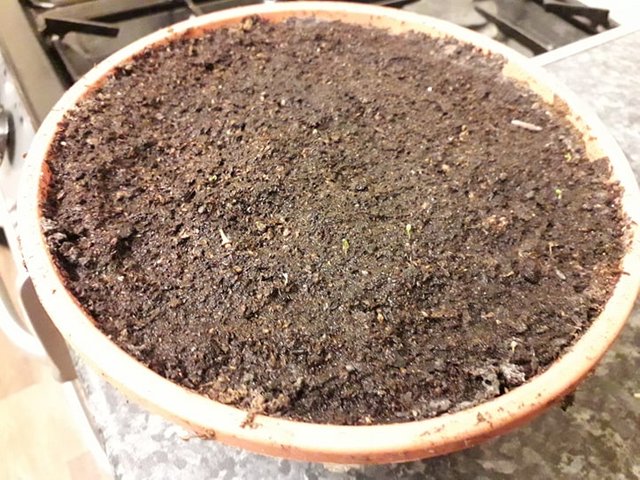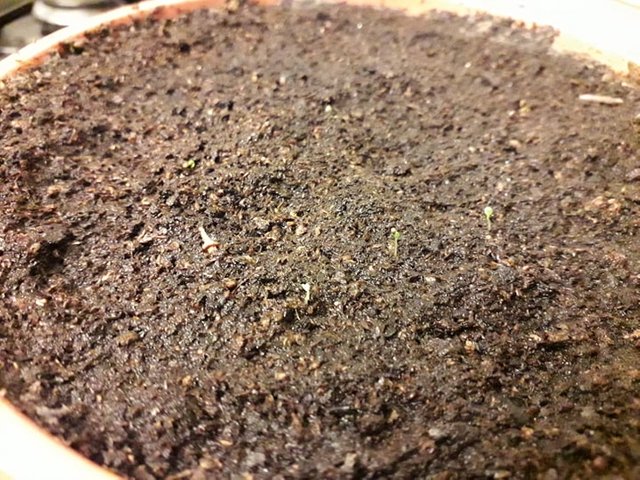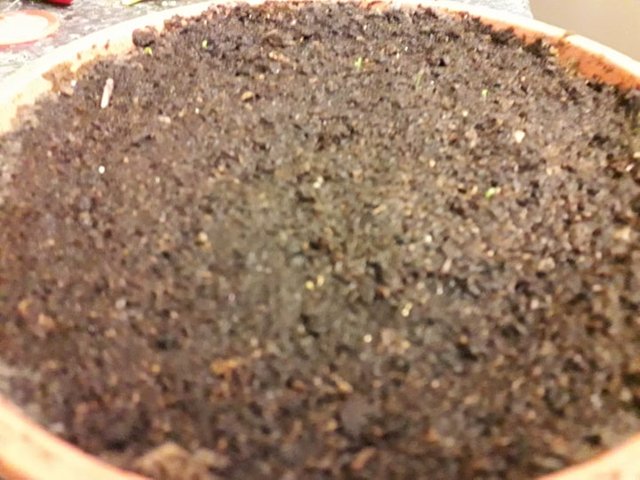 At first I wasn't sure what was sticking up out of the soil as they looked like tiny hairs, I thought that one of the kids had been messing around with it, but it turns out these little guys are ready for action.
These will sit on my windowsill until they are a lot bigger, and once the last frost has passed these will be going into my garden.
I am keeping my fingers crossed that these give me a few strawberries that I can eat this year, and I would also like to try and make jam with some as well.
My kids love strawberries too and I think that with our own that we can pick ourselves the children will be out side helping themselves to the fresh fruit.
I will continue to up date you all on the progress of the strawberries, and I will let you all know how many I get of each plant this year.,