My garden is still going strong even though it is well into fall. Kimchi making season, or #KimJang [김장], is another 3 weeks away, and my crops are still growing. This is my October entry for #gardenjournal2019.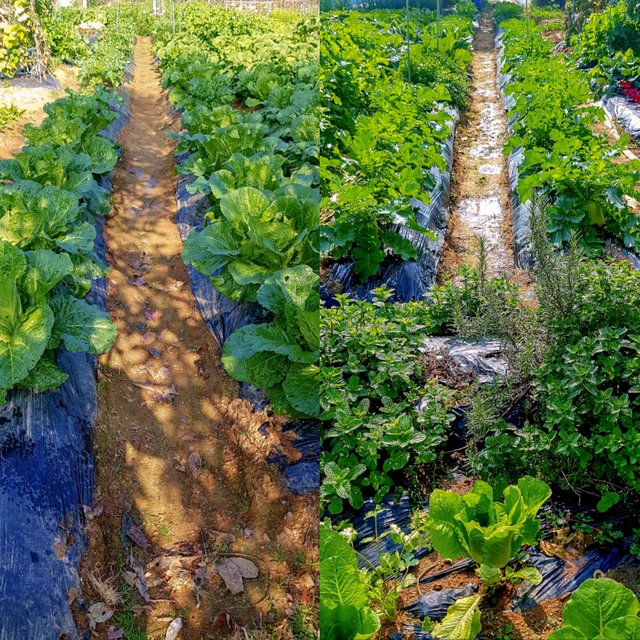 This is what my garden looked like a couple days ago. These are my two rows looking North and then looking South.
October Garden Journal 2019
I'm only really growing Korean white radish and Napa Cabbage right now, so the garden is really low maintenance. I had a ghost pepper plant still producing until last week and I've also got mint, a few lettuce plants, and cilantro. The nice thing is since the weather isn't hot, I only need to water around once a week. Now that the plants are established, they can do fine without much care.
It's my favorite gardening time of year. There isn't much work to do, harvesting these crops are easy. I don't need to weed or water. Life is good.
Well, I've only got one more month of outdoor gardening left for the 2019 season, so let's get into what I've been up to during October.
Finishing up my Ghost Peppers
I wrote about my ghost peppers in my Garden Journal for September 2019. That is also when I planted a lot of the crops you now see. Well, I got a lot more peppers during October. I easily got 100 from the single plant that managed to fruit.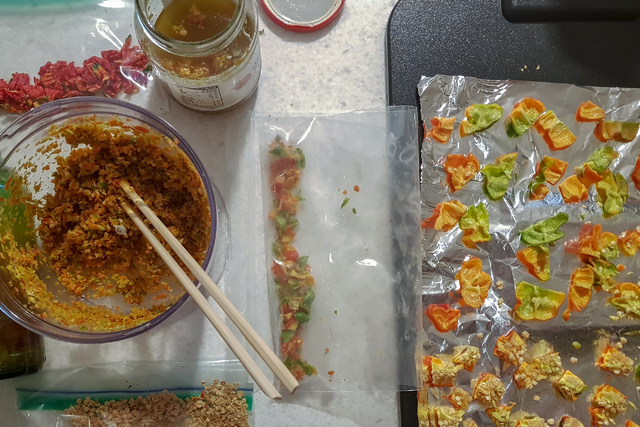 As you can see, I froze some, dried some, preserved some in oil and harvested some seeds.
Even though I only had 1 plant, since it was so productive, I don't care.
I have hundreds of seeds to try for next year
It is spicy enough (really spicy)
I have frozen puree
I have a lot of dried ghostpeppers
I preserved some in oil
I preserved some in alcohol (soju)
I have dried pieces and frozen pieces
Overall I was busy doing ghost pepper stuff. Finally, the smell of ghost peppers is gone from my balcony.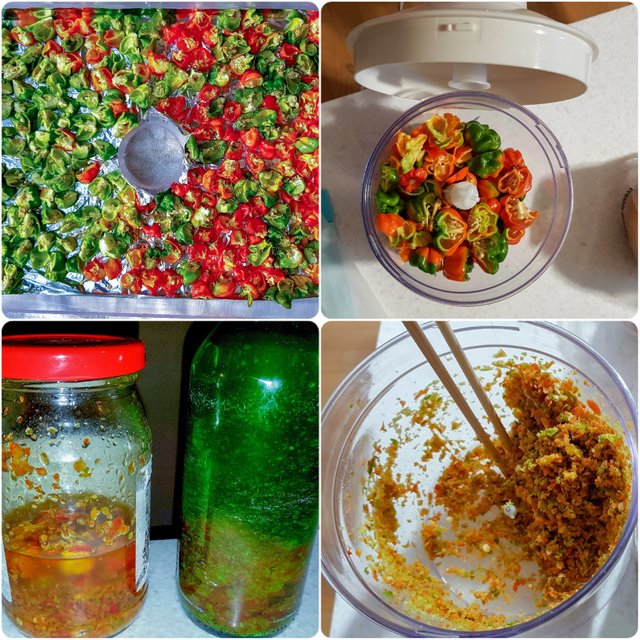 I'm going to do a MeokBang (Eating show) with my friend with some of my ghost pepper products. We are particularly excited about ghost pepper oil with black bread and ghost pepper soju.
I've tried everything except the frozen peppers and the soju. The oil is actually quite nice. I left it out for awhile and put in a mix of fresh and dried ones to get a musky taste. Some people call that mould, but meh. I'll report back on how some of the more unusual ideas, especially the liquor later.
Napa 'Kimchi' Cabbage
I've got about 15 Napa cabbage plants growing in my garden. The success of this is very important. Actually, I'll admit they are not 'organic'. I must use pesticides because all my neighbors will flip out if they see bugs on my plants. Kimchi is too important to feed to the caterpillars.
The amount of pesticides I use is minuscule and less than the recommended amount. I only put on 2 applications which is less than the necessary amount, and it will be out there a few weeks after. In any case, it's impossible to get organic food when you don't own the land and all your neighbors are not growing organically. One day I plan to buy land, then I can do what I want because my neighbors won't be able to pester me and comment.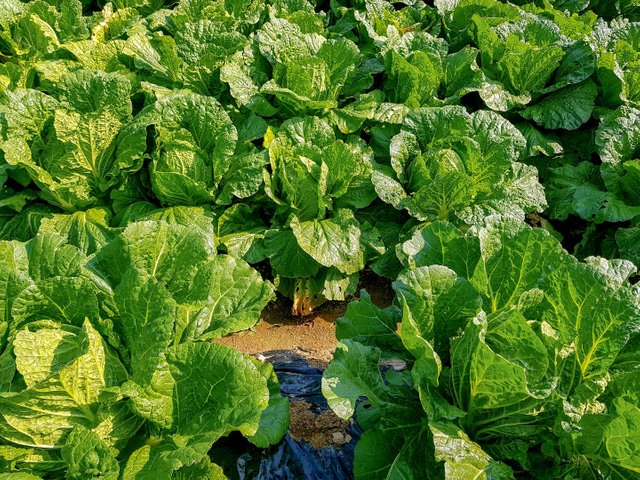 My two biggest napa cabbage plants are in the foreground.
I like to brag about how big my cabbage is. My neighbours cabbage is two weeks older and a little smaller. That's what you get for crowding. I think they are selling it anyway. Since it is sold by the head, it only needs to be a certain size.
If I fail to grow cabbages, my family will be very disappointed. We have a Saturday of Kimchi Making planned next month. I need to bring at least 10 pogi (heads of cabbage) or I will be forced to admit defeat and buy it. This will cost like 40 dollars, too. Fortunately, they are all doing well and I have about 12 (I only lost 2).
White Korean Radish
Know as daikon in Japan or Mu in Korea, Korean radish is quite large. Actually, people don't believe me when I say they can get nearly as large as a football (at least the NFL ones...CFL balls are bigger ;). Don't worry, I plan on showing you with evidence and have at least one or two that will easily get that big.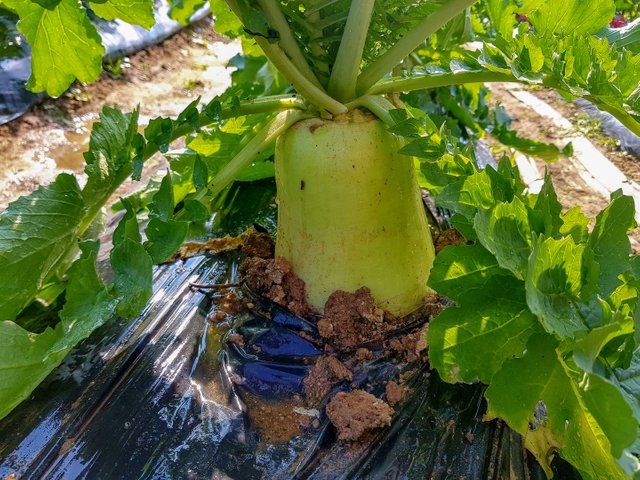 This is my largest radish. I would say the diameter at ground level is easily 10 cm now. Yes size matters!
I'm growing around 20 white radishes. The Korean ones grow up out of the ground and the tops turn green. It's okay and adds a beautiful color. I will make gakduki or radish kimchi with some, give away others and maybe even sell a few just so I can say I made some money.
Mint, Cilantro, and Lettuce
I wrote about my mint liquor and peanuts here, and I wrote about making mint tea, here. I'm not going to bore you with mint stories. I did take a few clippings of each to save and a large peppermint plant, as well because I like that more than spearmint.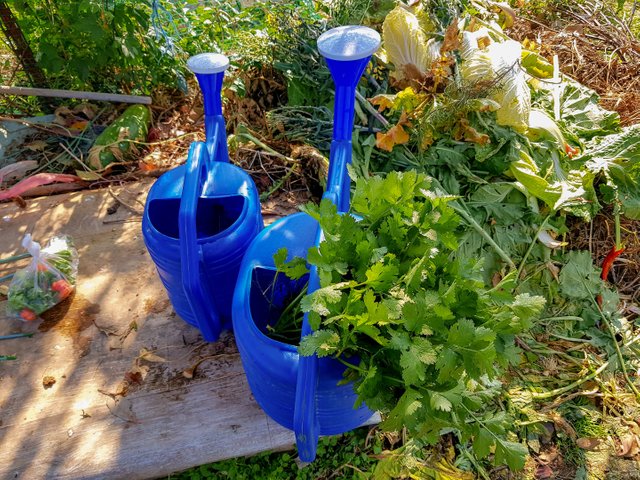 Here is my cilantro and a nasty compost heap.
I actually didn't plant any cilantro since the spring. I let the plant get out of hand so it would drop seeds. Guess what? Nature did its thing! I have many. I'm out of seeds though because they are hard to keep. I'll just buy some more from the co-op. In any case, I got a lot more than I needed and ended up freezing some. I still have more.
I'm also getting fresh romaine lettuce for salads, sandwiches, and wrapping meat (sam bap). I'm not going to bore you with the details. If you have a garden, grow lettuce, end of story.

As Always, I want to thank @simplymike for doing the #gardenjournal2019. This will be my second last garden journal of the year. I'll update in November and probably again for KimJang. I usually take a break in December, then I'll be back in 2020 with an indoor edition or two.
Here is the link to the event contest: https://steemit.com/gardenjournal2019/@simplymike/garden-journal-challenge-october