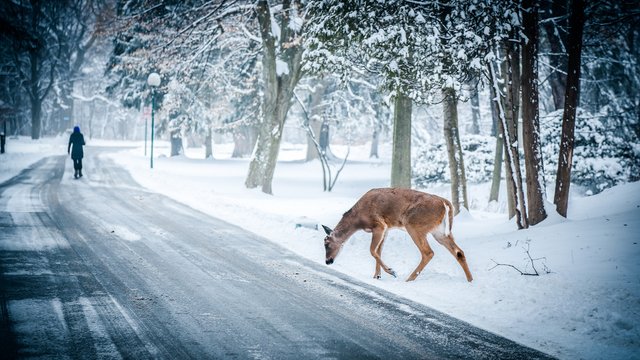 Winter time is great time to see things which are not very obvious during summer - for example animal routes. Animals are the native inhabitants of outer space and they have their own "pavements". Actually, you can observe some rules in their transport routes, that is obvious - in macro world, migration routes are possible to be observed by radars and GPS tracking. On roads, you can clearly see how human infrascture interfere with animal infrastructure. Thousands of dead frogs, many dead deers, a lot of destroyed vehicles appear on particular crossings.
At smaller scale - your garden - better to simply observe. 
It is very important to know the animal routes passing through your lot - because only this way you can cooperate with nature and do not let some of the animals destroy and eat your yields. For example - if you have a very new lot near to forest without fences, you might be interested to see where and if wild pigs tend to visit you. Knowing these routes, you can use appropriate technology for your outer fencing.
But even smaller animals can do a lot of unwanted damage - for example hares can eat your salads, red foxes can excrete on your berries and make them very dangerous because of flatworms.
All of these potential issues can be prevented if you know where animals pass through your area and undertake appropriate solutions against those you do not want to visit you and for those you welcome. 

For example, last year we lived in a house where untreated compost included food for half-wild dogs. They have been used to come to the compost to feed themselves and they completely destroyed fence supposed to protect the garden.
We made a big effort to repair the fence properly and took care about the compost better - and guess - these unwanted visitors kept trying the SAME route until they succeeded. It took few more months but finally they stopped to use the route because there was no longer reason to use it.
But the reason can be also a water source, place of periodical reproduction or simply a shortcut as in the attached video - this particular lot is in between two large fields, divided by road.
Winter is not so boring when you know what to observe and do on your current or future garden. Snow is your friend, guess why :) Simply put, just visit your lot few days after snow and you will see the routes. It is a bit more challenging and funny then a video camera, lol!
Thanks for interest in our article and you are welcome to learn more or support us at:
http://patreon.com/greenwayoflife

Chip in a dollar, send us a GPS of your garden together with some photos of your yields and we will make you a nice video you can share on your social media.