ZukoWick's Steem Gaming Series - Week 4
Today's post in the ZukoWick's steem gaming series will cover the following games: Splinterlands, Drugwars, and Road of Rich. I wasn't going to cover RoR but since I have learned how to get the crypto from the game. I should cover it in the gaming series and speak on my goals for ingame.
Also this week, I spent more time looking through old crypto wallets trying to see if I miss any when I did my cash out of crypto. I got lucky in that regard but I will tell you about it later in the post. Let's start with Road of Rich, then Drugwars, and then last but not least Splinterlands.
Road of Rich
Link to site: Road Of Rich
This game is perfect for people that don't really have time to play a game but still want to set it and forget it for awhile. Honestly, I am still learning how to play the game but I manage to get a house in my main city, fill all my slots, and almost have enough gold for another house. I just don't know which city to have it yet.
I tested out depositing the gold to see how much ROR would be earned from it. I didn't use much gold as I was making stuff to equip. I just put the gold I had leftover. So now I have 13 ROR and I am saving it to buy another slot. My goal is to buy those 6 extra fighter slots and fill it.
I think it will come in handy against players that have been attacking when traveling from city to city since the PvP update was released. Because of this I made a spreadsheet to how much resources I needed to equip all my fighters with the best gear and realized I shouldn't have been selling all of my silver. I need it to make the rings. You live and you learn right? So that's goal #1 get enough silver for all the rings to be made.
Drugwars
Link to site: Drugwars
In week 3 post, I talked about needing a minimum of 15 DWD daily to convert to DEC in order to buy a pack with potions once a month. Well 4 days this week, I made over 24 DWD and I wasn't trying to as I am focused on building up my army. Each day I made over 20 DWD was due to 1 or 2 fights where I was trying to steal resources and the player had troops in their base. Totally worth the fights.
One problem I noticed on Friday as I was checking steem engine. Someone dumped so much DWD that the price dropped down to 0.005 STEEM per DWD. Lucky I was selling some daily but I am sitting on my DWD until I see the price move back up in better price ranges. Currently as I am writing this its only moved up to 0.0152 STEEM per DWD on the buy side.
I will keep playing and saving all the DWD but we can forget about the plan to convert the DWD to DEC to buy packs. Its just not smart to sell any DWD at these prices. Even if it goes back to over 0.04. I might keep saving just to see how high are these players willing to let the price get to before they start to dump again.
Splinterlands
Link to site: Splinterlands
This game really challenges the mind some times. I was going to build a spreadsheet to keep track of which sets worked in which rule sets. However, my guild leader delegated me cards twice this week so I can't really make a spreadsheet yet. I did have the most fun this week then before. Due to the delegated cards, time to play the game, and me learning better positioning for my cards.
So lets go over what happen this week. Sunday, I bought 2 goblin mech cards to level up my card. It helped a little to climb in rank but still was struggling. On Tuesday, I did the 1 pack challenge, made a post about it, and it totally wasn't worth it but I had fun doing it.
On Friday, I bought a gold foil goblin mech because of the DEC bonus and it was 1 level higher than my current goblin mech. It really helped out against players using the goblin mech but was 1 level higher. Today, I got my brave broswer payout of 25.6 BAT. I converted it to BTC and then to STEEM. I bought the gold foil pyre.
This really helped out since my guild leader delegated 2 dragon summoners (daria and delwyn) and a the earth summoner xander foxwood. Anytime the rule set didn't allow them. I was stuck with level 1 cards and lose. So added 1 more summoner is a big help.
Now on top of that I reached silver 1 so I am getting more rewards when completing my quests. I managed to get a gold foil and a legendary from the rewards this week. The gold foil brownie and the legendary black dragon. check out the screenshots.
My second gold foil that I didn't buy.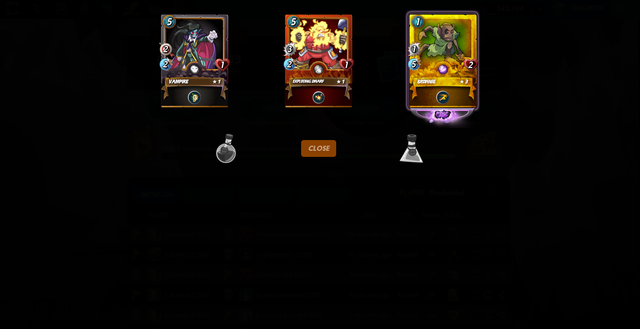 My very first legendary.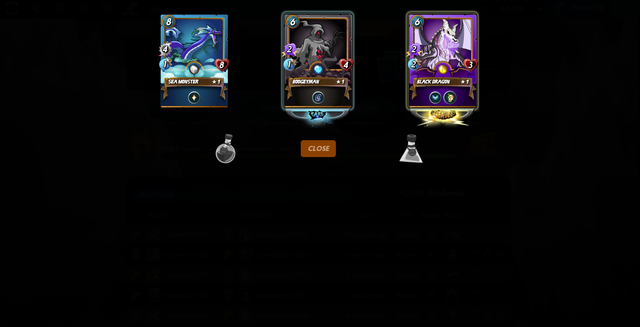 | Day | Quest Rewards |
| --- | --- |
| Sunday | Sea Genie |
| Monday | Undead Minotaur, Rusty Android |
| Tuesday | Goblin Mech, Sea Monster |
| Wednesday | Creeping Ooze, Highland Archer |
| Thursday | Vampire, Exploding Dwarf, Brownie (gold foil) |
| Friday | Boogeyman, Sea Monster, Black Dragon (legendary) |
| Saturday | Goblin Mech, Skeletal Warrior (2), Sea Monster |
You can see as the week went on, the higher I went in rank. I was studying which cards I am using and what's working. I just kept winning. I also, noticed that some of my opponents was having the same problem I was having. Your high level summoner isn't allowed in a rule set and you're stuck with level 1 cards.
Crypto Income
Here are the stats of the crypto I earned from playing games this week.
| Day | DEC Earned | DWD Earned | ROR Earned |
| --- | --- | --- | --- |
| Sunday | 193.778 | 6.566 | 4 |
| Monday | ‭152.327‬ | 24.576 | 0 |
| Tuesday | 125.013 | ‭27.298‬ | 0 |
| Wednesday | 208.06 | 24.487 | 0 |
| Thursday | 233.972 | 24.31 | 9 |
| Friday | 386.389 | 4.211 | 0 |
| Saturday | 145.066 | 4.278 | 0 |
| Total | 1,444.605 | 115.726 | 13 |
Final Thoughts
After playing this week with some cards from my guild leader. I realize my focus shouldn't be buying packs this early into playing. I should be using my DEC to buy the cards I need. So the plan has changed sightly, I will keep investing all the crypto I earn from playing these games back into Splinterlands. Any crypto I find in my old wallets, I will invest in Splinterlands as well.
Like today, I found $1 worth of DASH in one of my old wallets I totally forgot about. The dash was worth more back when I did my cash out but I left it in the wallet because the dash fees at the time was the same amount I had in the wallet. Now that the fees are lower and the value of the dash is lower as well.
I thought why not, I converted it to STEEM then bought DEC. I haven't decided what to do with it but if I put it with the DEC I have in my Splinterlands account plus whatever I earn tomorrow. I'm pretty sure I can afford a card in the $1.20-$1.50 range. Of course, I will make sure its a gold foil so I can earn more DEC per match. If I don't think of anything to buy. I will hold onto the DEC for now.
My plan for this week is play in the novice, bronze, and silver tournaments. Hopefully, I will at least place high enough to earn DEC. That way, I can save for another gold foil summoner before the prices get higher. I will do my best to push for gold 3 before the end of the season.