Yo gamers,
You may already know that I'm not a fan of centralized streaming platforms but I started to Twitch a month ago just to bring more awareness of Steem Blockchain and also try to onboard streamers and content creators.
I am still trying to make my stream look nice and so far is going better than I thought so. Still need to do some graphics and some small things but I am sure I will be able to learn basics of Adobe After Effects and then create something that will make my stream better.
The thing on this post I want to talk about is Twitch and how centralized platforms sucks ballz.
I am following Dr. DisRispect and I'm sure I don't have to explain to you why. I love how he is so into his character and how he is providing great quality and entertainment for his viewers. I simply appreciate him giving back and being crazy as he is. I had so many laughs on his streams and so much WOAH moments by watching his gameplay.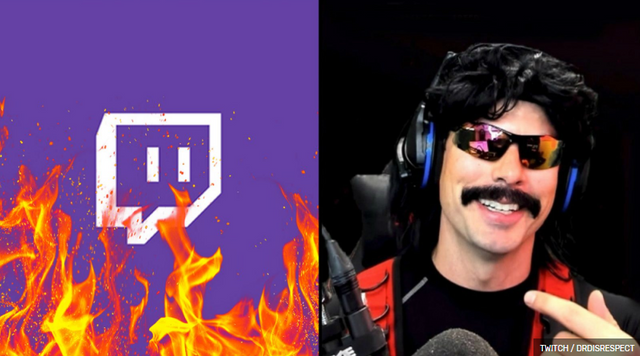 ---
But, a few days ago I catch the beginning of his stream and that was the first time I caught him that fast. He is having his crazy good graphics and intros and I wanted to watch that and learn from the best.
But, what happened next, it just opened my eyes and make me think more about Twitch and other centralized platforms.
In his intro, he started to bash Twitch and how are they acting weirdly lately. He mentioned quite a few times, with a bit of anger, about favoritism on Twitch. Since I am new there, I still don't know how Twitch behaves and how it all works. But, knowing the nature of centralized shit, I know what centralized platforms bring you, or should I say, takes away from you.
The thing that STUNNED me to hear was that Dr. DisRispect was never on the front page of Twitch. Should I write this again just to be sure? :D Yeah, you heard me good.
HE WAS NEVER ON THE FRONT PAGE OF TWITCH!! WTF?!!?
A guy who has 3.5 mil followers and is providing probably the best streaming experience was never on their front page. Am I getting this wrong? Am I missing something?
This is probably what he was ranting about in his intro of that stream - favoritism that is happening on Twitch.
What was also interesting is that after this intro, Doc talked about Ninja moving to Mixer and what he thinks about it. He told that he wouldn't do it now because it doesn't make sense to him right now. And I think that the most important word was RIGHT NOW.
He told that he will see after 2 months how Ninja is doing and then he can evaluate his decision. It seems that he is saying something to Twitch.
And of course, Twitch responded.
Two days after, FOR THE FIRST TIME EVER, Doc was on the front page. He used that opportunity to tell everyone what he thinks about Twitch. I just hoped people listened.
---
What I want to say is that centralized platforms are slowly going down. They are acting too weird with their freedom of speech and favoritism.
We got Mixer and other centralized platforms that will surely be visited and used by some big Twitch streamers, eventually. And that's ok, that's good. That means they are trying to find their home and home for their followers.
But what I REALLY want to say is that STEEM needs to grab those guys. No need to go for Doc or Shroud, but slowly market ourselves on those platforms.
I am streaming there for this purpose. What's your role in our blockchain gaming world?
Have a cool day,
Spacely out.