I setup a Steemit Community on the PS4 where we can host events or just hang.
Steemit Events
We can create events, have contest or just meet up to chat and play while gaming. Any game is welcome and whatever becomes the most popular will become the focus for the Community.
Currently it's set to MLB The Show 17 since that's what I'm playing on PS4 as well as @theprophet0.
If you have a Playstation and would like to connect with other Steemians while playing, please consider joining the Steemit Playstation Community by requesting an invite from your Playstation in the Communities section or leave your PS account name in the comments and I'll invite you. Just let me know what your Steemit username is and I'll set you up!
I considered leaving the Community open to the public, but for starting out I'd like to limit it to just actual Steemit members unless others feel it would be better to just let it be public. Tell me what you think and most of all, be sure to join!
Steemians Team Update
While I'm at it, here's the update on the Steemit.com Steemians MLB The Show team. We're currently sitting at 14-7, still in the Pennant Race after going 2-1 so far today. I had some trouble with the metered pitching in the loss due to a horrible connection with the other player. But, they were playing with the same lag so it's no excuse, it just seemed to affect me more often ... oh well.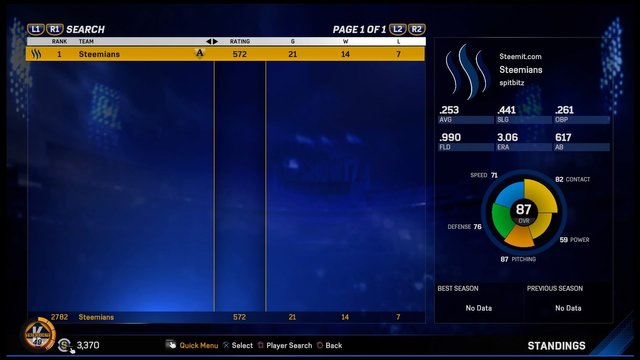 Since the original post received such a big payout, I'm going to put all of that into the team and hopefully help move us up even faster! Thanks for all of the upvotes for something I know seems kind of silly, but I think it will actually draw a lot of attention to the site, especially if we're able to get a good sized community going.
So join up and let's play!