[Announcement] SteemGC Curation Reports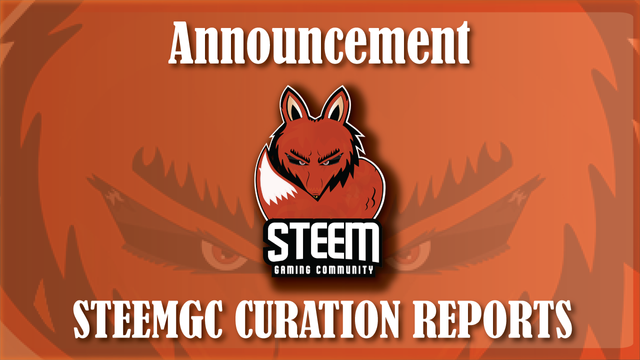 Hello gamers and STEEMians! After a month of testing how we're going to curate in the future, we decided to start our new project, SteemGC Curation Reports! We're trying to improve in various ways and this will be one of them. We are looking forward to bring you closer to what we do and what content we curate. Currently, we have two curators, @jillfeint and @whack.science and they will be in charge of curations and other curation campaigns that will be announced when their time comes.



This project will have two parts, SteemGC Daily Curation Report and SteemGC Weekly Report. In the Daily Report, we will name everyone who we curated with a provided link to their Steemit profile and their content. Also, you will be able to see how much % we curated on that content. In the Weekly Report, we'll add top 3 gaming content creators and give them a shout out.
This curation campaign will have slightly different rules than the last one. We are curating streams, videos and posts so feel free to check out the rules below to be available for curation. For better visibility, we encourage you to use #post-promotion channels in SteemGC Discord server. If you are unsure about the rules for curation they are as follows:
Streams
The SteemGC logo on a stream thumbnail
The tag 'steemgc'
Must be a follower of @steemgc
Good quality content
Posts
The SteemGC logo on post thumbnails or in the footer of the post
The tag 'steemgc'
Must be a follower of @steemgc
Must be original content
Good quality content
We are giving special benefits to those who reach a certain level on our Discord server and we will also have a few smaller campaigns along the way. Embrace yourself, SteemGC curation team is coming for you! If you have any other questions, feel free to contact the curation team on our Discord server who will gladly help you!



With this said, we are happy to start our new campaign on Monday, 15. October. Thanks everyone who is supporting SteemGC in any way, you are the reason why we're growing this fast and why we're glad to help you along your gaming journey.
Until next time, STEEM ON!
-The SteemGC Team


Steem Gaming Community