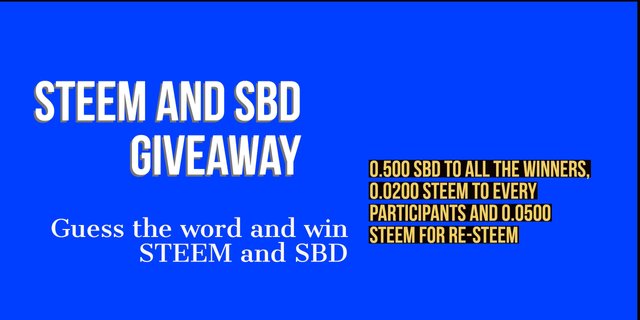 Welcome to steem and sbd giveaway 58
---
---
Last giveaway or game 57 was massive success!! special thanks to everybody that supported the giveaway either by participating, commenting, upvotes or resteem, your support is highly appreciated. we had 4 winners who walked away with $0.020 steem in their wallet if you missed the
game
make sure to check my blog for more information or checkout the game results below
---
Watch video selecting the word and winners
"The first word i open in the video is the correct word"

"Congratulation to everybody that guessed Emboss"
Definition of Emboss
Emboss (verb) means to carve, mould, or stamp a design on a surface or object so that it stands out in relief. or to decorate an object, especially with letters, using special tools that make a raised mark on its surface
Emboss (noun) means to A person who, or a thing which embosses. things like the impact printer that renders text as tactile braille cells. Using braille translation software, a document can be embossed with relative ease, making braille production efficient and cost-effective.
Winners in game 57
---
Total steem distributed to winners
$0.02 x4 =$0.08 steem
Top 5 words
emboss
suborn
reboot
unborn
labour
How to play?
Leave a comment with the word of your choice based on the selected letters of the word, I hide the first and the last two letters of the word. eg- if the word is STEEMIT i will hide ST and IT, and show EEM in display. All Participants must guess the word from there and stand a chance to win STEEM and SBD. make sure to follow all the rules of the game to qualify for the reward
How i select the word and winners?
Step 1: I pick 5 words from oxford dictionary with the same letters
Step 2:I write those words down in five small pieces of paper
Step 3: I take those words and shake them like playing dice and splits them on the table
Step 4: The first word i open in the video is the correct word for the game
Step 5: Cheers we have winners for the game
Game Rules and guidelines
One try per person
Only use English words
Game last only for 2 days
user must upvotes the post to enter the game. answers without upvote will be automatically disqualified
First 5 people to guess the word correctly wins the game
The first 5 people to resteem this post with your answer will receive random reward from 0.01 to 0.05 STEEM.
Reply with "Resteem" with your answer.
---

---

Thanks to @son-of-satire for the banner
Copyright © steemit.com/@steemcollator