Do you like rooty tooty shooty games?
Do you like isometric over the head gameplay?
Do you like persistent online where all of your faults can mean everything to your team or your triumphs.
Do you want to be a logistics officer and make people ship supplies to the front lines while a tank is firing at your men?
Are you tactical and want to work together with your team to overcome challenges while enjoying old school arcade shooting?
Welcome to Fox Hole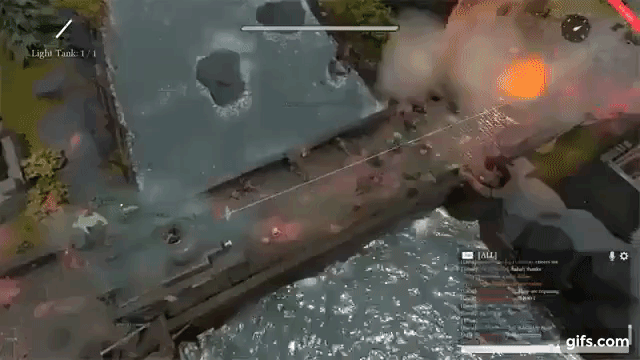 Its kinda a rts where you control only yourself.
I think this game is meant for a widespread group of people.
You can build bases, go on the front lines and fight, build vehicles research weapons. It has a combination of all those things in one game! You can grab 100s of other players to go fight against your enemy. Or you could go behind the front lines sneak behind everyone and take people off the radar one by one.
FoxHole Trailer
It was just released on early access BUT i still think it has extreme promise and I cannot see what the developers plan with this game.
I am not one to get into rtses because I am not good with managing 1000s of things on screen but if i control one thing and it matters to the group I am playing for I am all about that. I also never seen a game manage to bring all the things from a rts without being a rts before. I might be wrong about this but I think this might be a first of its kind. What I love about this game is the fact that it has old school gameplay. Very punishing very rewarding. Easy to pick up and play but hard to master. With every gun and every vehicle they shoot differently. Be careful you might hurt your men. If you kill off your enemies you can steal their weapons and vehicles if they are not damaged to bad. If you can not make enough weapons and ammo for your troops it will leave your troops vulnerable and then you lose a town. You will have to fight for it again. This game surprisingly has a lot of depth for a early access game and I suggest everyone gets the chance to play it.
Sources are the creators of fox hole and the letsplayer from the first gif
I will see you later @sinned. Thank you for checking this post of mine out!