Win Poker Night 2. Value $4.99 USD #Noresteem
Do you like Poker? Do you like Classic Characters? Then this is the poker game for you.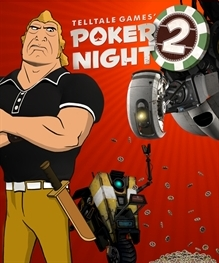 By Source, Fair use,
To make sure I comply with the fair use requirements let me just give you Quick review of the game.
Poker Night 2.
As the name suggests this is the second in a series following up Poker Night at the Inventory and developed by Telltale games.
Poker Night 2 is a computer-based poker simulation of two styles both Texas Hold'em and Omaha Hold'em, yeah I know who knew there was an Omaha hold'em.
Everyones favorite narcissistic, passive-aggressive, sinister villain GLaDOS deals you in against classic characters like Evil Deads Ash, legendary detectives Sam & Max, the sidekick you love to hate Claptrap, and Brock Sampson from adult Swims Venture Bros.
With plenty of gags to keep up entertained during hands, don't forget the power of alcohol by your competitor's drinks and try to learn their tells, aside from the usual unlocks you would expect from a game, in this case, new tables, cards, and chips this game also offers loot for other titles, granted Borderlands 2 is getting long in the tooth but stills that new skin might just entice you to load the old gem back up.
In case you don't know Telltale is one of those game companies that have helped bring adventure games back revitalizing titles like the Monkey Island series and Sam & Max, you may also have heard of their others like, The Walking Dead, The Wolf Among Us, Batman, and Minecraft Story Mode to name just a few.
Even if you don't win and you like Poker, witty banter, and classic characters this game might be worth picking up.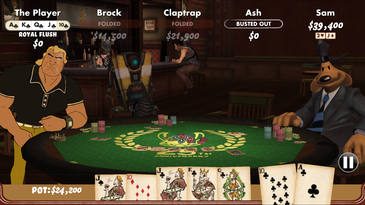 By Source (WP:NFCC#4), Fair use,
How to Enter.
Just comment "I want to win Poker Night 2" and tag two another user you think would like a chance of winning.
In order to claim the game, you will need Steam(not Steem) installed, in case your unaware Steam is a game management platform created by Valve that's right the same Valve that's never going to make a Halflife 3.
NO RESTEEM required however if you would like it would be greatly appreciated have about ten other titles with values heading towards $25 USD that I would like to give away and this post is a tester.
Why no Resteem?
Having seen @o07's and @simplymike's recent contests I noticed both not needing a resteem what an amazing concept good work guys. Steemit needs content creators, and when I visit your page I want to be able to find your content, not scroll through pages of resteems, I can't upvote your content if I can't find it.
Kind regards
Peter.