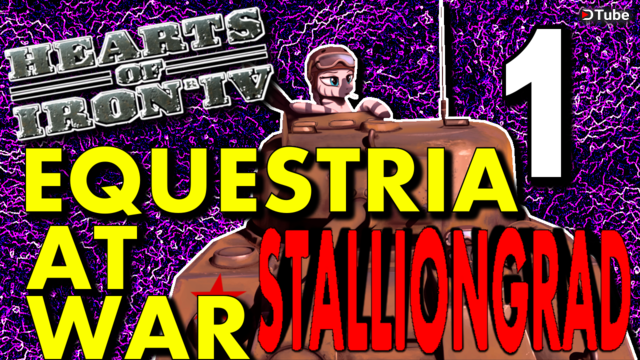 ---
Witam moi drodzy w pierwszym odcinku z gry HOI4 na modzie Equestria at War! Gameplay z gry Stalliongradem w Equestria at War, ukazuje się codziennie! Jeżeli spodobał Ci się materiał to zapraszam do jego oceny! Na wszystkie komentarze odpisuje więc zapraszam do krytyki lub dyskusji w sekcji komentarzy!
Znajdziesz mnie również na Youtube: https://www.youtube.com/channel/UCXx0hR00cauphybUmGUg-cA
⏬⏬PRZYDATNE LINKI PONIŻEJ - ROZWIŃ OPIS⏬⏬
🔻Opis gry🔻
Hearts of Iron IV to gra strategiczna stworzona przez Paradox Development Studio w 2016 roku, pozwalających graczom pokierować losami państw w okresie II wojny światowej. Equestria at War jest natomiast modem przenoszącym gracza do świata kucyków My Little Pony. Brzmi jak chore połączenie - jeszcze jak!
🔻Spodobał ci się gameplay z gry HOI4 na modzie Equestria at War? Zapraszam do playlisty ze wszystkimi odcinkami gry Stalliongradem w Equestria at War! Ponadto, jeżeli chcesz kupić Hearts of Iron IV to możesz skorzystać z poniższej wyszukiwarki lub kupić bezpośrednio na G2A! 🔻
🔷PLAYLISTA: https://www.youtube.com/playlist?list=PLYyS1W93eyUVv6qGWes8LKBs2BmngJUvE
🔷CENY Hearts of Iron IV: https://www.ceneo.pl/44829097#crid=166517&pid=16674 ⭐⭐⭐
🔷G2A: https://www.g2a.com/r/heartsofiron-iv-cadet-edition ⭐⭐⭐
🔻Chcesz pogadać lub integrować się poza streamem? Zapraszam na poniższe grupy! 🔻
🔷GRUPA FB: https://web.facebook.com/groups/305045753357728/ 💬💬💬
🔷DISCORD: https://discord.gg/U58Qa5H 🎵🎵🎵
🔻Rozkład tematycznych streamów w tygodniu - codziennie o 20:00 na Youtube! 🔻
🔷Poniedziałek - gram w Hearts of Iron IV!
🔷Wtorek - gram w Europa Universalis IV!
🔷Środa - grę na serie wybierają widzowie!
🔷Czwartek - gram w klasyczne/kultowe gry!
🔷Piątek - gram razem z widzami na multi!
🔷Sobota - znowu grę wybieracie WY!
🔷Niedziela - gram w to na co mam aktualnie ochotę !
🔻Trochę o kanale!🔻
Ja jestem SHAGGY, a na moim kanale znajdziesz głównie filmy z różnych gier! Dodatkowo od czasu do czasu pojawiać się będą nagrania z ciekawych wyjazdów, unboxingów czy po prostu vlogów. Serie planuje zawsze z widzami więc zapraszam na grupki jeżeli chcesz, aby ograć twoją ulubioną grę!
---
▶️ DTube
▶️ IPFS