Football Manager 2018 - The Hopton United Journey - Part 1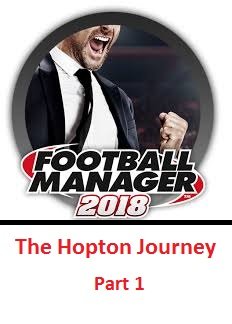 ---
The Hopton United Journey
---
Part 1
---
Good morning, good afternoon and good evening to you all and firstly thank you for choosing to read my introduction to 'The Hopton Journey'. This series is something I've been wanting to do for sometime now and I've decided this is the right time to start it.
On this save i am using a data edit which i have found from the Internet which gives you the opportunity to manage down to tier 22 in English football. using this edit, i have customized myself further by using FM Date Editor and i have created my own club with a full squad of players which has been a dream of mine my entire life. (If you cant make it in real life, then the next best thing is virtual life) All of the players i have created are all friends and family of mine but i will get into more detail of this in a later post.
My team i have created is Hopton United which is a completely new team which i have put into the 11th tier of English football. I will be starting the journey in the Anglian Combination Premier Division. I have created 23 players including myself and all of the players have the same current ability and a potential ability of 200. the team i expect will dominate the league for the first few years but it is all about the preparation for the professional times to come in the future.
Included in the journey, i have also created a spreadsheet so i can monitor and keep track of all the individual players stats and i will keep you all updated the whole way. firstly for today lets take a look at some of the clubs background an stats and also i want to outline my goals for the club.
---
First of all, lets take a look at some information about Hopton United in game and see what we are starting with.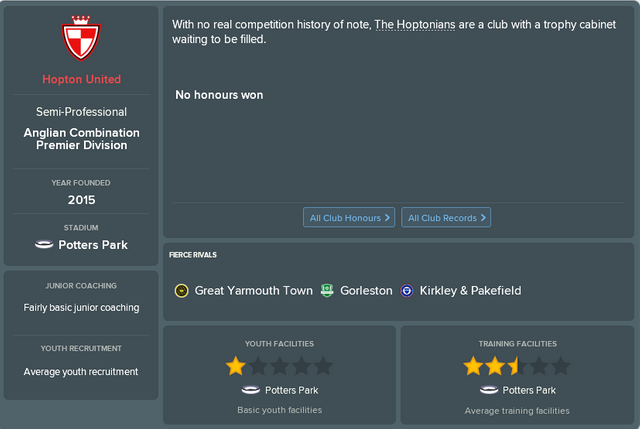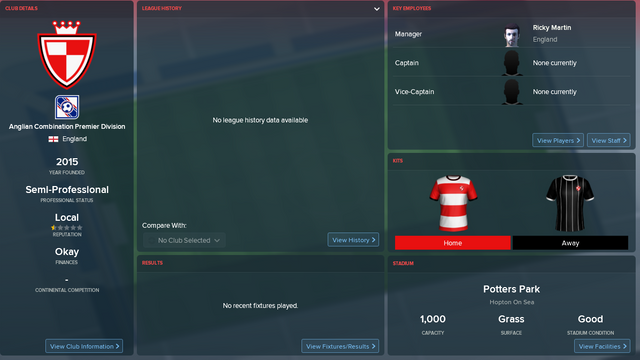 So as you can see, we are a semi professional team playing in the Anglian Combination Premier Division. Facilities are not great but for the standard of league we are starting in, it is something we can really work on and develop. Finances are not great and again is something i will need to work on to stabilize the club later on into the journey.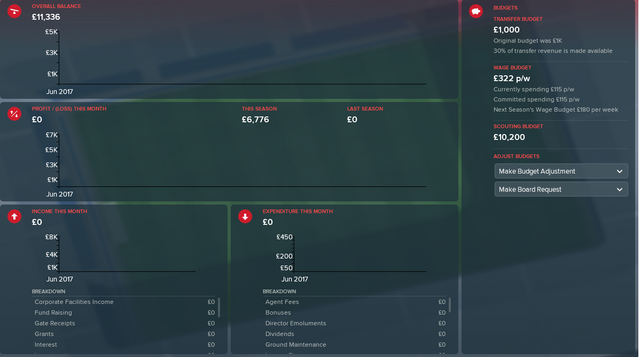 ---
I have set myself a few long term goals i want to try and achieve and stick to as much as possible.
Reach the Premier league in 11 years
Win every possible trophy available during the journey
Maintain a win percentage above 60%
Rely solely on the original squad members in the team as much as possible.
There will be more goals which i will set throughout the journey but these 4 are important and something i want to achieve.
---
lets take a look at the squad on the spreadsheet i have made and ill explain a little about this today.
This is the main squad stats page of the spreadsheet which will show us every players, appearances, goals, assists, yellow cards, red cards and player of the matches all for each individual competition and will also show a total for each category too. I will also be updating this more the further i go including other statistics i want to put in which you will see the deeper we get into the journey. The players here you will all get to know over the journey and i will be going into each player in more detail too but for today ill be keeping it brief as an introduction.
*****SPOILER*****
The eagle eyed readers right now may have seen a few spoilers on a few pictures of some progress i have made already but for now, this will be the end of todays part.
---
Thank you so much for your time in reading this post. Ill be uploading one part per night. I will also be experimenting and trying to make this series a little different to any other stories you will see and make it slightly unique.
Please leave an upvote, it would mean a lot to me.
Resteem so the story can be pushed out to as many people as possible.
Follow so you don't miss a part in the journey.
Lastly, leave a comment below. What do you want to see in the journey. how do you think i will get on. And let me know, what players from the squad list do you think will be a standout player.
Thank you and until next time ...
good bye.