Football Manager 2018 - The Hopton Journey - Part 3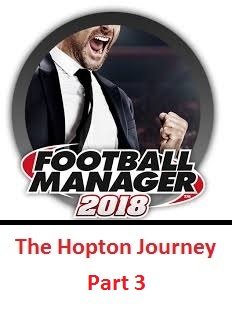 ---
The Hopton United Journey
---
Part 3
---
Welcome to Part 3 of the Hopton United Journey. In todays part, we will be taking a look at the results from September and talking about any other issues that mat crop up during the month. We will also take a look at the stats for the month and i will put the shortlist out to you as to who gets the player of the month.
First things first, the media have released their predictions on how the league table will pan out, so lets see where they think we will finish.

So it looks like they make us clear favorites to clinch the title and gain promotion but it looks to be a bot of a 2 horse race between us and Wroxham Reserves. other than us 2, there looks to be no chance at all.
We have 6 matches this month none of which should cause us much difficulties. Lets take a look at all of the games and the results from these.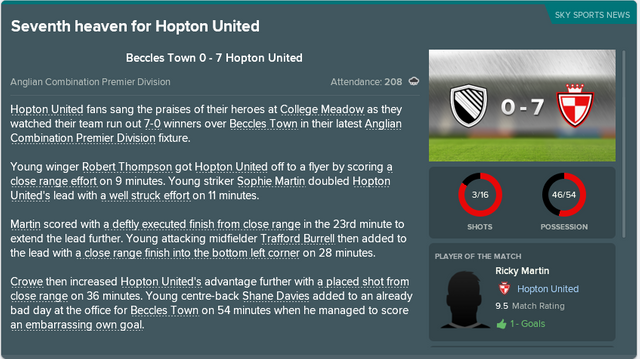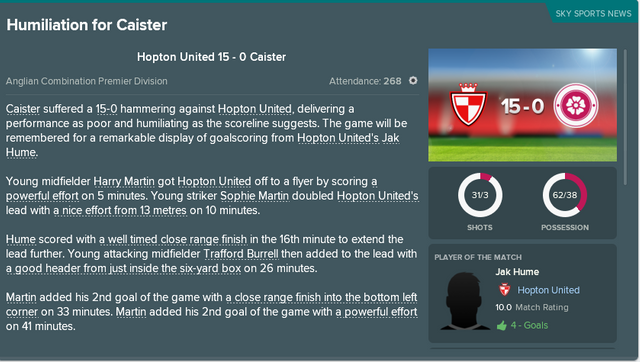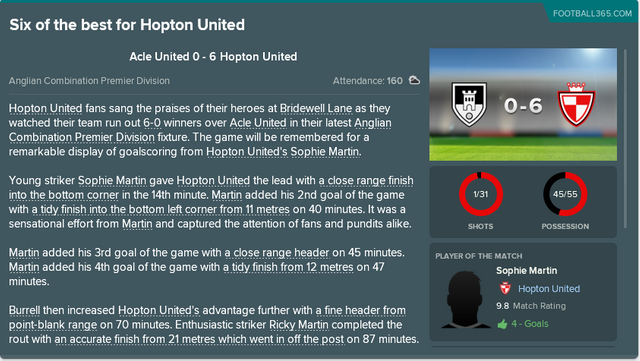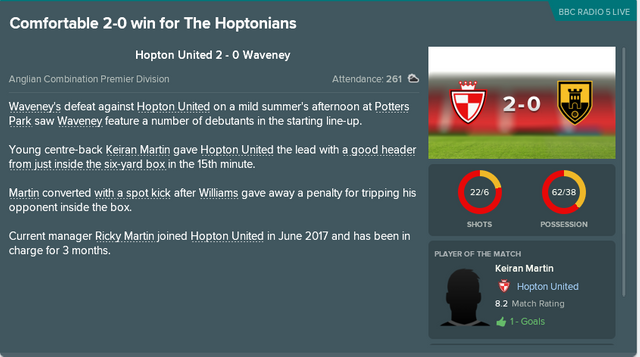 So 4 games into the season and we have suffered some major injury blows all in one day. 3 players all out injured for a small spell which could impact the season. Im not sure right now if it is the intense training routines the squad have been put through or just bad luck but it is something i will be discussing with Arel Jones (Head Physio). Take a look at the injuries from this one day.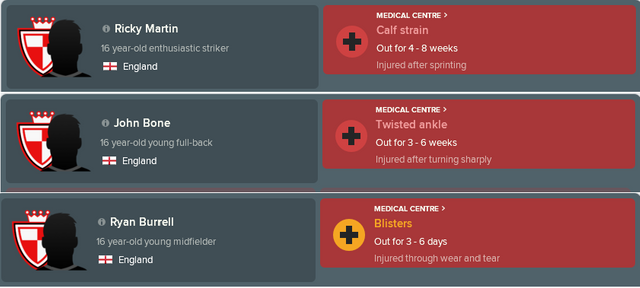 After speaking to Arel Jones, he has said;
' The training workload currently is quite intensive currently and is playing a big part in the injury crisis we current;y have on out hands'
It looks like the training is a little bit intensive at the moment and the players are struggling to cope with the amount of work being put on them along with full time jobs they all currently have outside of football. The players who have all been injured in this last spell have quite physical jobs which could be why they have suffered these early into the season. Ricky currently works as a telecommunications engineer, John works on the gas board and Ryan works in a factory.
Lets see the remaining 2 results from the month and see how we have got on so far.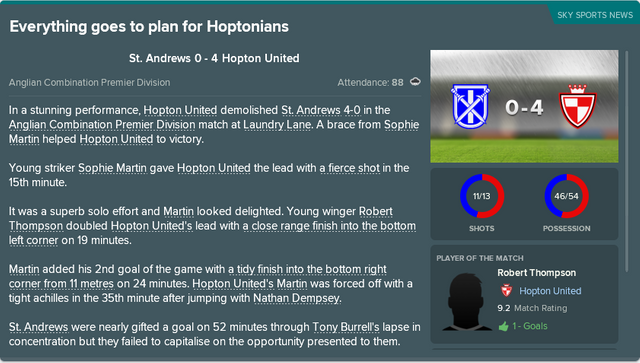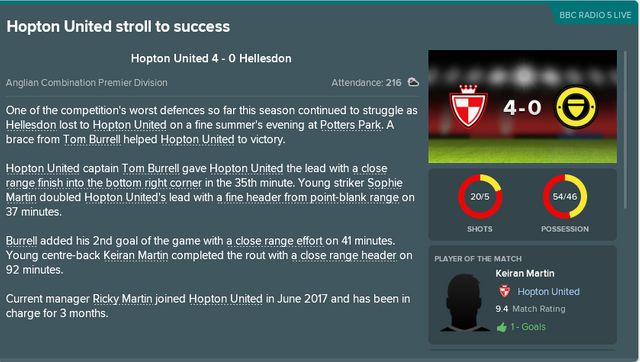 Wow, what a phenomenal month of results and not even conceded a goal scoring so many goals in the process. Most of the team have played outstandingly so its going to be tough for me to shortlist them down to 3 players up for player of the month. First of all lets have a look at the stats for the month.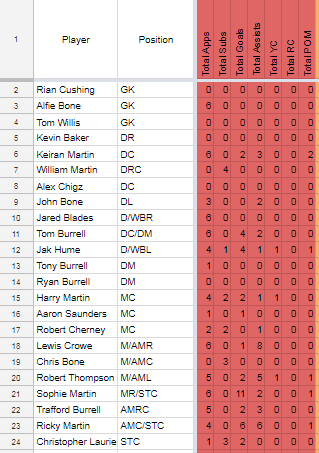 ---
Player Of The Month Competition
A


A great month from Keiran Martin this month, playing as centre back for all 6 games, scoring 2 goals in the process and also assisting 3 goals for his team mates. he is also one of the big reasons why we have not conceded a goal so far this season.
B


Lewis Crowe has also had a great month but for different reasons. 8 assists and 1 goal in 6 games for the right midfielder has helped in the amount of goals being scored by the team so far. Also lewis' teamwork is key for the teams performances so far.
C


If you need goals in your team, then you need a striker just like Sophie Martin. 11 goals in the first 6 games has meant any opposition that we come up against really has no chance of winning. This is topped of with 2 assists to make for an extremely good result.
Review
To vote for Septembers Player of the month, please comment below either A, B or C as to who you think deserves this. The winner of the vote will get the player of the month vote and this will be added to the stats and this will then give them a chance of winning the Steemit player of the season.
A - keiran Martin
B - Lewis Crowe
C - Sophie Martin
You have 7 days from the time this post is released before we have our winner .
Check out some of the players steemit pages.
Keiran Martin - @slayerkm
Trafford Burrell - @supertraff
Alex Chigz - @chigz14
Rian Cushing - @supercush
---
Please follow me so you dont miss the next installment of the Hopton United Journey. If you enjoyed please leave an upvote and let me know in the comments what you think so far.