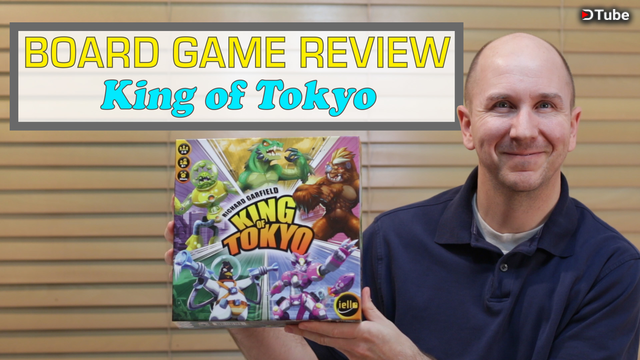 ---
Hello DTube and Steemians!
I am starting a new segment on my blog. From time to time I will be doing Board Game Reviews. I love playing board games, every since I was a kid and played games like Monopoly, Yahtzee, Chutes and Ladders, Life, Risk, etc. Then in the early 2000's I was introduced to Settler's of Catan. I still to this day enjoy playing Settler's of Catan. I have a decent size collection of games, of course I can always have more, haha, so I decided to do a little review for you all. I am not sure if I will do one every week, we shall see.
This first review will be of the game King of Tokyo. This game is awesome. The artwork is incredible, the game pieces are amazing. The game is for 2 to 6 players, ages 8+, but I bet kids a few years younger could pick it up pretty easy. Enjoyed by kids and adults a like with gameplay times ranging from 20 to 30 minutes. :)
Have you played King of Tokyo before? Maybe you own it already? How do you like it? Drop a comment down below and let me know. :)
Thanks for tuning in, don't forget to follow me/subscribe, upvote, and re-steem if you like. :)
You can find the King of Tokyo board game here on Amazon: https://amzn.to/2BzKya3
Or check your local board game store or places like Walmart, Target, etc.
*Video was filmed on my Canon 70D, with a 28mm 2.8 lens, and a Rode Video Mic Pro.
*The amazon link is an affiliate link, if you wind up purchasing it, I will get a small portion of the sale, but it won't cost you any extra.
---
▶️ DTube
▶️ IPFS