Hola a todos amigos de Steemit! luego de una semana de ausencia debido a evaluaciones de la universidad, vuelvo con las energías cargadas para estas fechas de carnavales que vendrán con muchas reviews de juegos y Apps (aplicaciones) divertidas para ustedes!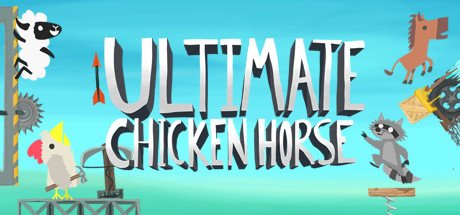 El día de hoy estaremos hablando de Ultimate Chicken Horse, un entretenido juego de plataformas creativas donde seras tu junto con tus amigos los encargados de crear el camino para llegar al final de cada mapa con una variada selección de animales que podrás vestir como quieras, eso si, ten en cuenta que mientras mas trampas pongas se le hará a tus amigos mas difícil llegar a la bandera pero cuidado te perjudicas a ti mismo también. Este juego consiste básicamente en llegar a la bandera del final saltando o haciendo parkour, sumar puntos y luego de cierto número de rondas el que tenga mas puntos ganará.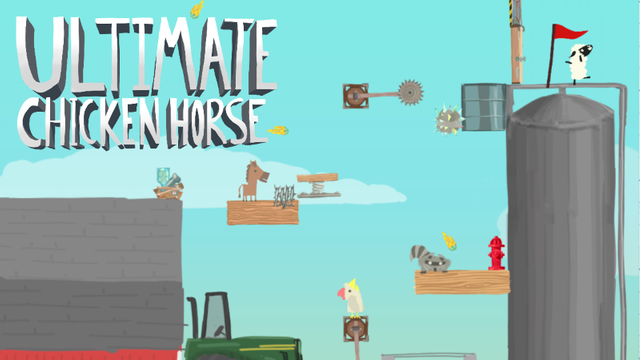 Este es un juego de muy pocos requisitos dirigido a jugar con amigos en reuniones o fiestas donde esta garantizado las risas y la diversión. Podrás jugarlo tanto con mando de Xbox o con el teclado de tu computadora, también dentro del juego existe un modo para jugar con un control compartido por turnos o con el mismo teclado. El Ultimate chicken horse consta también de varias modalidades de juegos donde puedes probar colando un sin fin de trampas a la vez o una limitada cantidad al inicio de cada ronda de juego, en mi opinión el modo mas divertido es en la modalidad "Fiesta" donde al comenzar la partida se mostrara una Party Box y podrán seleccionar todos al mismo tiempo una limitada cantidad de objetos, el que se mueva mas rápido toma los mejores!.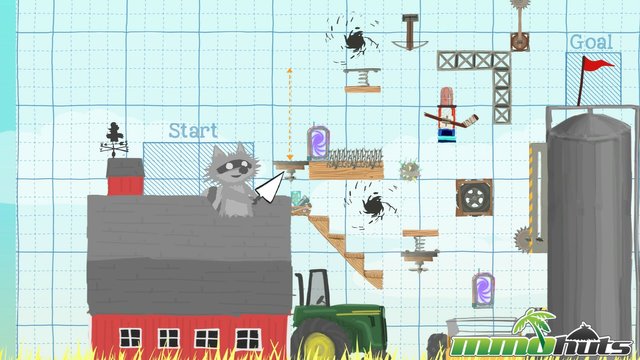 Sin mas nada que decir amigos los invito a que lo prueben y se diviertan un rato con uno o varios amigos!. Abajo al final del post te dejare el link donde podrás comprarlo y otro link donde lo puedes descargar gratuitamente, probarlo y luego comprarlo si te gusto!
Si te gusto este post no olvides dejar tu voto y comentarme, de igual manera coméntame que juego quisieras que trajera a mi BLOG!! Nos vemos en el siguiente post amigos! Saludos! :D
LINK DE LAS IMAGENES:
https://mmohuts.com/news/ultimate-chicken-horse-game-launch-review/
http://www.nintenderos.com/2017/12/ultimate-chicken-horse-para-nintendo-switch-se-retrasa-hasta-2018-e-incluira-la-elephantastic-update/
http://store.steampowered.com/app/386940/Ultimate_Chicken_Horse/?l=spanish
COMPRA EL JUEGO EN: http://store.steampowered.com/app/386940/Ultimate_Chicken_Horse/?l=spanish
PRUEBA EL JUEGO GRATIS Y PARA LUEGO COMPRARLO EN: https://pivigames.blog/ultimate-chicken-horse-v1-2-13-3264-bits-online-steam/
---
---
Hello to all friends of Steemit! after a week of absence due to evaluations from the university, I return with the energies charged for these carnival dates that will come with many reviews of games and Apps (applications) fun for you!
Today we will be talking about Ultimate Chicken Horse, an entertaining game of creative platforms where you and your friends will be responsible for creating the path to reach the end of each map with a varied selection of animals that you can dress as you want, that Yes, keep in mind that the more you put traps you will make your friends more difficult to get to the flag but be careful you harm yourself too. This game basically consists of reaching the final flag by jumping or doing parkour, adding points and after a certain number of rounds the one with the most points will win.
This is a game of very few requirements aimed at playing with friends at meetings or parties where laughter and fun is guaranteed. You can play it both with Xbox control or with your computer keyboard, also within the game there is a way to play with a shared control in turns or with the same keyboard. The Ultimate chicken horse also has several game modes where you can try an endless number of traps at a time or a limited amount at the beginning of each game round, in my opinion the most fun mode is in the "Party" mode where at the beginning of the game a Party Box will be shown and all of them can select at the same time a limited amount of objects, the one that moves faster takes the best ones !.
Without anything else to say friends I invite you to try it and have fun for a while with one or several friends !. Up at the end of the post in spanish I will leave you the link where you can buy it and another link where you can download it for free, try it and then buy it if you liked it!
If you liked this post do not forget to leave your vote and comment, in the same way tell me what game you would like me to bring to my BLOG !!
See you in the next post friends! Bye Bye! :D