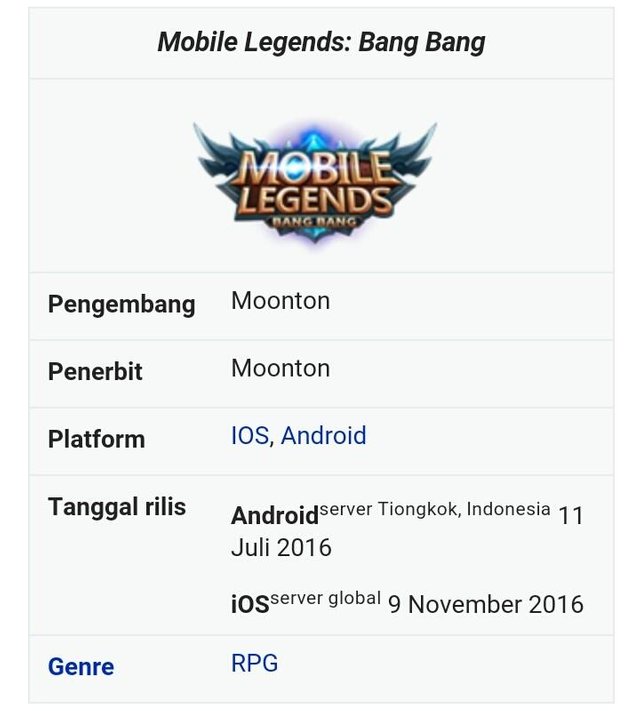 Mobile Legends is a MOBA type mobile device game developed and published by Moonton.
Game play
Mobile Legends: Bang Bang is an RPG game designed for mobile phones. Both opponent teams struggle to reach and destroy the enemy base while maintaining their own base to control the path, the three "paths" known as "top", "middle" and "bottom", which connect the bases.

In each team, there are five players who each control the avatar, known as "hero", from their own devices. The weaker computer controlled characters, called "minions", spawn on the team base and follow three paths to the opposing team's base, against enemies and towers.
Copyright Controversy
Riot Games, a company that develops and publishes PC League of Legends games, filed a lawsuit on July 11, 2017 against developer Mobile Legends: Bang Bangituitu Shanghai Moonton Technology to California State Court for violating several trademarks in the game. The lawsuit was based on the alleged violation of intellectual property by Moonton, Riot Games lawyers said in their lawsuit that Moonton infringe on intellectual property through the video game they developed, namely Magic Rush: Heroes Mobile, Legends: 5v5 MOBA (former Mobile name Legends: Bang bang), and Mobile Legends: Bang bang. The offenses, among others, on aspects of logo, character, map design, hero design, and monster design. They also completed a letter of lawsuit with illustrations to show aspects of intellectual property infringement committed by Moonton [1].

If the lawsuit is accepted, then Mobile Legends: Bang bang and Magic Rush: Heroes Mobile existence of the game will be threatened.

Moonton then released a statement on the same day via the Facebook page, blasting media for "unreal information and rumors" and claiming that "its copyright has been registered and protected in many countries around the world". It further claimed that Moonton had intellectual property rights and threatened legal action against media and competitors for spreading false information about Montoon and his game.