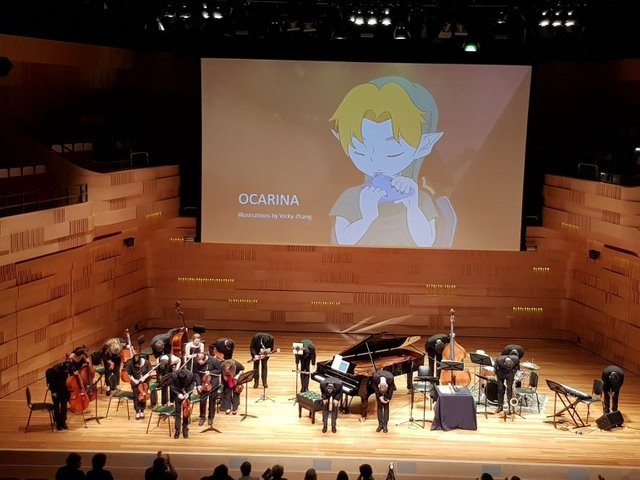 During the concert, organiser and pianists Nicholas Young asked some of the musicians to speak about their instruments. Ryan Williams played the evening's quintessential instrument, the ocarina. Unlike Link's single chamber ocarina, Williams' ocarina has a double chamber so he has all the notes he needs at his fingertips. His ocarina is from Taiwan where ocarinas are popular musical instruments. Williams also played a rage of other woodwind instruments throughout the concert.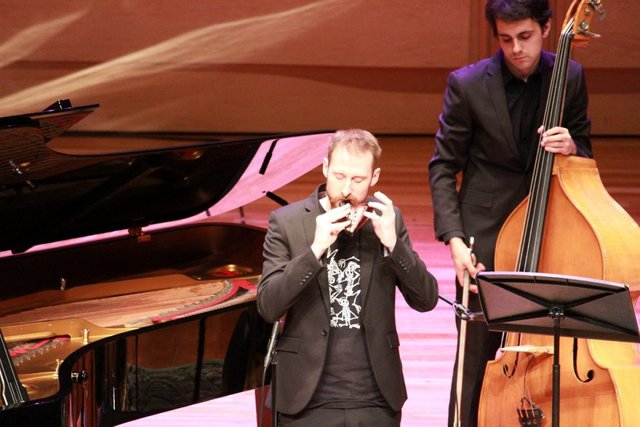 Ryan Williams playing a double chamber ocarina.
Michael Kneale, bassoonist of Ensemble Françaix also spoke about his 'absolutely massive instrument'. Kneale said that he and the oboist of Ensemble Françaix both use double reeds to play their instruments and demonstrated what a double reed sounds like one its own. Kneale said he was happy that both the bassoon and the oboe were featured in this concert because they do not typically appear in classical performances.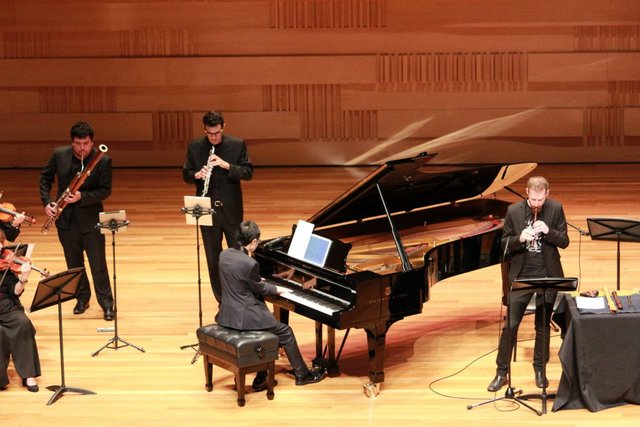 Michael Kneale (left) from Ensemble Francaix playing the bassoon.
In a previous interview with Gamers Classified, Nicholas Young discussed how the idea for the OCARINA concerts originated. Young went to school with one of the members of The Consouls which is a jazz video game cover band. Young is a member of Ensemble Françaix, and these two troupes came together last year to perform the music of Final Fantasy. These concerts were a success, and both troupes decided to come together once more to celebrate classical music and video games. This year, they were joined by Con Brio Strings.
For photos from the OCARINA rehearsals and concert, please see our Facebook album. To find out when Zelda live concerts will be in our area, please visit zeldalive.com

Yoshi Itoku @gamersclassified
---