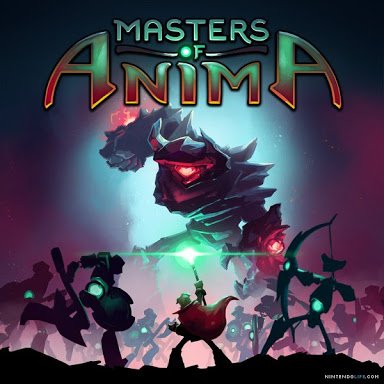 Credits
Probably you have never stopped to think that Pikmin is one of the best games of strategy in real time that can be enjoyed in console. Nintendo did it again, although there are other exponents such as Halo Wars or Overlord . The nature of the dominated domestic machines, their habitual placement on the living room television and at a certain distance that make it difficult to read a lot of interface, the absence of keyboard and mouse, etc. They make this genre do not have too many powerful exponents or that it feels uncomfortable there. Masters of Anima seeks to fill that void, especially in Nintendo Switch , which ultimately becomes the most suitable platform for a title that, although it does not do anything wrong or has blunders, does not manage to go as far as its approach seemed to propose .
About the Game
The French studio Passtech Games has placed on two sticks a different way of understanding games in an isometric perspective with a marked tactical component over ability and reflexes. Unlike titles like Alienation or Dead Nation , here the character the player embodies just attacks, and it offensive is based more on invoking and keeping under control to dozens of golems with different attributes, specifically to 6 different types of creatures with service that provides melee attacks, distance, defense barriers, magic attacks, stealth, etc. Masters Of Anima only contains a game mode, History , which does not last as long as could be expected and which, in the end, feels somewhat repetitive in action and movement mechanics.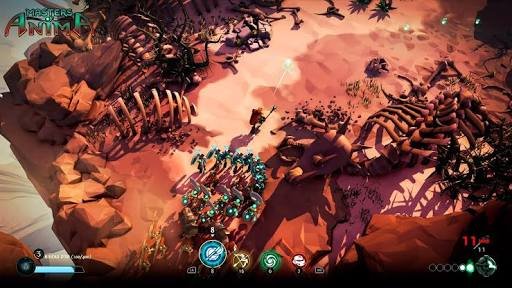 Credits
Gameplay
Because movement is everything in this title. The final acts of this narration of magic and wizardry in a colorful world seen in isometric perspective are a real colorful chaos , where you can not be clear where each unit is in particular but you are clear about the general calculation of where the battle is going , if they are destroying you or you have the duel practically dominated. This is a game of generic perspective, above the particular one.
It is risky the design that has had Passtech to draw a system of duels - because this adventure is all clashes in closed spaces - where the group , the army of minions, do almost all the work and it is convenient to have general record of how they are together, not separately . You will never take care of a single minion, there will always be sacrifices for the good of the group and necessary damages in practically all the confrontations. That is how it is designed.
Masters of Anima is a game of areas and constant loss of units in pursuit of accurate blows that allow more and more to invoke those same fallen units. Facing his creatures without taking damage is practically impossible, as we will always have a loose hench that is unprotected. And also these minions have no intelligence or protection, are stupid units to the sole charge and care of the player , who comes to lose control when there are too many on screen but you can perceive the groups thanks to the distribution by colors. And that's the fun and the tense, the game improves in the final bars when we do not stop invoking small golems that come to die but to be useful for the group, like Lemmings that help with their own attributes and sacrifice for others knowing that there will still be many more behind.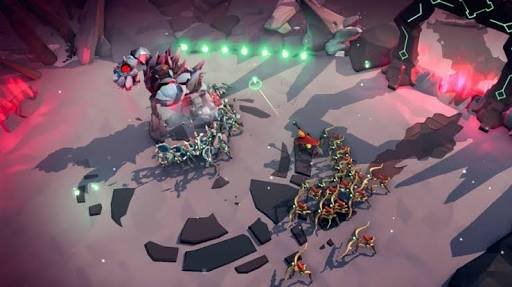 Credits
Additional Contents
A very console game is perceived, but it also has a version in computers, although the ideal is to play it with command wherever it is, it is clearly designed for it. Otto's magic wand, the protagonist who goes in search of his beloved Ana and, in passing, save the world, is the one that guides where the golems go and what monstrosity to attack, normally all those monsters giant beasts that repeat themselves and appear again but in greater numbers as we move through the episodes.
In the end, what we have is about 12 hours of linear travel through corridors and closed areas normally designed with astuteness and where to get also skill points to improve both Otto and his friends allies according to categories and in development trees and purchase of skills , with only a couple of different moments throughout the trip with respect to the central and repeated mechanics, which often misuses bringing known enemies but now in greater numbers .
In General
In general it is a satisfying video game and that raises in its three first acts all the possibilities, to then go increasing the tone and difficulty by the faster movement of the enemies and the greater damage they infringe. The schematization by colors, leaving red the hazards and areas of attack received and the green our offensive or defensive actions, helps us to have fairly controlled screens with more than 100 units in simultaneous movement in the final section . An authentic dance of particles. Knowing which type of golem to invoke by spending magical energy and how to face each type of opponent is the key to success, in addition to the constant movement.
Something that the Masters of Anima team has measured especially well is the learning curve and the insertion of elements to gain complexity. What at first are simple battles of 10 or 12 units against a single golem, in the end there are massive armies struggles with very different units in skills and that, also, having been developed, endure a little more in the field. In the scenarios some very simple puzzles of gate movement or activation of switches are also introduced, and there are not missing the very different orbs of different colors for life, the magic energy of invocation, the increase of the total life bar or the points of Extra experience, which invites you to travel a little slower the snowy and ruined places that welcome the entire journey of Otto and other characters who help sporadically.
A good idea that is not and that in practically every isometric perspective game works ( Diablo ) would have been a team system and loot for Otto or the minions invoked when they are already more resistant. It is clear that the protagonist can hit swords and, in fact, it will almost always be the most damaging to the stone monsters enemies, but Masters of Anima does not seek to be a hack and slash or a dungeon crawler , but rather a game of strategy without pauses or shifts where always keep in mind the numbers, statistics, and resources that sacrifice units to obtain later benefits and new invocations later. As we said, it is a game of moving well and keeping Otto safe so that the little ones do everything , attack and protect, without losing sight of the health bar and the invocation orbs.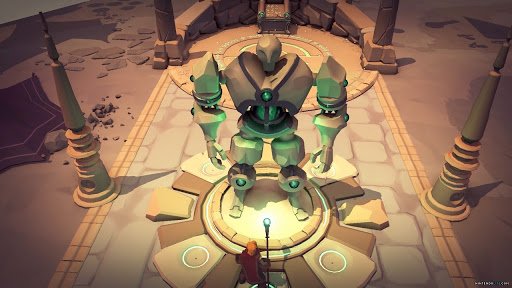 Credits
Absences
To point out absences, it would not have hurt anything any additional way. Maybe some extra challenges in certain arenas with a particular level design, or even a multiplayer PvP to really take advantage of its approach beyond the story mode, always against AI, from minions to minions, after all. In normal difficulty it is not very hard and there will be abilities of the unlocked in each tree with the points of experience that we do not even use, are unbalanced to worse, or they remain in something anecdotal of use only to test. Being a little longer, with a greater variety of enemies, and with really hard challenges in its final stretch would have given it more packaging .
Game Details
Title: Masters of Anima
Genre: Action, Adventure, RPG, Strategy
Developer: Passtech Games
Publisher: Focus Home Interactive
Release Date: 10 Apr, 2018
SYSTEM REQUIREMENTS
MINIMUM:
OS: Windows 7/8/10
Processor: Intel Core i3-2125 (3.3 GHz)/AMD FX-4100 (3.6 GHz)
Memory: 4 GB RAM
Graphics: 1 GB, GeForce GTX 560/Radeon HD 7790
Storage: 2 GB available space
Additional Notes: CONNECTION REQUIRED FOR GAME ACTIVATION
RECOMMENDED:
OS: Windows 7/8/10
Processor: Intel Core i7-3820 (3.6 GHz)/AMD FX-8350 (4.0 GHz)
Memory: 8 GB RAM
Graphics: 2 GB, GeForce GTX 760/Radeon R7 370
Storage: 2 GB available space
Additional Notes: CONNECTION REQUIRED FOR GAME ACTIVATION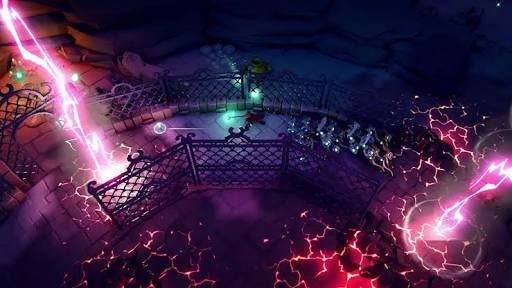 Credits
Conclusion
Since it is not a technical portent, in all its versions it moves perfectly , without any annoying slowdowns, not even in Switch, which has, as many already know, the least powerful hardware of the current video game consoles. The artistic section is nice but without fanfare, and it would have been nice to see a little more work in cinematics and conversations, since almost everything is developed with static plans and quick dialogs that go to the grain. The music entertains, but does not stand out in catchy melodies or notorious rhythms. The same happens with its library of sound effects, none that generate identity or make us remember this trip forever.
Masters of Anima is a game with context where real-time strategy games on consoles are not abundant. Brands like Pikmin or Overlord are clear references that Passtech will have studied to conceive this very functional and end entertaining with command, but at the same time with some foolish stumbles of not having wanted to go further and give birth to something superior and transcendent. It works perfectly on all platforms, so, again with an indie, Nintendo Switch is the most recommended, to play anywhere.
Happy Gaming!!!!!