QUANTRUM BREAK --- REVIEW

---
When Max Payne and his entourage, as well as Alan Wake , are committed, there is inevitably some pressure on the shoulders when a new project is announced. Remedy Entertainment found that it was not enough and from the very beginning of Quantum Break's development posted ever-crazier ambitions. But the cocktail of this science fiction-oriented title, mixing stunning performance, Hollywood casting and action survitaminée, it really tastes like hit?
Nothing good happens after 2 o'clock in the morning. Jack Joyce should have remembered this motto that has been recounted several times in the How I Met Your Mother series before appearing on the campus of Riverport University to meet his best friend. Because it is at 4 o'clock on October 9, 2016 that Paul Serene, at the head of the company Monarch Solutions, gave him an appointment. Why such a far-fetched schedule? Good question. Still, he has something to show. With the help of William Joyce, the scientist and a little wild brother of Jack, he managed to finalize a major project, that of creating a machine to travel in time.
The demonstration should have been a formality. Except that William joins the party without being invited, and gun in hand, to make matters worse. The beginning of trouble. The machine goes crazy, the weather with it, and Paul disappears. The Joyce are pursued by Monarch's guards, whose instructions seem to be clear: no witnesses. Except that Jack has an asset in his sleeve to survive in Remedy's new third-person action game.
---
CREDIT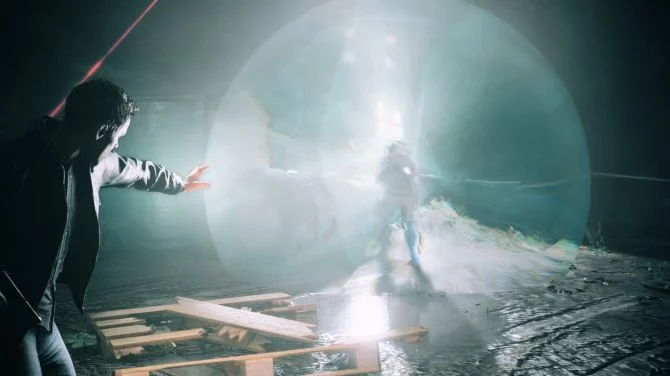 ---
You must save your time
---
As time begins to roll, the hero embodied by Shawn Ashmore (who is known primarily for his role as Bobby Drake / Iceman in X-Men films ) has discovered powers. When everything stops, the fracture of time makes its own, it is not affected. He can even wander freely between people and objects hanging in the air. Better: he can manipulate the time. That, in addition to his relative control of the weapons recovered here and there, allows him to darken - almost - head down against enemies who will attack him in numbers. The different abilities, which have cooldowns(delays during which they are unusable, to avoid overpower and boredom) quite diverse, will hatch as one progresses in this title composed of 5 acts.
Everything starts with the ability to create time-out bubbles. A means of all the statufier in a small perimeter during a few seconds with, as a bonus gift, the fact that the projectiles entering this zone gain power once the effect faded. Then come the temporal vision to spot potential aggressors and elements of interaction, the time evasion to rush to a shelter or, on the contrary, to stun an enemy to have time to stick one between the two eyes, the shield that deflects everything that happens in your direction and gives you a little time to breathe, the explosion that sweeps everything in its path but requires some time of preparation in the open, the acceleration during which Jack gallops at normal speed while the world is paralyzed,upgrades thanks to a host of quantums of time (baptized chronons) to find. Everyone will also have their role to play in some situations requiring a little gray matter and platform, where it will also be question of "rewind" situations. For example to reconstitute a makeshift bridge before stabilizing or crossing it at full speed.
---
CREDIT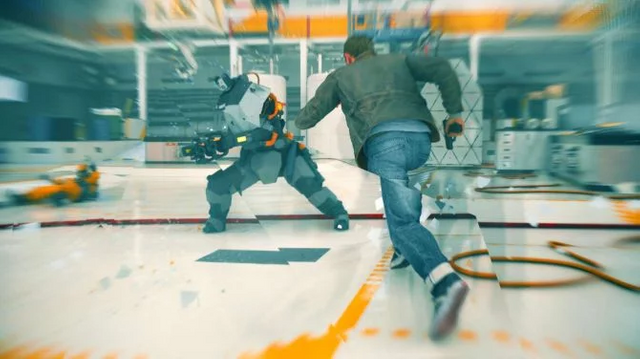 ---
Times like eggs are hard
---
The least we can say is that the presence of these skills helps make Quantum Break something other than a conventional GST. Remedy surprises by refusing any influence of fashionable cover-shooters . The cover is automated, we do without melee attacks and, apart from guns, machine guns and shotguns (ammunition far from being unlimited), nothing. Not even a grenade to throw. Not to mention that do not expect diving Max Payne way . It's Jack Joyce, guns for well located damage and time running (and that makes us serious). To the point. Like Alan Wake, the whole is willingly minimalist. And accessible entry, with a hold in hands inherited from other Finnish games. It is accommodating without any problem.
Firstly because in terms of pure play, it works. Effective, Quantum Break often provides this feeling of satisfaction once a wave enemy annihilated, with the last rascal shot the signature movefrom the studio based on dramatic slow motion. While being careful not to find yourself under enemy fire, or too stuck to a car likely to explode, you can have control. Slow down the tempo, you hide, plan and make everything frantic, stormy, unbridled. Of course, genre obliges, we will not be able to deny a certain redundancy at the level of a rather little varied opposition, which begins timidly with simple grouillots waiting almost to be taken backhand, to muscle with larger hordes in which will point men equipped with devices that immunize them against your sleight of hand. When real human tanks and jammers are not so involved. It can not be overlooked either that a barrel arena is missing from the concert phase of, a fight that clearly marks the spirit and the thumbs. On this side, the appointment is missed. The final bouquet, in particular, is far too expeditious when there was material to make it epic.
---
CREDIT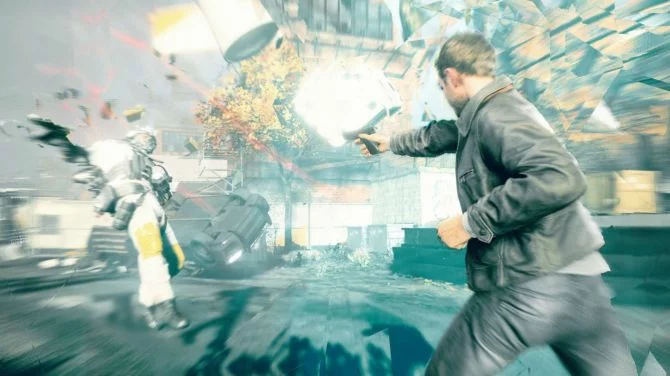 ---
Oh, congratulations!
---
The other reason for satisfaction is the simple visual representation. With very successful models (with a hint of "Uncanny Valley"), like most animations, a riot of effects of all kinds that support an artistic direction of a crazy class, Quantum Breakpull out the inlet pump and point our retinas without giving them a chance to escape. In movement, but also and especially when everything seems frozen, we are trapped by the sublime games of light, the rendering of explosions for the least exaggerated and that of alterations of time (breaks, trails, suspensions ...). We believe in the disintegration of an aggressive weather. The decorations, mostly urban and contemporary, sometimes very destructible, are revealed with a lot of seriousness and benefit from a great attention to detail. Spectacular locations, such as an impressive disaster scene on the docks, or as you glide through several years of a person's life, impress.Quantum Break globally provides a very high level, both technically and aesthetically.
Of course, it would be inelegant to ignore the work done at the sound level. The general sound design , which shows a certain mastery of the spatiality, manages to transcribe perfectly the notion of fracture of the time through tones that appear buggy, makes you feel the suspension or the deceleration to perfection. Like when you approach an unhappy statue and you hear his last sentence as if we were playing a single LP in 33 laps. Let's add, finally, that the electronic soundtrack signed Petri Alanko - which is reminiscent of Olivier Derivière's fantastic work on Remember Me - fits perfectly into science fiction and action full of jolts.
---
CREDIT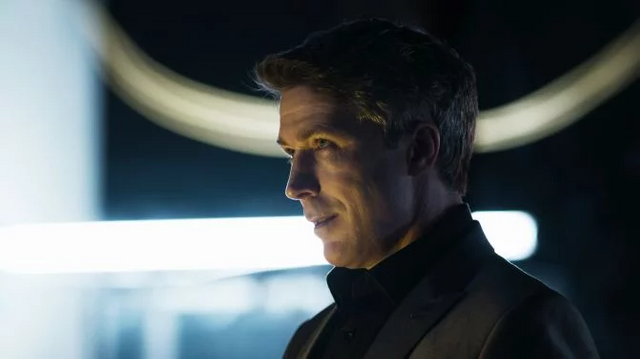 ---
Ch-ch-ch-ch-changes
---
Think Quantum Breakis a simple action game would be a mistake. His explosive temperament is a pretext. The relative simplicity in Normal difficulty mode for a regular - which does not mean that we advance without dying while nagging, attention - and the fact that the assistance to the aim is total basic gives besides enough indices quickly. The idea is not so much to impose a challenge as to let the player immerse himself in a story (stories), to give him something to enrich his knowledge of the general framework as well as the background of his protagonists. And to give him the desire to seek more narrative elements during the exploration phases, many, some of which will not be accessible in the first part. Once again, it works.Terminator 2 , Inception , Looper , Back to the Future or Primer. The staging pulls out of the game and knows how to be striking. As for the actors, they all deliver remarkable performances, the monumental iconic Lance Reddick ( The Wire , Fringe ) in mind. As well in the game (with a perfect VO and which allows to discover a flawless labial sync, where the VF shows itself to be average) that in the live action series which is inserted between the different acts and allows a smart cutting pushing the binge-playing. A soap opera of very good quality that will guide you to the outcome, with repercussions on the overall experience.
Indeed, at the end of a chapter, you give up control of Jack to land briefly in the shoes of Paul Serene, the "villain" (really?) Camped with talent by the Irish actor Aidan Gillen ( Queer as Folk , The Wire , Game of Thrones , The Labyrinth: The Burnt Earth...). Able to see the near future, it will be led, through you, to choose between two paths, one often more questionable on the moral level but necessary for a larger plan ... According to your decision during these moments designated as "Junctions", you will not watch the same episode, you will not necessarily have the same allies in your progress, the destinies will be changed, lights will be brought ... And you will have the opportunity, as in the Telltale games, compare your decisions online. The idea of ​​mixing the two mediums, with more characters to follow, which we heard about by emails or notes when we play Jack, thunder and is perfectly set up. There is nothing shocking about going from one video game to another filmed. Just for that, and for the small in-game interactions unlocking other scenes, the title of Remedy is strong. And the zappers who will not care about the blah and trace without worrying about anything will miss the point, that's for sure.
---
CREDIT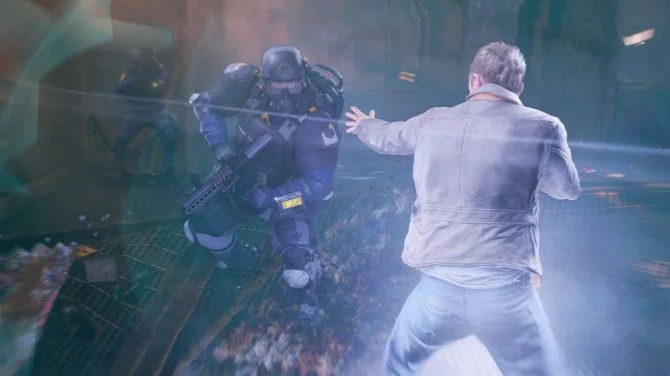 ---
The time of my life
---
Despite its uniqueness, its playful qualities (which may nevertheless not meet all expectations) and narrative, its casting in reinforced concrete, its "replayability", its many winks to the Pop Culture as well as fans of Alan Wake , he arrives at Quantum Breakto stumble more than once. In a more or less serious way. In addition to some visual bugs sometimes very strange (like the blow of the late display of textures or lights visible through bodies yet solid) he is fishing on an annoying detail: his management of checkpoints quite average. The latter, who can in the event of unexpected death condemn you to a time of violent loading, sometimes return you very far, even before a kinematics that you will have already contemplated and that you wish to pass ... What will generate a new loading. It's still a matter of downloading, or buffering, that can be painful when you want to watch a series episode. The small connections may enrage since everything is either streaming or pack download ... about 75 GB. Which is relatively sturdy. All this, combined with the fact that we risk asking for more and more once the main plot is over, after 7 to 10 hours of play according to his curiosity, are among the things we can or will not accept.
---
CREDIT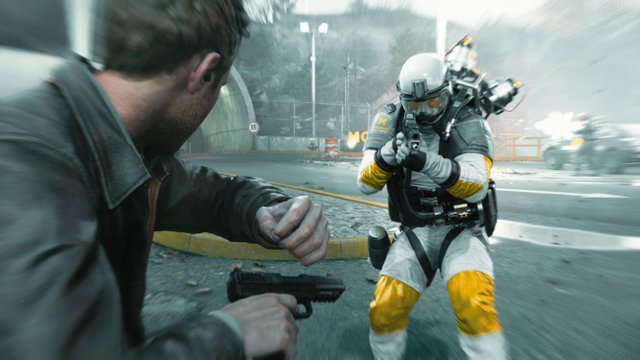 ---
Like Alan Wake , Quantum Break is embarking on choices that will prevent it from getting unanimous. For some it will be a title whose frame, staging, storytelling and artistic direction will be ample. For others, more concerned with pure gameplay, a TPS certainly nice, dynamic and spectacular, but who can not exceed some of its promises. Quantum Break does not succeed without fault, but it nevertheless manages to unite video game and cinema with panache, thanks to its well-crafted history and its actors at the top. And if you count on a good series for a weekend warm, know that it can be interactive and quality.
---
| WE LIKE | WE DO NOT LIKE |
| --- | --- |
| * Visually very classy. | * The minimalism of the gameplay that will not please everyone. |
| * Dynamic and impressive fights, which can be approached in different ways thanks to the temporal powers. | * Checkpoints from another age ... with loads of extra lengths. |
| * Very good actors (VO more than recommended) in the service of a controlled story and storytelling. | * Lack of memorable confrontations, the last being too quickly dispatched. |
| * The Live-Action series that fits very well. | * Loading episodes, not on the disc. |
| * The junctions that make you want to replay to discover the changes. | * Visual mini-bugs (late display, lights that pass through certain elements ...). |
| * A lot of wink and fan service Remedy. | * We would have taken even more control in hand. |