MDL Changsa Major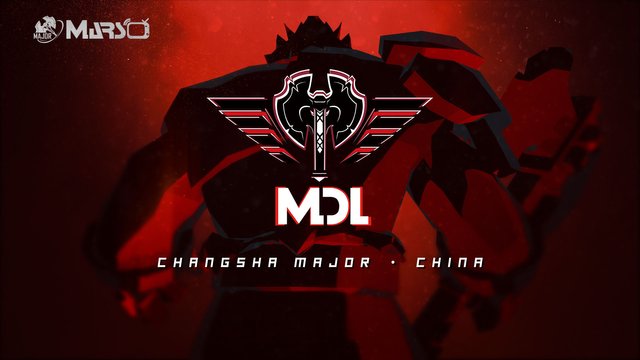 source
What : MDL Changsa Major
For the casual gamer or a steemit reader passing by. This tournament is classified as one of the few Major Tournaments this year which means the total prize pool is $1,000,000. Yes, the prize pool for the super bowl of other gaming platform is just one of the few Major Tournament Dota 2 has to offer ( add to the fact that TI 8 the superbowl of Dota2 is just a few months from now ). Aside from the massive prizepool the coveted DPC points to be awarded in total is 1,500 which means 750 points goes to the 1st placer along with the $400,000 tournament win money.
Where : Changsha, China.
The playoffs are hosted on Hunan International Convention and Exhibition Center. This tournamen is one of the few that was hosted in China this year along with previous ones like the Dota 2 Asia Championships 2018 which was held on Mar 29 - Apr 7, 2018 where we saw SEA's Mineski beat China's PSG.LGD, along with that China will alos host the last Major before TI 8 which will take place in Shanghai called the China Dota2 Supermajor in June.
Who : The invited teams
Don't get surprised but its heavily Chinese favored with 3 Direct Chinese Invites and 3 More Chinese Qualifiers
Lets Start with the Direct Invites
So what does that mean? It means that they did not have to qualify or fight for their spot to be in this tournament. Usually its given to teams that has already earned their DPC points that they acquired through winning prior premier tournaments. With that defined lets begin.
---
Newbie
Last TI's runner up has had mixed success but is still in the top 8 and therefore continuously gets direct invite for Major Tournament. With their Lineup the same as it had been looked to be shaky at times and have not been placing well recently and although a change of roster may be needed it is badly ill advised due to the rosterlock system and they would have to go thru the qualifiers should they opt to. Nevertheless, Newbie squad is very talented and can surpise us all once again as they look to represent China once more and claim dominance in the Dota 2 scene once more.
---
Vici Gaming
With veteran supports and one of the most talented young stars in core positions VG has been consistent throughout the year with multiple DPC placings but has yet to bag the lion's share. With the team showing their true potential over the past few majors and the Chinese crown behind them once again, they look to secure a great run thru the playoffs with them still remaining in the upper bracket at the time of this writing.
---
Mineski
The latest in the short line of DAC Champions. Although Mineski has found recent success the Invite was not because of that but because Russian powerhouse Virtus.Pro has decided to withdrew from the tournament to take a break as they have now secured enough DPC points to be directly invited to TI 8 this makes Mineski the most deserving to be among the replacement for the Direct Invite. Fresh from their win, they look to capitalize on their momentum to grab another Major to their belt.
---
Team Secret
For years team Secret has always been considered a premiere team despite the numerous lineup changes they have maintained consistencyand with most recent rankings Team Secret joins VP and Liquid as the first three team to qualify to TI 8. With recent results not looking to be very positive Team Secret aims to climb the rankings even more with this win as both teams mentioned are not joining this Tournament.
---
Regional Qualifers
Now that we have the Direct Invites, lets now have a look at the Teams who competed and won their respective region's qualifiers. Starting with the Chinese Region
---
Invictus Gaming
Once bagging the the Aegis of Champions at The International 2012 and then The Dota 2 Asian Championsips in 2017. IG has had a long and storied career. With Dota 2 star Burning now inactive Agressif takes on the mantle of Hard Carry with legendary captain Q at the Hard Support. IG now looks to bag another title and a first place here puts them back on the map.
---
Invictus Gaming . Vitality
The sister team of the aforementioned IG is also a winner of the DPL which netted them the spot for the Chinese region. IG.V now has a new face in the form of Meracle from Singapore as their hard carry. Although formerly branded as the weaker team among the two, IG.V looks to prove the majority wrong should they win this all as a first place finish actually puts them on the top 8. Although with the recent stand in for Sakata for this tournament this needs more info.
---
Paris Saint - Germaine . LGD
Arguably the hottest team in China right now and with all the buzz surrounding the partnership of Football giant PSG , and then winning a Major Tournament shortly after that to say they are on a hot streak is an under statement. By beating Team Liquid on the last Major Tournament they've secured a comfortable fourth spot in the rankings which will further be cemented should they bag any additional point after this Tournament.
---
TNC Predator


The winner for the South East Asian Qualifiers, TNC has looked better than ever by scoring a 3-0 against fellow SEA rising team Fnatic and looking to be the 2nd best team now in SEA . After scoring their first DPC points by placing fourth on the last DAC on a losing effort againt Virtus.Pro, TNC now looks to bag more in this tournament after placing on the upperbracket in the playoffs although losing that to Mineski recently.
---
VGJ Storn
Arguably the hottest team in North America right now and with them being fresh from the new GESC Thai Minor champ the Jeremy Lin owned NA Dota Team is my dark horse in TI 8. Unfortunately its only the cash prize and experience that VGJ.S is after as they are not qualified to get DPC. Riding high on their winning streak VGJ.S has just beat Team Secret on the winners bracket and is one win away from securing a seat on the grand finals.
---
OG
A long time respected and successful Team. With them being Major winners from years ago they certainly have fallen out of favor. Getting a mix of wins and losses with their previously acquired carry ResoluT1on they decided to let him go which actually showed to not be the answer as most recently they were beat by VGJ.Storm who now has Reso as their core player and they were beaten handily. OG would also be forfeiting the DPC should they win due to breaking their roster lock.
---
The Invited but already eliminated
The next we have that are participants for their corresponding regions but has not had favorable results. Sadly, during the group stage there were two teams that will not proceed to the playoffs and they would be the bottom teams from the two brackets. Although they would not be illegible to win it would be a disservice if I don't include them on this article.
---
Vega Squadron
By beating Team Spirit on the CIS qualifiers Vega Squadron was able to qualify for MDL Changsa. With their cores just being in the roster in the end of January they are pretty much a young team and could still be looking for their groove. With this being their last entry to the major tournaments they will now try to get into TI through the qualifiers by duking out with other CIS teams such as NaVi.
---
Infamous
With the South American region qualifiers always being about just 3 teams being Infamous, Pain Gaming and SG Esports its a bit disheartening when they are just looked at as the kid who just got in there and are about to be dismantled by the other bigger boys. Although Pain Gaming has showed a bit of a spark on the last major tournament Infamous has not but nobody knows the future and who knows we might get a shock from them when they qualify for TI 8
---
How: The process of winning the tournament.
The process to achieving the success in this tournament is by emerging and surviving the group stage which has taken Infamous and Vega Squadron out of contention. By placing higher on the group-stage you place better on the playoffs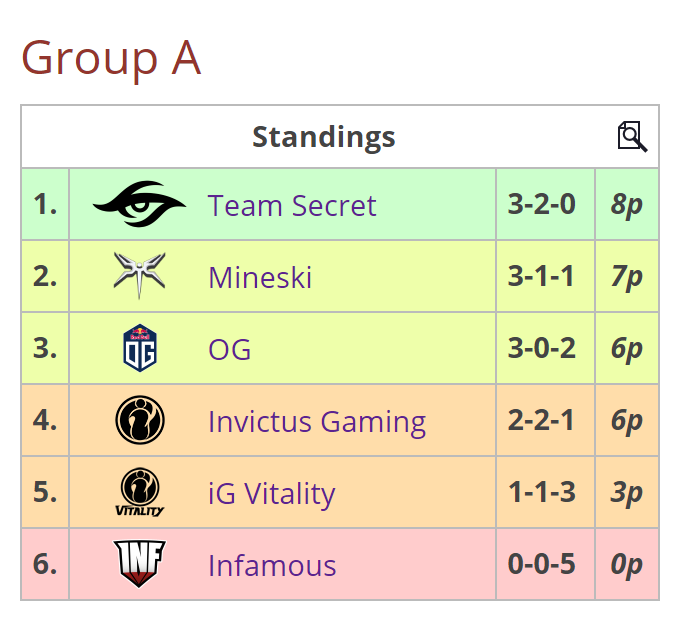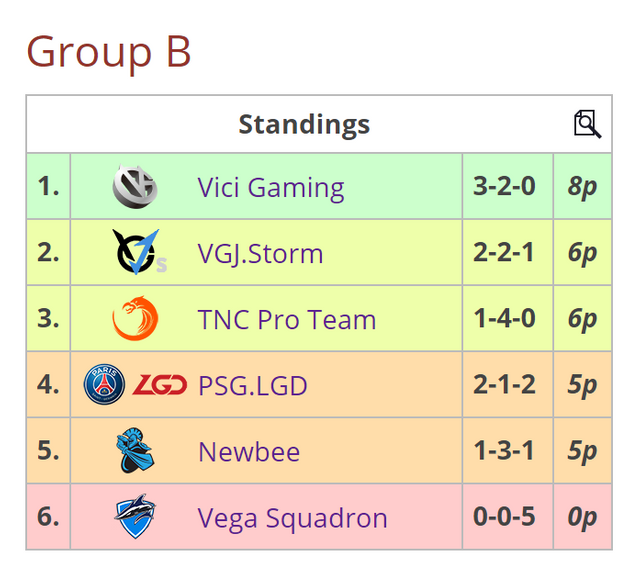 ---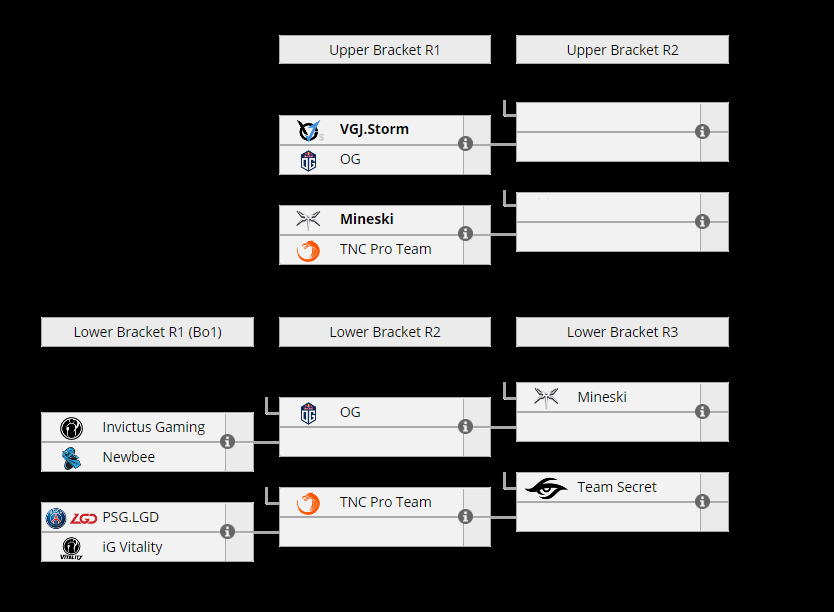 ---
What to look forward to.
With my current schedule having a bit of a breathing room. Please join me in following this tournament and how it unfolds. Who will be the winners and the losers and how this will impact their DPC points and rankings as August is just around the corner.
---
If you are looking for curation rewards for your upvote. I do post promotion after 1 HR and so your upvotes after 30 minutes almost always guarantee you a 90-100% return for your upvote in STEEM Curation rewards. Have a look at my previous posts for proof. For a guaranteed profitability use steem voter to automatically upvote my posts after 30 minutes to maximize your curation and I promise you your upvote is not wasted on me and is a guaranteed return for you. Try and see for yourself after 7 days when you pick that curation reward. I'm actually woking an article that will shed more light on how profitable it is to upvote my posts within the 30-60 minute mark.
Upvote my post with any amount and make a meaningfull comment and get 100% Full upvote from me no questions asked. Would also appreciate the follow.