The power of decentralised reality in gaming powered by Xaya and Chimaera (CHI)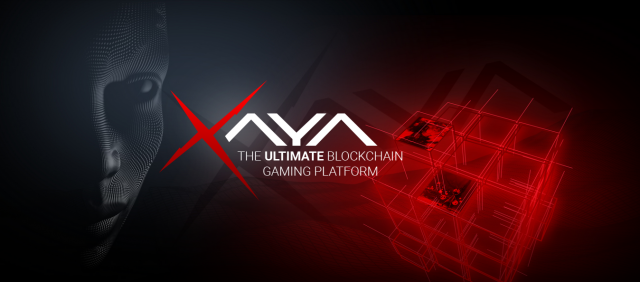 Introducing XAYA
I'm a millennial gamer and I'm proud of it, I've played thousands of games and it wouldn't be an exaggeration to say that they're a big part of my life. All the way from the old arcades and tabletop RPGs to modern
Virtual Reality
and
Augmented Reality
in
Massive Multiplayer Online (MMO)
games alongside promises of
Neurogaming
; I thought I had heard it all, so I was really surprised when I heard the term "Decentralized Reality" quoted by
XAYA
.
XAYA is a custom blockchain based off Namecoin, they were formerly known as Chimaera and they were the first ones to work on decentralized MMOs and game worlds built upon the blockchain back in 2013 using the huntercoin experiment. The platform is maintained by Autonomous Worlds Ltd. Located in Malta.
Even with such an experienced team behind XAYA I was surprised when I saw a part of their list of features:
True and fair virtual item ownership with simple and safe trading and sharing.
Full-scale virtual asset trading platform for both developers and gamers.
Low cost and rapid deployment of blockchain games for developers.
Provably fair gaming model in all areas concerned (no cheating amongst others).
24/7 uptime with secure ownership of assets.
Easy to read wallet accounts and addresses for humans.
Virtual currencies and asset creation tools for developers.
Trustless Off-chain operations for games by means of Game Channels and Ephemeral Timestamps for increased scalability.
Atomic trading (more on this later)



Expectations for the future and possible case uses

It's hard to put in words the full potential of XAYA and CHI because I've tried to develop games before in Unreal Engine 4 and as an indie developer I always had many difficulties with assets, servers, legal, marketing and other issues including the safety of transactions and how to prevent cheating for a better experience overall.
Imagine that you're sitting in your house with a couple of friends and have a great idea for a game where players interact with each other on a virtual world in a totally decentralized fashion where players are the ones who shape the world and make legends of their weapons, build the houses of their dreams and more, creating an entire world that is independent of us and runs in an autonomous manner. XAYA makes this ideal possible and feasible without forcing developers to change their tools, we can use the XAYA API from any common language easily and having pre-built libraries and integration with modern game engines is a strong boon.
The platform supports the creation of the folllowing types of games in a easy and comfortable manner:
Collectible card games
Real-time strategy games (RTS)/ multiplayer online battle arenas (MOBA)
MMORPGs
Turn-based games
These aren't the only games that can be made, however, it all depends on the developers' creativity and originality and with the upcoming advanced developer hub it will be even easier to coordinate efforts to create large-scale quality games.
Many games usually have big communities that make all sorts of mods for pleasure and to share with the community, all these mods can be traded and serve as assets in the games granting increased incentives to other developers who want to expand the game which in turn add more values to the game and draws even more gamers in creating a virtuous circle of win-win.

But for gamers the advantages are even greater, because there is no danger of a cheater messing up with my game and most importantly of all: my assets are MINE, I have true ownership of my assets, and I can sell them or trade them for others or for CHI to use in another game if need be. As a gamer I find it hard to be invested fully some times because I know that deep in the end all the millions and all my hours put in a game don't give me any sort of economic reward but now I'm literally playing to earn money, all those hours of fighting against a massive superboss that killed me over and over won't be useless anymore and that alone is worth more for us than what I can put in words. Just imagine it for a second, a full HD minecraft with VR support in a Decentralized Universe with millions of players shaping the world constantly and purchasing and selling in-game assets seamlessly and instantly with total safety.
Atomic transactions ensure that no one can intercept a trade or hijack the system, both parties need to sign the transaction and either it happens or it doesn't, no one needs to give an item and then hope the other party gives them the promised money.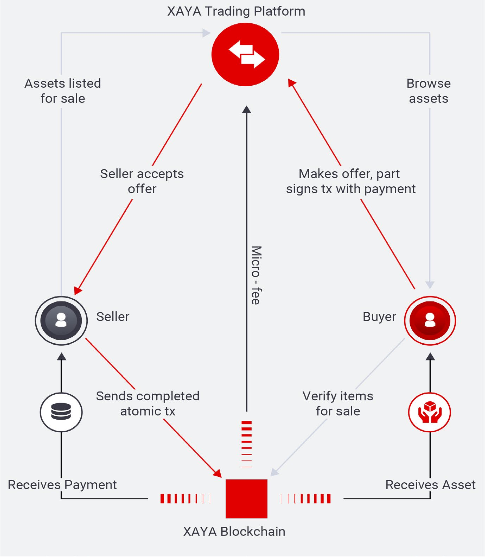 Amongst the next steps planned are the addition of VR and an advanced developer hub, effectively adding even more value to the blockchain and effectively turning it into the ultimate blockchain gaming platform.
However there is no gaming platform without games, so XAYA has partnered with Soccermanager and Trickyfast Studios to bring two games to the platform, the popular Soccermanager and Treat Fighter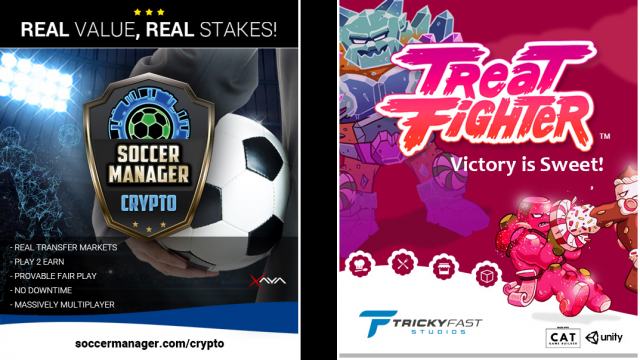 Treat Fighter is a crafting combat game where you play as the overlord of a candy world and you send minions to explore and obtain candy and recipes to build treats. Treats are fighters and you can form teams and send them to battle in tournaments for rewards and ultimately become the ultimate overlord.
Soccermanager probably doesn't need an introduction as it's a really popular game with millions of downloads worldwide and this means that XAYA is going to get introduced to millions of players worldwide which will add a HUGE amount of value to the platform. In the game you take on the role of a Soccer manager as you purchase players, build your stadium, play matches, leagues, tournaments and more!


Technical details

Wallet info
The electron wallet is made to be user friendly and has a neat modern look available for
Windows
OS only at the moment.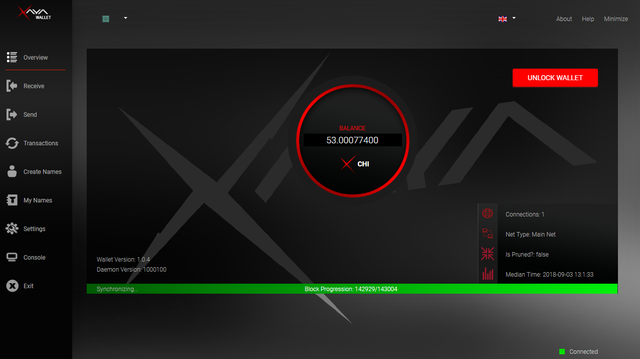 Download it here
On the other hand there is the QT version for Windows, Mac and Linux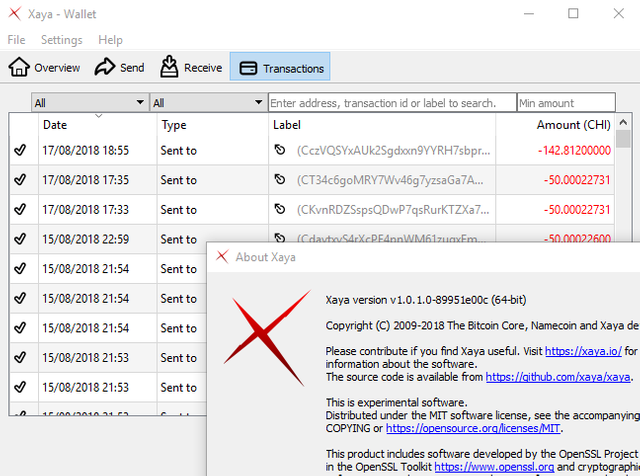 Download it here
Specs
You can find
XAYA
on Github and the full
specs
as well.
As stated in the
whitepaper
:
The XAYA cryptocurrency will be based on a blockchain secured by proof-of-work (PoW). Player accounts and the most important game data (e.g. ownership of valuable items) are persisted with a decentralized name/value store built directly into the blockchain.
Proof of work concept isn't new and the real power of XAYA isn't there but in how they manage game channels and disputes in the chain while allowing near unlimited scalability.

Game channels and ephemeral timestamps
The idea is to have separate channels between users running alongside the chain until a dispute occurs, at which point the honest player can easily prove to the main chain that he's right and claim the rewards.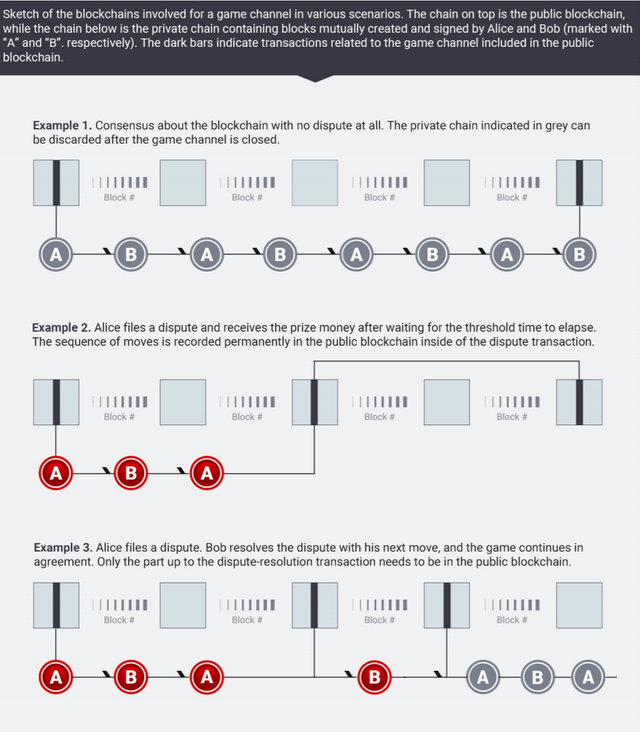 As long as there is no dispute the players will keep running on the side chain effectively reducing the cost on the main chain by an extremely high amount. However, it's a reality that the internet is full of trolls and other undesirable elements that might be willing to constantly create disputes and resolve them, even if they pay more fees just for the sake of messing with other players or putting the chain under more pressure.
In order to deal with these cases, the team behind XAYA implemented "Ephemereal Timestamps":
Nodes can send some data D to be timestamped at time T by the public P2P network and blockchain. Due to a Merkle construction, this does not cost any blockchain space or transaction fees per timestamp. Miners still have an economic incentive to process these timestamps.
Later, and only if necessary due to a dispute, such a timestamp can be used to prove to the P2P network that another game participant could have known D at time T. This, in turn, can be used to prove that this participant did not act in a game channel according to the rules, and thus claim payout of the prize money. Only this act of actually using the timestamp requires a transaction on the blockchain and transaction fees, which are then offset by the prize money that is guaranteed to be paid out. In other words, the cost incurred by the dispute will always be paid by the defecting player in the end via awarding the game prize to the honest player.
Finances, investments and the CHI coin

XAYA
is a solid investment overall, with the gaming market being worth around 115Bn and the crypto market being about 200Bn and both rising sharply.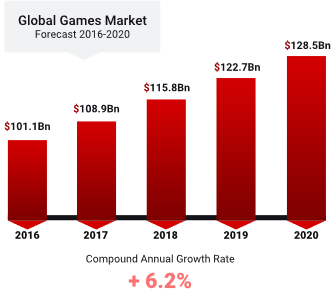 The total amount of coins is 150,000,000 at 0.00002 BTC/CHI which means a market cap of ~18.5M at current prices, 18.5M in a market estimated in billions and growing is EXTREMELY cheap.
CHI is an utility token used to fuel all operations in the platform including but not limited to:
Account creation
Account transactions
Purchasing game assets/accounts
Renting game assets/accounts
Game Transactions
CHI powered crowdsales
Coin transactions
The coin got approximately 330 BTC during the presale and all the coins not sold during the main sale will be burned. The main sale itself is being held in the Liquid
exchange until October 12th. The first 4.500.000 coins sold will come with a 15% bonus to early adopters. It's a shame that due to security procedures they only allow USA, Japan & China to participate in the sale.

The funds obtained from the ICO will be allocated in the following way:

As we can see the company is very focused on growth and development instead of offering greater benefits to the team and their partners in the shorter term. This is really good for long term investors as they can expect this platform to grow and maybe outpace companies like Steam in 10 or 20 years. They also have models that allows them to get an increased revenue per user as the XAYA ecosystem grow.
They have 6 partners at the moment fueling future growth:
The partnership with Soccermanager and Liquid are two of the most important and will assure a great impact in the market. Traders also love to purchase coins below 0.0001 BTC so there is always a lot of liquidity and a stable market for those wanting to purchase.
What could go wrong
XAYA's CEO Andrew Colosimo is a very capable man and the team is composed almost exclusively by highly skilled and capable members in all the critical areas, including personnel with PhDs and more than 20 years of experience in some sectors. With such a team behind the project and their five years of experience with Huntercoin and Namecoin it's difficult to think of what could go wrong with this platform.
Most of the problems associated with XAYA are the problems associated with cryptocurrencies and blockchain technology, including lack of acceptance and adoption, transaction fees and maintenance costs. But even those common problems where addressed with their bleeding edge technology and their partnerships.
The platform itself is solid, but it's only as worthy as the games published using it;
Treat Fighter and Soccermanager are solid entries for starters but if developers don't use the platform to develop their games it won't matter much how good the platform is. The concept of a free market and ownership of assets is something that will take time for developers to fully grasp and use effectively. XAYA is revolutionary, but it might very well be ahead of its time and people might not fully grasp the potential until it's too late, that's in reality the greatest risk they face.
Final Words
XAYA
is definitely one of the best crypto projects that has seen the light this 2018, with solid growth perspectives and a potential market of billions. Their top of the line technology allows them to have near unlimited scalability, solving one of the greatest issues of blockchain gaming. Just for comparison, in order to play some other blockchain games you need to pay a minimum of 15$ just for entry due to the big fees and transaction costs.
The term of "Decentralized Reality" combined with Virtual Reality, Neurogaming and environments such as Minecraft and Second Life open the door to a really bright future where gamers can effectively play, learn, develop skills, and much more while also earning money for doing so. Simulators and virtual worlds could open a new venue for entertainment and for people with health problems and other issues.
To finish this post I invite you to watch this short video giving a more visual explanation:

Kind regards
Eilder Jorge
All images are property of
XAYA
and are used in this post for informational purposes only.
This article is an entry to
this contest
hosted by
@originalworks
Annexes
Website and Github

Contact info:
xaya2018