First off, I want to apologize for not posting in a hot minute. We are busy at work so they have needed me more, I've tried to stream more on twitch and this series has also gotten a great deal of my attention.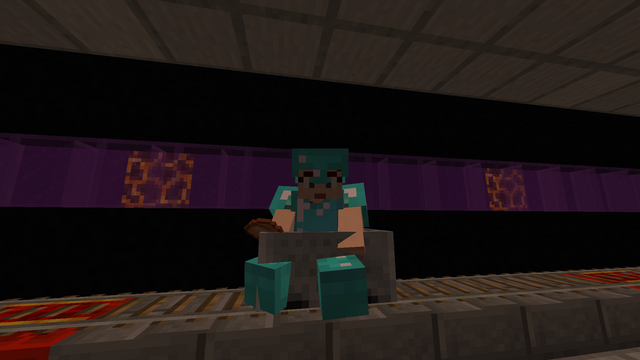 I have completed the tunnel between my Nether Hub and the main Nether Hub and it feels good to have that project behind me. It also makes travel between the two a breeze.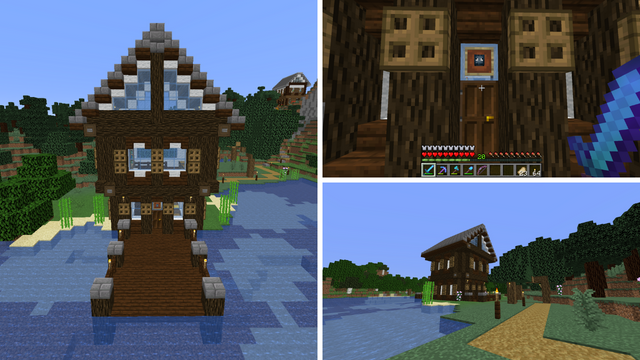 I've made a home for the fisherman and his family to live in. It's nothing fancy, like the rest of village will be, because it is set in medieval times. Actually, I think my village will be filled with mansions for that period in time. I am sure common homes were much smaller then.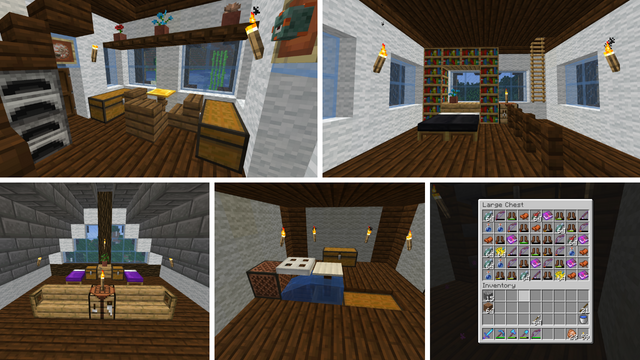 The inside of the fishing house has a kitchen on the main floor, a master bedroom on the second floor and a kids bedroom in the attic. The basement has an AFK Fishing Farm that works like a charm. Its nice to be able to fish and not actually have to be at my computer. The last photo shows some of the loot you can get while fishing.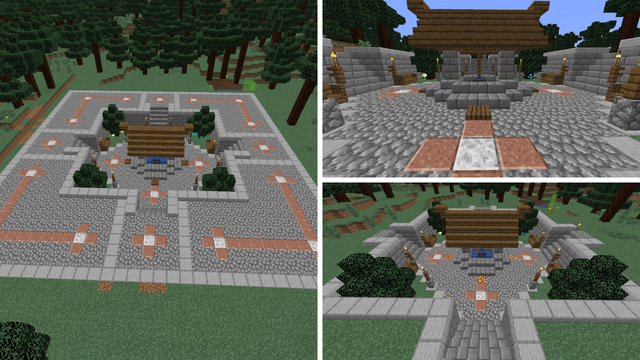 I decided where the town center will be and am quite happy with how it came out. Okay, so I am a little mean for making them walk down steps to get water from the well, but people were super strong back then... tee hee What can I say, sometimes the design comes first.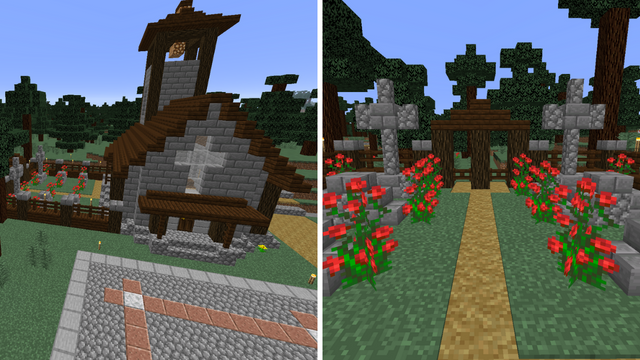 I felt it was only right to make my first build on the town center a church and small grave yard. I may stick a larger graveyard elsewhere but this one was perfect for the church.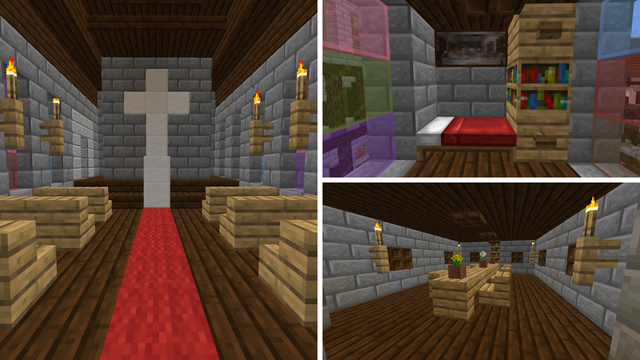 The inside of the church came out pretty good for the small space I gave myself for it. I put a bible study room in the basement and the Priests small bedroom upstairs. Don't tell anyone but I have been known to sleep in the Priests bed...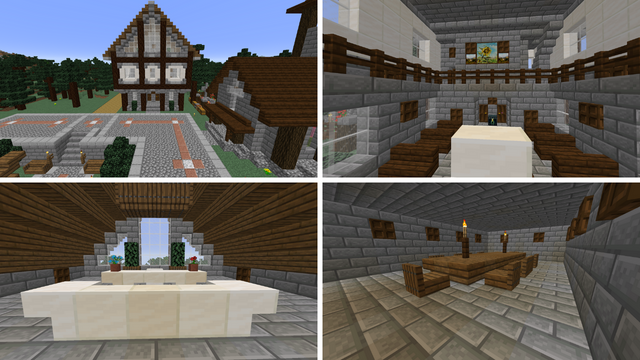 I made the Town Hall next. The main hall has seats and places to stand upstairs. I suppose important people took the seats while common people stood and watched from upstairs. The building also has a fancy Mayor's office upstairs and a meeting room in the basement.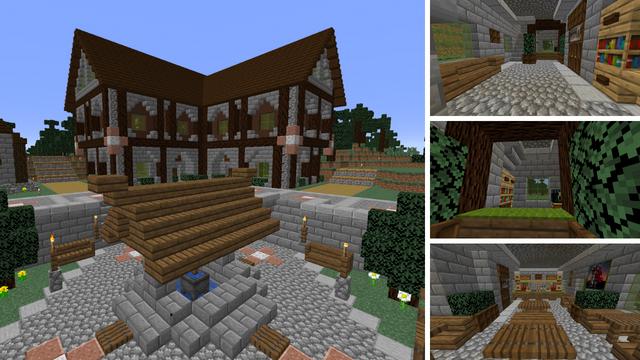 I call this build the Hotel/Pub/Brothel. Hey, those medieval men needed to blow off steam... but we don't talk much about the brothel part of it all. One of the entry doors leads to the check in hall and the other leads to the pub. They connect on the inside for easy access to either space.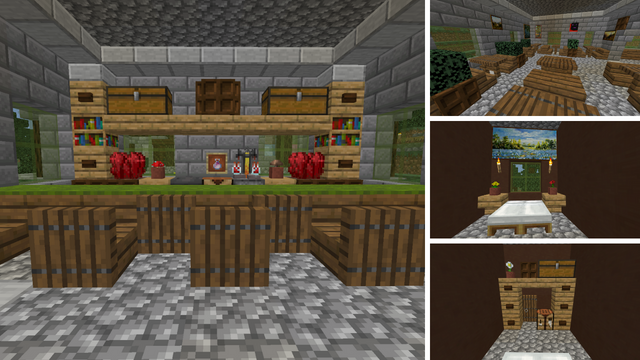 The bar area is quite large and even has a dragons head for decoration. The hotel rooms are upstairs and range from 1-3 beds in them. We don't ask why one might need a 3 person wide bed...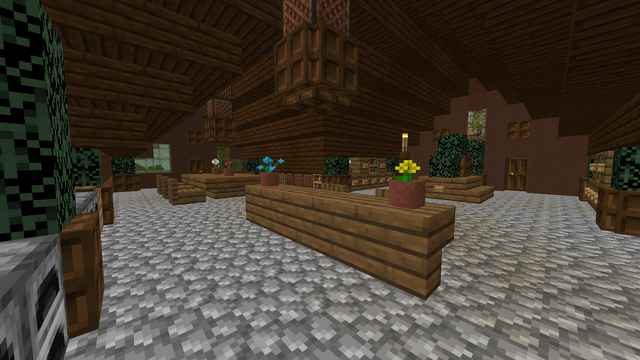 The attic of this building is the owners apartment. It is an open concept floor plan with two bedrooms. There is plenty of room to entertain their friends and important members of town.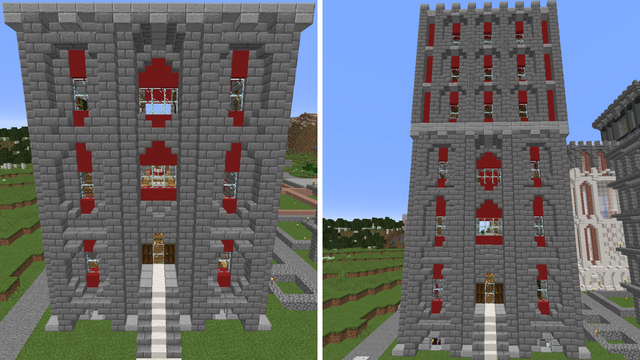 We have finally made it to my current project. As you can see from the photos, I have added several stories to my downtown building. Not to mention my shop to buy the train tracks and such is finally open for business. I will be furnishing the new floors for this weeks video here shortly.
If you want to watch the latest episode that features the making of the Hotel/Pub/Brothel apartment, you can here:
Server Members:
Jeff
SwanNC
PaternoX
Bigguy
Jazuk
JenLPepper
Diamond Deb
FireStillPlays
Tyrannosaurus Vex
Hermitance
SomebodytoRemember
Prideceratops
Orgeron KITT
If You Are Reading This, I Hope You Have An Awesome Day!
Also Happy 4th of July to my American friends.
Photographs are owned by @debralee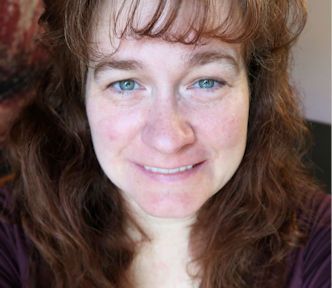 My other social media's:
You Tube Vlog
You Tube Gaming
DTube
Twitter
Instagram
Clickasnap